Editor's note: For the live game stream of tonight's game, go to https://youtu.be/HUWtlV2sr_A
For the fourth year in a row, the Bryant Hornets are playing in the semifinals of the Class 7A playoffs tonight when they host the Bentonville West Wolverines.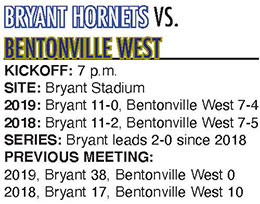 The first two years, they lost but in 2018 they found out what it takes to win, not only in the semis, but in the championship round. They're making a bid to make it to the finals again.
It's something no one can take for granted.
"I think they're excited," Hornets head coach Buck James said of his 11-0 team. "We're not having to push them out onto the practice field. They understand what's at stake. They understand the process.
"That's the beauty of doing it last year," he acknowledged. "They got to see everything. I think two weeks ago, they just thought it would happen."
Then the Hornets, after a bye through the first round of the playoffs, struggled a bit (by their standards) in the first half of their playoff opener against Fayetteville before roaring back to win 42-14.
"Now, they see that they've got to make it happen," James related. "I think that's a big difference.
"I think that's what that bunch last year had," he mentioned. "They were going to kick the door down. They weren't going to wait for it to open up for them. They were going to go in there and kick it down.
"I got a little sense of that this week," the coach said.
Actually, last week's win over Fayetteville was the same as their 42-13 win over the Bulldogs in northwest Arkansas earlier in the season. Just reversed. Instead of dominating early as they did the first time, the Hornets dominated late this time.
I think the weather and situations had more to do with last week than what we want to talk about in the coaches' office," James said. "We made some mistakes but really, we out-rushed them, out-gained them more than the first time we played them. They had less yards passing and running as well.
"We've just got to play better faster," he insisted. "Against a good football team like this (Bentonville West) — that's really what happened to Conway last week playing these guys. They got down 17-0 and had to come back and it was just too much to overcome. You make a few mistakes and you're down like that. All of a sudden you can't come back. It's a one-game season and when you look at it that way, every possession counts; every half or quarter counts. You've got to put some stuff together because you don't know when those mistakes or those things that don't go your way start to happen."
Bentonville West defeated Conway last week 31-21. Last year, the Wolverines were eliminated in the semifinals by North Little Rock. Then, earlier this season, the Hornets hosted West and pinned a 38-0 loss on them, building a 35-0 lead by halftime to invoke the mercy rule, as they have against nine of their 11 opponents this season.
"They're better," James said. "You know the thing that hurt them last time was — they had a lot of guys go both ways anyway but, also, it was so hot. There's a big temperature change from northwest Arkansas to central Arkansas. The heat was just unbearable that day. That had as much to do as anything.
"Plus, we did everything right," he recalled. "Everything fell into place for us. After the game was over, I told our players on the field that was one of the best teams we would see this year. I said that to the end.
"I thought, athletically, they've got a good football team. They're big and strong. They play hard. And they've got some speed.
"They're a good opponent," the coach related. "That's why they're back here now. They went through some injuries at the end of the year then were able to overcome that a little bit. They still got the second seed. They're really a team that's very dangerous."
Despite their domination this season, the Hornets have done a good job of respecting every opponent, James acknowledged. Certainly, that's the case tonight.
"We've got to play cleaner," he said. "We've got to play with more sense of urgency.
"There's a reason there's only four teams left," the coach concluded. "So, you've got to understand the stakes are higher. But there's no pressure on us except to go out there and play our best game."