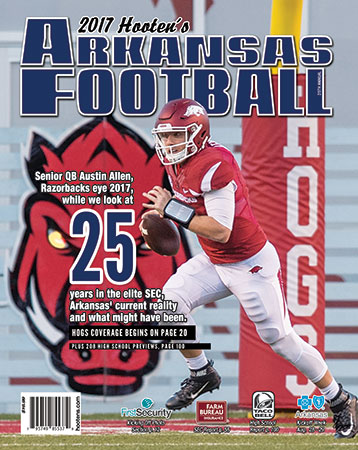 The Bryant Hornets are picked first in the 7A Central, as voted on by conference coaches in the 25th annual Hooten's Arkansas Football magazine.
The book retails for $16.99 and is on sale now at Big Red Stores, Harvest Foods/Buy Rite, Harp's Food Stores, Kroger, Walgreens and Wal-Mart.
The 432-page book, which takes more than five months to compile, offers the most comprehensive preseason football coverage in Arkansas. Arkansas Razorback quarterback Austin Allen graces the cover. Hooten's Arkansas Football takes a look back at the past 25 years since Arkansas joined the SEC, and offers a "what if" scenario with the Hogs staying in the Southwest Conference.
In addition to providing extensive coverage of every high school team in the state, the book offers an in-depth preview on the Razorbacks and coverage on each Southeastern Conference school. Arkansas State and every state college are previewed as well as all 130 Division I college teams in America.
The national award-winning book features coaches' polls for each high school conference, statewide rankings for every team, super teams for each classification, a national college poll and complete college and high school schedules.
Alabama is tabbed to win the SEC West, followed by LSU, Auburn, Arkansas, Texas A&M, Mississippi State and Ole Miss. Georgia is picked to win the SEC Eastern Division, followed by Florida, Tennessee, Kentucky, South Carolina, Vanderbilt and Missouri.
Arkansas State is ranked second in the Sun Belt and 63rd nationally. Appalachian State is picked to win the Sun Belt.
The Alabama Crimson Tide are Hooten's preseason No. 1 team, followed by Florida State, Southern Cal, Ohio State and Penn State.
Southern Arkansas is picked to win the Great American Conference, followed by Ouachita Baptist, Henderson State, Harding and SE Oklahoma State.
Hooten's high school favorites to win it all in 2017 are Har-Ber in Class 7A, Greenwood in Class 6A, Pulaski Academy in Class 5A, Warren in Class 4A, Prescott in Class 3A and Mount Ida in Class 2A.
The book is published annually by Hooten Publishing, Inc., of Benton.