For more photos from this event by Rick Nation, go here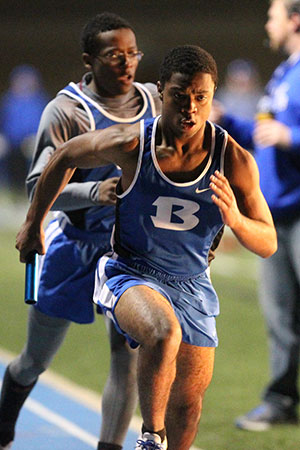 Chris Barrientos and John Carder posted State-qualifying times in the 3200-meter run as the Bryant Hornets finished second in the team competition with 98 points at the annual Hornet Relays on Tuesday night at Bryant Stadium.
The Hornets finished with 98 points with Springdale Har-Ber earning the meet championship with 107 points. Bryant 7A-Central Conference rival Conway was third at 96.5 followed by Benton (78) and Cabot (53) in a field of 19 teams.
In addition to the early landmark for Barrientos and Carder, the Hornets produced second-place finishes in five events, though they were denied a first-place finish.
"We competed very well in some pretty tough conditions," noted Hornets coach Steve Oury. "The cold was having an effect on the sprints and jumps. We still had a large number of personal records set.
"Har-Ber just won the state indoor meet, so I thought we hung with them pretty well," he mentioned. "They were missing a couple of their best athletes, but so were we.
"Overall, I thought we had a very good meet," the coach emphasized.
Barrientos was second in the 3200 with a time of 9:52.16 and Carder was third in 9:52.84. Dylan Douglas of Maumelle held forth in a tight race with a time of 9:49.71. Bryant picked up points from Kaine Villarreal-Hurst in the event as well. He was sixth in 10:25.86.
The duo of Barrientos and Carder also finished fourth and fifth, respectively, in the 1600. Barrientos ran a 4:32.80 with Carder clocking in at 4:33.74.
Second-place finishes were also turned in by Madre Dixon in the shot, with a heave of 44'9.5" and Raney Singleton in the 300 hurdles with a time of 42.45. Dixon was edged by Matt Campbell of Russellville (50'7.5") while Singleton was just beaten out by Conway's Kevon Holder at 41.94.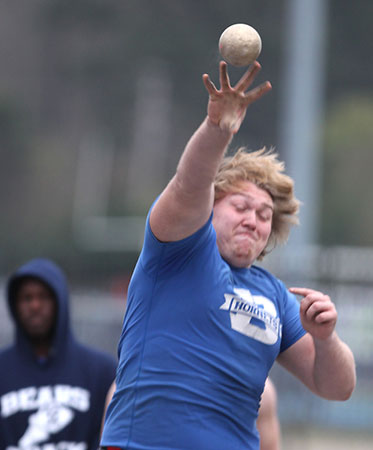 Bryant finished the meet with a 3:36.72 clocking in the 4×400 relay. Malik Dockery, Josh Robinson, Singleton and Diante Woodson teamed up on the effort. Har-Ber won the event in 3:30.79.
The 4×100 relay was third. Mackenzie Martindale, Randy Thomas, Andre White and Woodson clocking in at 44.60.
Thomas added a third-place finish in the 200-meters, turning in a 23.28. White was sixth in 23.63.
"Our distance runners had a great day," Oury said. "Chris Barrientos and John Carder both ran strong doubles in the 1600/3200 meter runs. Enrique Ramos set a big personal record in the 800.
Ramos ran a 2:04.57 to finish fourth.
"In the sprints, Glenn Norris broke through and had a huge personal record in the 400," Oury added. "Randy Thomas and Andre White ran very strong in the 200."
Norris's time in the 400 was 53.42 and earned fifth-place points. Woodson was sixth in 53.85.
The Hornets' 4×800 relay garnered seventh with Erik Gonzalez, Demondre Johnson, Chris Morgan and Joshua Nelson combining on a 9:09.25.
In the field events, Dixon added a sixth in the discus with a throw of 40'1". Villarreal-Hurst cleared 10'6" in the pole vault to finish fifth.
Brandon Murray scored in all three jumps. His 40'1" in the triple jump was good for fifth. He was seventh in the long jump at 19'11". Thomas was eighth with a leap of 19'10.5". In the high jump, Robinson was fourth (5'10") while Thomas and Murray tied for fifth at 5'8".
"I want to thank all of the coaches and parent volunteers who helped to make our home track meets successful," Oury said. "It takes a lot of time and effort. Lynn Dreher has done a great job heading up our booster club and the coaching staff is very appreciative of everything she has done, which includes helping coordinate concession stand workers and helping to serve in the coaches hospitality room."
Next up for the Hornets will be the Lakeside Ram Relays in Hot Springs on March 30.