Photos by Kevin Nagle
The Bryant Hornets football team closed out its first week of practice in pads and its last week of practice before the start of school on Friday. It was actually a week marked by football-season kind of weather.
"Overall, I feel good about where we are," stated head coach Paul Calley. "We've still got a long way to go. But the kids responded well. After a week of morning practice we came back and went four afternoons. I wish I could say, in the heat, but it wasn't too hot.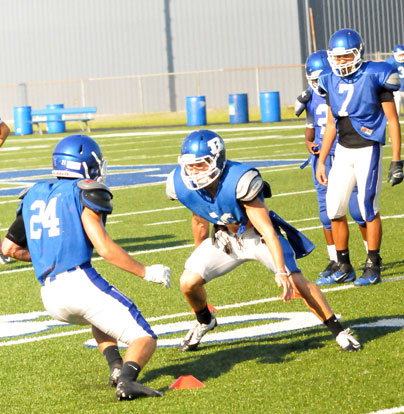 "I thought the effort, for the most part, was there," he added. "We didn't feel sorry for ourselves a whole lot. We had very few breaks. We just let them recover and we pretty much pushed all the way through. We had a lot of contact and I thought they responded well to it."
The Hornets are working toward their first Blue-White scrimmage in several years. Calley stopped holding scrimmages after losing his projected starting quarterback for the season due to an injury in a pre-season intrasquad scrimmage. It'll be Friday, Aug. 23, and will feature all of the teams in the Bryant program from seventh grade to high school, starting at 4:45 p.m., as part of the annual Hornets Fan Fare.
"We're going to be prepared to play a lot more of our younger guys," Calley stated. "We're going to have a JV scrimmage and a varsity scrimmage but our JV is going to be mainly our sophomores then our varsity scrimmage is going to be mainly our second-group guys. The first-tier guys may get a series. I have to talk to the other coaches. They may not get any. We've still got plenty of people to play."
Because of teacher in-service this week, the Bryant coaches worked some long days. After practicing in the mornings the previous week, the in-service pushed practice to the afternoons and went until 9 p.m., or so.
Regarding his team's areas of improvement, Calley said, "The little things, the things we were doing well at the end of spring ball that we lost over the summer, we've kind of gotten back. We're doing the little things right for the most part and, to me, that's the biggest thing because that will hurt you more than anybody knows.
"We're getting that mentality back that we had toward the end of last season, the returning guys that we have," he continued. "They're starting to remember things, it's coming back to them; what happened to us last year. And they know how to handle it and that makes me feel good."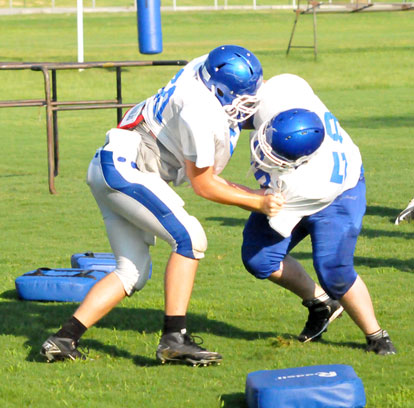 As for the things that still need work, he related, "We're still shuffling people in the defensive line. Some young guys have stepped up and shown some promise, just being able to recognize things, get off blocks, re-direct, pursue the football — that's things that we need to do better. And some of our younger guys did that a little better towards the end of this week.
"The competition is the main thing that I would like to have in camp," the coach mentioned. "We don't have enough competition at every position to push the starters every day to make themselves better. That's why I tell them, it's got to come from within. You've got to be your harshest critic. You have got to be hard on yourself in practice and you've got to push yourself more because, at some spots, we don't have anybody to push them."
On Tuesday, Aug. 27, the Hornets will host a preseason scrimmage with Fayetteville and Pulaski Academy, two perennial State powerhouses in Class 7A and Class 5A, respectively.
"We'll probably go full pads Monday and Tuesday next week, back off Wednesday and Thursday, start preparing Fayetteville and Pulaski Academy Wednesday and Thursday, play our scrimmage on Friday," Calley reviewed. "We've seen each other enough that the defense knows what we're going to run before we run it. It'll be good to get into the scrimmage next week."
Last year in the preseason scrimmage, Bryant hosted a Little Rock Hall team that barely had enough players for two platoons. The Warriors wound up going 0-10 last season. The Hornets open the regular season on Sept. 6, at Conway.
"We went ones vs. ones, twos vs. twos probably about 30 plays apiece," Calley said of the week of practice. "The problem that I have is getting these guys to scale it back enough to where we don't get somebody hurt. Our defense is flying around. Our offense is trying to block until the whistle blows and I'm just scared to death we're going to get somebody taken out. And I don't want them to get taken out during practice.
"I'll sacrifice a little bit there to get to Friday night, which makes Conway really large," he noted. "But I think we'll be more prepared having scrimmaged Fayetteville and P.A. That's quality scrimmage time. We didn't get that last year and we were not ready for the first game. The two teams we're about to scrimmage will get us ready."
Regarding the numbers, Calley said there are 136 on the team this year. In the past, it has been a challenge for his coaching staff to get everybody some work even when the number wasn't that high.
"I've got a little extra help out here now," he said. "I've got some guys volunteering which has really enabled us to get the younger kids more work. So I feel like we're getting more accomplished.
Bobby Joe Gentry, a longtime coach mostly in Texas is among those volunteers along with the youth minister at Calley's church, Otter Creek Assembly of God, Jason Kindrix, who has been helping for a number of years now. Help has also come from younger guys like Robby Aldridge and former Hornets star Cody Williams who is doing his student-teaching at Bryant.
"It's great help," Calley asserted. "More than I've ever had. It will pay off. This sophomore class is large. They're large in numbers and they're large in size. If you can keep these guys out, keep them interested and get them better every day then that's how you get to compete for a State championship.
"Everybody always says, 'Well, how does the West do it?' The West (schools) have a sophomore program where all they do is develop those kids and when they get to be seniors they've got a bunch of them and they know how to play football. That's something we haven't been blessed with but, with this extra help, these guys volunteering their time — I think Coach Gentry may get a part-time position at the school — it's definitely going to help us and we really appreciate those guys."