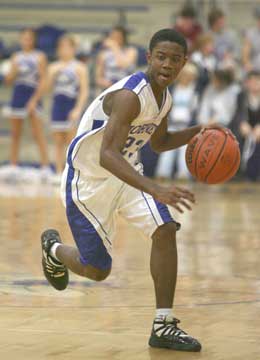 The Bryant Hornets freshman basketball team bounced back from a tough loss at Little Rock Catholic with a 47-43 victory over the Lake Hamilton Junior Wolves on Thursday, Dec. 10.
Zach Cambron converted 5 of 6 free throws down the stretch to help preserve the win after the Wolves got within a point.
Strodney Davis led the Hornets with 10 points. Leon Neale added 9 and Cambron had 9.The Hornets managed a 12-11 lead by the end of the first quarter but built the lead to 27-19 by halftime.
"We started out slow then made a run with our second wave late in the first quarter," said head coach Steve Wilson, who usually subs in five at a time in the first half of the team's games.
Bryant led 39-29 going into the fourth quarter setting the stage for Lake Hamilton's rally.
The Hornets, now 7-2 overall and 3-1 in the South Division of the Central Arkansas Junior High Conference, take a break from league action in their next outing. They host Conway White of the North Division of the CAJHC on Monday, Dec. 14, before taking a break for Christmas.