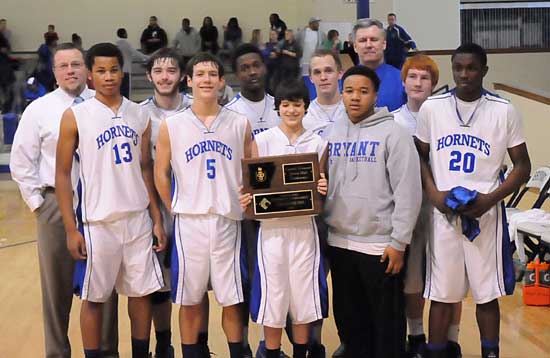 By Rob Patrick
Photos by Kevin Nagle
Basketball is alive and well in Bryant, Arkansas.[more]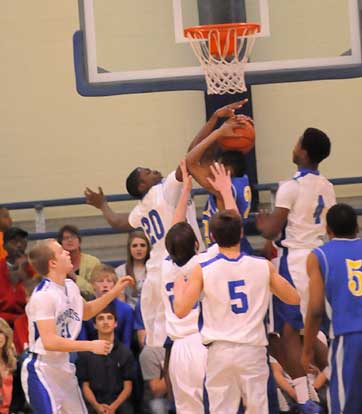 A week that saw the Bryant High School varsity teams both secure bids to the Class 7A State Tournament — with two games still to play, yet — was capped off on Saturday afternoon when the Bryant Hornets freshman team doubled up. After winning the Central Arkansas Junior High Conference regular-season championship, the Hornets added the league's post-season tournament title with a 44-30 win over the North Little Rock Junior Charging Wildcats at Bryant Middle School gym.
The undefeated Conway White Lady Wampus Kittens closed out the girls championship earlier in the day also at the expense of North Little Rock.
The Hornets trailed 16-13 with 2:12 left to play in the first half. To finish the half and to start the second, they took control with a 14-0 run. North Little Rock rallied within 7 but never got any closer as Bryant won it going away. The Hornets finish the season with a sparkling 20-5 record.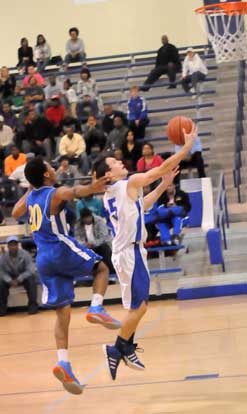 The team includes Brett Fisher, Austin Green, Ryan Hall, K.J. Hill, J.C. Newborn, Brandan Warner, John Winn and Marcus Withers. It's coached by Jim Pennington with assistance from Brett Haugh.
Hill finished with 15 points, 11 rebounds and seven assists including one spectacular dish from his back. Hall added 13 points, Warner 7, Newborn 5 to go with 11 boards and Winn 4.
North Little Rock was paced by high-flying Kevaughn Allen but he was held below his average with 8 points. Kahlil Hill added 6 and Robert Verges, another high-scoring forward, was one of three players with 4 points.
"It's been a very remarkable season," declared Pennington, adding of his team, "They've won every trophy they've had a chance to win. They're champions in all four of them and you can't get any better than that."
Along with the league titles, the Hornets won two tournaments this season, their own and a holiday affair at Lake Hamilton.
"We've got basketball coming," Pennington said, referring to the program's success. "We've got great kids. These are fine, high-character kids we have. You can't win like this unless you have those type of kids. They come from great families. I appreciate their parents.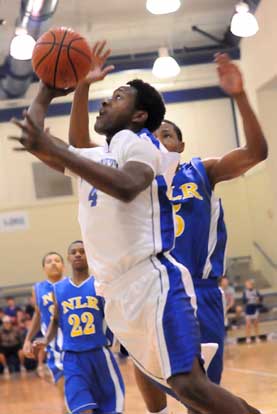 "I told the kids in the dressing room that the best basketball team was in this dressing room," he added. "It might not be the most athletic but I think that we came out and played probably our most complete game of the season. We played very smart and we executed and did the things we talked about we had to do in order to beat them. The kids bought into it and I give them all the credit. They deserve it. They've worked hard all year long. I love them."
The game had additional intrigue. Bryant had not beaten North Little Rock on the floor in two games, losing 42-35 in Bryant back in early December then falling in overtime 49-43 at North Little Rock. But the latter game turned into a forfeit because the Wildcats used an ineligible player. So instead of North Little Rock winning the league's regular-season championship, Bryant took it.
So the Wildcats were on a mission to get another shot at the Hornets with the title on the line.
Be careful what you wish for.
Like Little Rock Catholic in the semifinals — a team that had beaten Bryant twice in the regular season — North Little Rock's plans were dashed. After averaging 52 points a game in CAJHC play, the Wildcats only mustered 30 in the title game. Once again, defense was key with Pennington deploying his team in a combination man and zone defense he had picked up from Bryant High School girls coach Brad Matthews. That strategy had played a part in the Hornets' getting past Catholic in the semifinals on Thursday.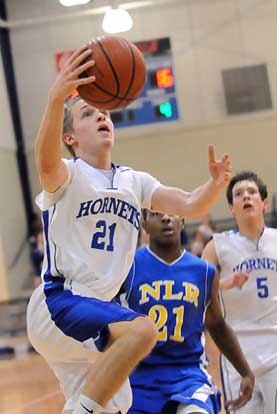 "Defense wins for you," Pennington noted. "We couldn't match up with them man-for-man with their quickness and jumping ability. But we had J.C. Newborn and Ryan Hall do a really good job inside as far as trying to help off on their penetration. (North Little Rock) didn't have a clear path to the basket. They had to take it out wider. The guys did a great job of executing what we did. I'm just so proud for them."
The game was even much of the first half. It was tied 6-6 late in the first quarter when North Little Rock got loose on a fast break and Kahlil Hill sent an alley-oop pass to Allen at the rim. In Thursday's game against Conway White, the duo had worked that play for a spectacular slam dunk. This time, however, a Hornets defender was back and Allen couldn't get to the rim. As a result, he made perhaps an even more spectacular play, one-handing the ball as he flew by the backboard and banked it in.
In response, K.J. Hill tied it up with an eye-popping spin move with :44 left in the quarter. Newborn blocked a late shot by North Little Rock's Omar Minor to keep it 8-8 going into the second quarter.
The game was tied at 10 and 13 before the Wildcats built the 16-13 edge that marked the start of Bryant's game-turning blitz. Warner started Bryant's run with a bucket off an offensive rebound. He then made a steal that led to a three-point play by Hall. After an exchange of misses, the Hornets forced a turnover and Winn got out in front of the pack for a layup that made it 20-16 at the break.
North Little Rock had two shots at putting the first points on the board in the second half but missed. Bryant broke the ice off K.J. Hill's scintillating play. After missing a shot at falling to the floor, Hill was lying on the ground and the carom off the miss plopped into his hands. Noticing Newborn alone under the basket, he two-handed a pass to his teammate for the basket that sparked the third-quarter portion of Bryant's surge.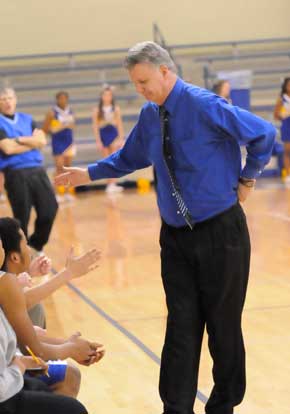 Newborn fed Hall for a layup then added a basket inside that gave the Hornets their first double-digit lead at 26-16. A free throw by K.J. Hill made it 27-16 before Romello Jones ended the Wildcats' dry spell of over seven game minutes.
Along with the defensive work, the Hornets' success was fueled by rebounding. The two teams were nearly even on the boards in the first half but, in the third quarter, Bryant out-rebounded the Cats 14-4. For the game, they wound up with a 32-24 advantage on the boards.
Hall got a layup off another splendid dish from K.J. Hill but then Khalil Hill and Phillips got back-to-back buckets to go as the Wildcats cut the lead to 7.
Pennington called a timeout with :37.7 left in the period and the Hornets worked for a late shot with Warner hitting a layup off another dish from Hill.
It was 31-22 going into the fourth quarter.
Hill fed Hall for the first basket of the final period and, after Verges hit a free throw, Hall added a bucket inside and Newborn converted at the charity stripe to extend the lead to 13. By then, North Little Rock had begun to press and the Hornets had responded by slicing their way to the hoop.
Phillips interrupted with a basket off the offensive glass and, down 9, North Little Rock called a final timeout with 2:32 to go.
Bryant responded with another quick burst, burning the Wildcats' press for layups by K.J. Hill, Newborn and Hall, which extended the lead to 15 points, the largest of the game, with 1:12 left to play.
Having committed just two fouls in the half, the Cats had to start fouling in bunches after Allen drove for a layup. The Hornets were able to eat time as the fouls piled up and, in the final 30 seconds, K.J. Hill hit free throws that set the final score and set off a Bryant celebration.
JUNIOR HORNETS 44, JUNIOR CHARGING WILDCATS 30
Score by quarters
North Little Rock 8 8 6 8 — 30
BRYANT 8 12 11 13 — 44
JUNIOR CHARGING WILDCATS 30
Player fg-fga ft-fta reb fls pts
o-d-t
Ka.Hill 2-8 1-2 0-0 0 3 6
Allen 3-8 2-2 3-2 5 3 8
Verges 1-9 2-4 2-6 8 2 4
Minor 0-1 0-0 0-1 1 0 0
K.Jones 2-5 0-0 0-2 2 1 4
Brooks 1-4 0-0 2-2 2 1 2
Phillips 2-3 0-0 1-1 2 2 4
C.Jones 0-0 0-0 0-0 0 0 0
R.Jones 1-2 0-0 0-0 0 0 2
Team 1-1 2
Total 12-40 5-8 9-15 24 12 30
JUNIOR HORNETS 44
Player fg-fga ft-fta reb fls pts
o-d-t
Winn 2-2 0-0 0-1 1 1 4
K.J.Hill 5-16 3-5 4-7 11 4 15
Warner 3-9 0-0 2-3 5 0 7
Newborn 2-5 1-2 3-8 11 3 5
Hall 6-10 1-1 1-2 3 0 13
Withers 0-0 0-0 0-0 0 0 0
Team 0-1 1
Total 18-42 5-8 10-22 32 8 44
Three-point field goals: Bryant 3-8 (K.J. Hill 2-4, Warner 1-4), North Little Rock 1-7 (Ka.Hill 1-3, Verges 0-3, Allen 0-1). Turnovers: Bryant 11, North Little Rock 11.