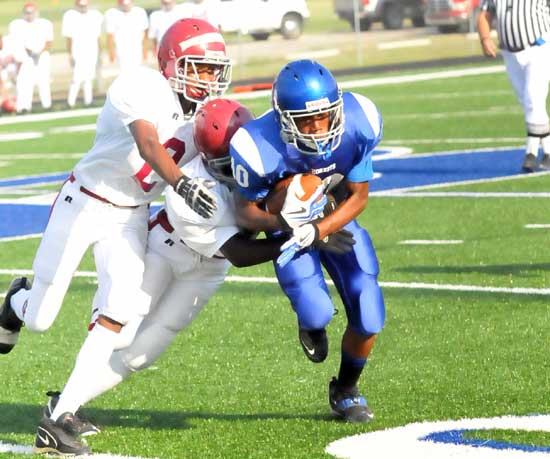 Hornets' freshmen come through in the clutch to 'win' scrimmage
EDITOR'S NOTE: Because the look back at each day in Bryant athletic history has been so favorably received during the time when there was no sports during the COVID-19 shutdown, BryantDaily.com will continueposting past stories of Bryant athletics either posted on BryantDaily.com (from 2009 to the present) or published in the Bryant Times (from 1998 to 2008).
By Rob Patrick
Photos by Kevin Nagle
Officially, nobody wins or loses a preseason scrimmage. But it certainly can benefit a team if they're put in a situation where they're a little under the gun.
With 5:24 left in their 16-minute (two regulation quarters) scrimmage against Pine Bluff Robey, the Bryant Hornets freshman team found itself trailing 14-7. Pine Bluff went for a two-point conversion to take a two-score lead only to have linebacker Brendan Young haul down running back Kentorius White short of the goal line.
That kept the Hornets' hopes of a comeback alive. And, starting at their own 30, they drove 70 yards in seven plays to pull within a point then succeeded on a two-point conversion to take the lead with 2:41 left.
Brandon Warner's 8-yard pass to Jason Hastings produced the touchdown then K.J. Hill ran in the conversion.
The defense held on and the Hornets secured a 15-14 "win".
Earlier in the evening, the second- and third-team players for both teams scrimmaged through 40 plays with Bryant producing the lone score on an 82-yard touchdown pass from Madison Schrader to Drew Tipton.
Bryant opens the season, officially, on Thursday, Sept. 1, at home against Lake Hamilton.
Warner wound up completing 9 of 16 passes for 151 yards and two touchdowns with one interception. Hill caught three passes for 81 yards including the other touchdown, a 47-yarder. Jacob Gorham caught two throws for 54 yards. On the ground, Brushawn Hunter picked up 39 yards on six carries.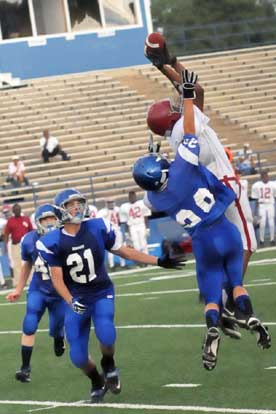 The Hornets accumulated 206 yards of offense on 25 plays while holding Pine Bluff to 95 yards on 18 plays during the primary scrimmage.
In the initial scrimmage, Schrader completed 5 of 13 passes for 124 yards. The Hornets picked up a net of 17 yards on the ground. Travon Lee picked up 24 yards on two carries.
"I thought we threw the ball well and caught the ball well," commented Hornets coach Kenny Horn. "I thought we ran the ball well when we got the chance to run it. I'm not sure up front, like always. We think we've got a few holes there that we're going to have to fill. We'll find out next week what we're going to do with them.
"We weren't very physical," he explained. "I didn't think we were very physical up front offensively. Defensively, I thought we were sound. We were in the right spots. We just didn't make some plays when we had the opportunity to. That hurt us.
"We'll talk about turnovers tomorrow," he added, noting the team lost a fumble as well as throwing an interception. "But the good thing is, to me, that's little things that we think we can fix. And, if we can fix them, we'll be okay in the long run."
Schrader's touchdown pass to Tipton came on the fifth play of the opening series of plays, catching him in stride down the right sideline. Both teams were given possession of the ball for 10 plays twice. Bryant's first 10 also included a 13-yard run by Hunter Lawhon and a 21-yard scamper by Lee.
On defense, Taylor Yarberry, Houston Chavis, Bryce Hardin and Kemith Buffington turned in good plays.
Bryant's second set of 10 started well, with Schrader completing a 10-yard pass to Ty Harris, then ended will when he found Steven Murdock for a 23-yard play.Plays by Chad Adams, Conner Chapdelaine and K.J. Hill highlighted the defensive work on Pine Bluff's second set of 10 plays.
In the standard scrimmage, Bryant drove for a touchdown on the opening drive, capped by Warner's 47-yard touchdown pass to Hill. Hunter contributed a 14-yard run to the drive that took seven play to cover 70 yards.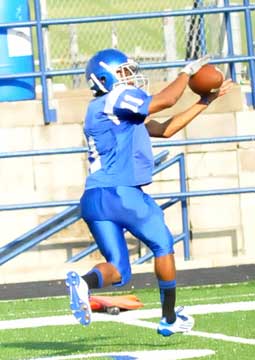 Behind solid defensive plays from Austin Trusty, Kyle Lovelace and Young, the Hornets held Pine Bluff to two first downs. When the Hornet offense got the ball back at the 30 again, they appeared to be on their way to another score. Hunter ripped a 27-yard burst then Hill dashed for 11 yards to the 16.
But three plays later, Pine Bluff's KeUntope Crump stepped in front of Warner's throw to the outside and headed the other way. Gamely, Bryant's Mitchell Reeves stayed with the play and ran Crump down at the Bryant 1.But that only delayed the score. Quarterback Jayshon Williams kept for the touchdown on the next play then ran in the two-point conversion as well.
Bryant was driving again on its subsequent possession. Facing a fourth-and-2 at the Pine Bluff 47, Warner threw to Reeves in the flat and the receiver fought for enough yardage to convert at the 44. But on the next play, Hunter was trying to cut for extra yardage when the ball was knocked free and Pine Bluff recovered.
The Zebras drove for the go-ahead score from there. Most of the yardage came on two pass plays that Pine Bluff receivers just out-leapt the Hornets for including the touchdown from Williams to Tyler Bell on a wobbly aerial from 29 yards out.
Bryant's winning drive began with a 25-yard connection from Warner to Hill. Two plays later, Warner found Gorham for 36 to the 5. It appeared the Hornets had a touchdown when Warner threw to Hastings in the left corner but, after a conference, it was ruled that Hastings hadn't been able to get a foot down before going out of bounds. Warner was dropped for a 3-yard loss on the next play by Pine Bluff's massive Kenneth Goodwin, setting up the touchdown play on a third-and-goal from the 8.