Photos by Kevin Nagle and Andrew Schroeder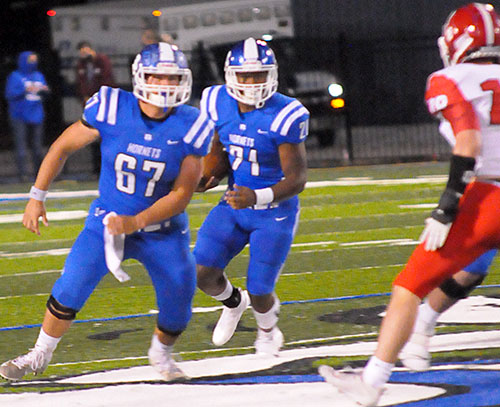 "I'm looking for more," stated Bryant Hornets head coach Buck James after his top-ranked and unbeaten team dismissed the Cabot Panthers, 42-14, on Homecoming for their 24th consecutive victory.
"I'm proud of them," he said. "I'm proud that we did play as well as we did in spots, but I want us to improve. For us to beat a North Little Rock or a Conway (Bryant's next two opponents) or somebody in the playoffs, we're going to have to do better than that."
When you've been the best and you want to stay the best, there's always stuff to work on.
"We can clean up the penalties," James said. "That's the thing I want us to do.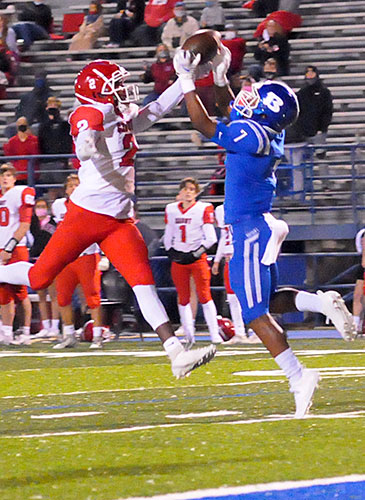 "Defensively, we didn't tackle well at all especially in the secondary," he continued. "We've got to improve on that. We want to dive in at people's ankles and, like I told them, it's a bad look. I mean diving and not wrapping up on people is not how you play defensive football. I don't know why we do that. I don't know what possesses them to do that. We don't teach that. But we get in games and we want to dive at people's feet. I don't know if we're scared they're going to run over us or we're scared we're going to miss a tackle or what the case is. But we must fix that if we're going to beat good football teams."
The Hornets led 35-7 at the half, scoring on all five of their possessions and when they added another touchdown midway through the third quarter, the mercy rule (running clock) went into effect with 5:36 left in the third. It was the fifth time in seven games this year, the Hornets have done that.
Cabot added a fourth-quarter touchdown when both teams were subbing heavily.
Senior quarterback Austin Ledbetter hit 8 of 12 passes for 183 yards. Half of his completions went for touchdowns to sophomores. Cory Nichols caught two and Jordan Knox caught two.
The Hornets gashed the Panthers' defense for 264 yards rushing including 150 by Xavier Foote, his second 100-yard game in a row.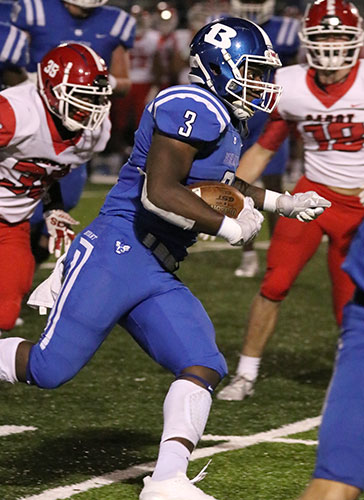 Bryant's defense did hold Cabot to a net of just 25 yards rushing on 32 plays. But Cabot quarterback Tyler Gee threw for 278 yards including an 80-yard TD toss to Braden Jay.
Standards — the Hornets are held to high standards. That's how you win back-to-back State championships. And they perform at a high level pretty consistently. James appreciates that.
"Our defensive line played okay," he commented. "I thought our linebackers played okay. We played good defense for the most part. We kept them out of the end zone. To give them only seven points. They're averaging over 30 a game. So, really, we played good defense but, dang, how much better can we play if we do what we're supposed to do. And that's what I'm looking for."
Cabot tried to play a bit of a prevent defense, leaving just six in the box but blitzing the three linebackers constantly behind the three down linemen.
So, the Hornets lined up in a two tight-end formation and pounded the ball behind their fine offensive line of tackles Will Diggins and Brooks Emondson, guards Parker Elswick and Jason Shiflett and center Jacob Powell along with Hayden Schrader and Robert Hendrix at the tight ends.
"We felt like when we got in two tight ends, we got a look that we hadn't gotten and, you know, when we had success on a play, we kept running the same play over and over," James noted. "I think we ran the same play probably five or six times in a row during the game, at least five or six times.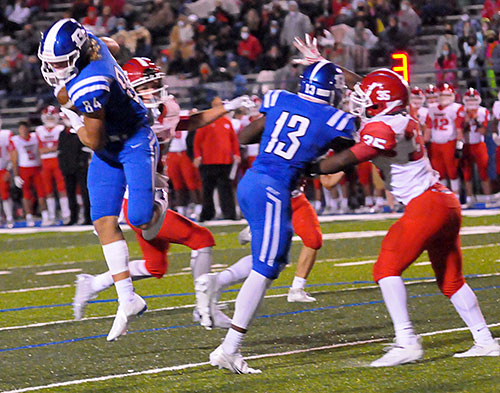 "Our offensive line played really well," he continued. "We just had a couple of holding penalties then we lined up offsides and then we moved and, you know, we tried to kill a drive right there. But I thought our offensive line did a good job, considering what they were bringing against us.
"I thought our receivers played well," the coach mentioned. "We got a big game out of Cory Nichols and Jordan Knox and I thought Austin threw the ball well.
"I thought we ran the ball well, threw the ball well and we made some thirds-and-long. We made a couple of big fourth-down plays. It's good to have that happen."
Cabot's first two possessions of the game were undermined by bad snaps. After driving to midfield, a snap got past Gee and he covered it but for a 14-yard loss.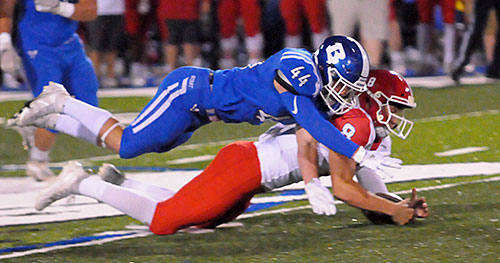 A short punt left the Hornets just 51 yards away from scoring and it took just three plays. Nichols hauled in a pass over the middle and wove his way through the secondary for a 41-yard touchdown.
Cabot's second series ended when they were forced to punt. The key play for the Bryant defense came when, on a second-and-9 at the Hornets' 31, Brandon Jones popped clean through the Cabot offensive line. With a Panther blocker following him, holding onto his jersey and stretching it out, Jones powered to the quarterback for a 15-yard sack.
Then when the Panthers went to punt, another bad snap cost them. Punter Dylan Sampson tried to fall on the ball, but the Hornets' Kaleb Knox got their first and recovered at the Cabot 37.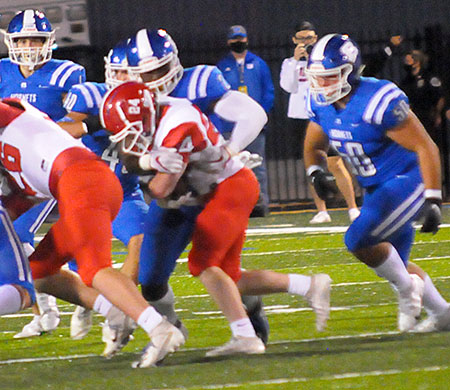 One of those third-down conversions followed. Ledbetter, throwing with the considerable North wind, underthrew Nichols inside the 10. But the sophomore plucked the ball out of the air over a Cabot defense and stepped into the end zone for another 6.
Brock Funk, who was good on all six of his extra point attempts made it 14-0.
On the kickoff return, the Panthers were only able to get back to the 18. But, after Mason Bell managed a 2-yard run, Gee found Jay behind the Bryant secondary for an 80-yard touchdown.
The Hornets, however, came right back despite the series of penalties that James referred to. (Bryant was flagged for 67 yards of penalties on seven calls, Cabot, though they were guilty of a couple of penalties, wound up having none marked off in the game.)
Foote had carries of 20, 23 and 10 yards consecutively to start Bryant's drive. A holding and two false-start penalties followed putting the Hornets in a first-and-25 hole.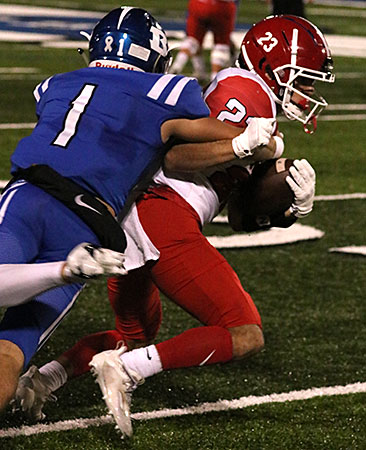 But Jamarien Bracey pounded 8 yards and, a play later, on third-and-17, Ledbetter connected with Schrader for 24 yards to the 3. Foote scored on the next play and Funk booted the PAT to make it 21-7.
Cabot picked up a first down on its next possession but once they got to the 49 with a second-and-2, the Hornets pushed them back. First, Rodricho Martin and Andy Scott crashed through to stop Jacob Parks for a loss of a yard. Then it was Scott and Hart Penfield who dropped him for a two-yard loss. The Panthers went for it on fourth-and-4 and Gee completed a short pass to running back Mason Bell, but Penfield and Kaleb Knox stopped him just shy of the line to gain and the Hornets took over on downs at their own 48.
Despite a holding penalty that cost them 12 yards and negated a 10-yard gain for Bracey, the Hornets went right back to the same play and, led by Elswick and Powell pulling on the play, Bracey slashed 17 yards then 13 more.
Bracey carried on five of the six snaps on the drive. His 8-yard touchdown run was set up by a 10-yard pass completion from Ledbetter to Daizure Hale.
Gee threw five passes on Cabot's next drive and missed on four of them. He connected with Jay for 18 yards. A play later, Gee tried to run it, but Jones stopped him for no gain.
The Panthers punted the Hornets back to their own 21. It was Foote's turn to run the ball. Four straight carries included gallops of 14 and 32 yards.
Another holding penalty pushed Bryant back, but Ledbetter passed to Foote for 16 yards and, a player later, under pressure, Ledbetter hit Jordan Knox streaking across the end zone for a 24-yard touchdown that, with Funk's kick made it 35-7.
Starting with 1:50 left in the half, Cabot threatened to score driving from their own 23 to the Bryant 25. Again, a bad snap cost the Panthers. Gee fell on it for a loss of 2 as Bryant's Brayden Godwin nearly claimed it.
It appeared time ran out on Cabot but, even though the clock went to zeroes, it was ruled that the Panthers' coaches got a timeout at the last second, allowing for one more play. A throw to the end zone was deflected by safety Austin Schroeder and caught out of bounds by Noah Davis to end the half.
By scoring on all five possessions, the Hornets ran a streak to nine consecutive scoring drives over the last two games. But that stretch ended when the Hornets went three-and-out on the first drive of the second half.
Cabot, in turn, picked up a first down then stalled as linebacker Myles Aldridge tipped a Gee pass on a fourth-down try and Bryant took over.
The Hornets faced a fourth-and-2 at their own 42 and went for it. Bracey bulled for just enough to keep the drive alive. Two plays later, Foote banged to 16 yards then 12 more to set up Ledbetter's fourth touchdown pass. He was pressured on the play but got the pass away. Though his arm was struck as he released the ball and the pass fluttered a little, it came down in the arms of Jordan Knox who got into the end zone to make it 42-7.
Cabot's first team offense threatened one last time as Gee found Jay for 42 yards to the Bryant 17. On the next play, however, they ran an option and when Gee pitched it, there was Penfield to snag it and head the other way.
He nearly scored but was caught by Cabot's Trey Birdsong 3 yards short of the end zone.
With reserves in the game against the Panthers' first defense, the Hornets were unable to punch it in. They decided to have Funk try a 21-yard field goal, but the snap sailed high over the head of Schroeder the holder. And, through Schroeder was able to recover the loose ball, Cabot took over on downs at the 34.
Aided by a pass interference penalty, the Panthers' reserves drove to the Bryant 5 where sophomores Tyler Mosely and Jaylin Russ pushed them back 2 yards. Jaylon Brown, another sophomore stopped a run for no gain on third down. On fourth down, however, the Panthers ran a reverse and wide receiver Ethan Kemp skirted around right end to get into the end zone.
The Hornets ran out the last four minutes of the clock with sophomore Ethan Primus and junior quarterback Cason Burnett contributing runs of 15 and 14 yards, respectively.