Hornets survive Patriots' upset bid
EDITOR'S NOTE: Because the look back at each day in Bryant athletic history has been so favorably received during the time when there was no sports during the COVID-19 shutdown, BryantDaily.com will continueposting past stories of Bryant athletics either posted on BryantDaily.com (from 2009 to the present) or published in the Bryant Times (from 1998 to 2008).
By ROB PATRICK
BRYANT TIMES
LITTLE ROCK — The Boston Red Sox made news this fall for calling upon each other to "cowboy up." In every sport, it's almost cliché to say someone needs to "step up."
But phrases like that become cliché because of the universality and versatility of the truth in them. They just apply to so many situations.
On Friday, Oct. 24 at Scott Field, the Bryant Hornets needed some people to step up. They were in a tussle against an inspired 1-6 Little Rock Parkview team which was celebrating Homecoming and playing for a coach, Ernie McGehee, who lives in Bryant. For their part, the Hornets, admittedly, came out flat. Somewhat understandable considering Parkview's record and the fact that the rival Conway Wampus Cats, ranked among the state's best teams, was next on the Hornets' schedule.
But, along the way, the Hornets stepped up and pulled out a 31-28 win to stay in the thick of the race for a post-season bid.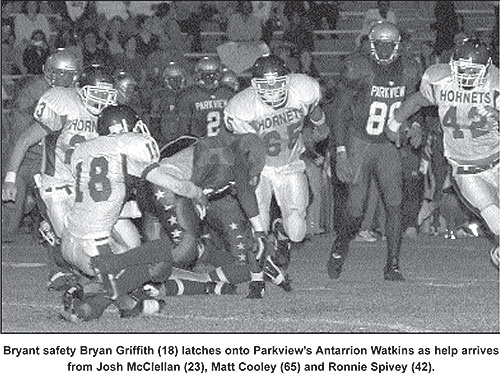 The final difference in the game was a typical example of how the Hornets stepped up. The three points was provided by junior kicker Travis Cockerham, his first varsity field goal. Cockerham, who has been handling kickoff duties lately, was also 4-for-4 on extra points. He was asked to step up in place of the Hornets' record-setting kicker Todd Bryan who was unavailable due to injury.
Cockerham's 32-yard field goal with 4:05 left in the game, gave Bryant a 31-21 lead, enabling the Hornets to withstand a late touchdown drive by the Patriots.
The Hornets also got a boost from seniors Zach Cardinal and Bo Lee. Buds since eighth grade, the duo has dressed out in adjoining lockers since they were sophomores. And, on Friday, head coach Paul Calley called on them to step up. The Hornets had squandered three opportunities in Parkview territory and the Patriots had just taken a 7-0 lead early in the second quarter. The Hornets had a first-and-10 from their own 21, their worst field position of the game to that point, when Calley called for a little trickery. Quarterback Scott Peeler threw a lateral pass to Cardinal who pulled up and threw back across the field to Lee, just evading a defender. Lee rambled 65 yards to the 14. On the next play, Peeler passed to Cardinal for a tying TD.
"We had to have something to spark us," Calley said later. "The defense gave us the ball three times on the plus side of the 50 and we couldn't do anything with it. We went backwards.
"We were flat coming out," he noted. "You know, there's not a lot of atmosphere at Scott Field, especially over on our sideline."
At Scott Field, there are only stands on the home side of the field. The visiting team bench is the only thing on the other side.
"We were just dead," Calley continued. "We had to have something to give us a spark. It did. Actually, it should've been intercepted but the guy just miss-timed it. Bo caught it, we got it down to the 14, put it in the end zone then we kickoff to them and they score on the very next play. It was back and forth. I wouldn't say it was like a heavyweight title fight. It was more like a welterweight title fight. We've got to decide that we want to play football from the opening kickoff. We can't wait until halfway through the first half."
The coach mentioned that a factor in his team's early struggles on offense was part of a familiar scenario. "Once again, (Parkview) showed us something totally different on defense than what they've shown over the last two years," he explained. "They've never played any cover-two look, they always played man-free or some type of cover three but they came out in a cover-two and we hadn't worked on it all week. That's no excuse. We've seen enough cover-two, we ought to be able to execute against it. It just kind of threw us at first."
As Calley mentioned, Parkview came right back and score on a 69-yard pass from Chris Kimbrough to Eric Ware. It was swing pass that Ware turned into gold.
The Hornets answered with a 65-yard drive in seven plays, topped by a 33-yard completion from Peeler to Cardinal. For the senior receiver, who is rewriting the Bryant record book for receiving, it was the school-record 11th touchdown catch of the season. In addition, with his six receptions in the game, Cardinal surpassed the record of 68 held by Tanner Francis (1998) and Matt Brown (1999). Cardinal now has 72 catches and counting. He needs just five more catches, unofficially, to break Brown's career mark of 150.
Again, however, Parkview regained the advantage with a 73-yard march to paydirt. Running back Antarrion Watkins scored from the 1. Kimbrough was 7 of 8 passing on the drive which started with a blow to the Hornets. Junior defensive tackle Andrew Hughes went down with a knee injury that will, apparently, end his season.
"As of right now, the diagnosis is that he has torn cartilage in his knee," Calley said on Monday. "He was probably our most improved defensive lineman. He was coming on and starting to make plays. You hate to see it. He just kind of stepped on it wrong. He tried to change directions, stepped on it wrong and hyper-extended it."
The Hornets got another jolt moments after the Patriots took the lead. Lee made a marvelous run on first down from the 35 but most of it was negated by a phantom holding call. It was the first penalty of the game other than out of bounds kickoffs, though the Bryant sideline had been lobbying for flags against Parkview.
Now, in the past, the Hornets have let officiating distract them from their task. This time, however, they stepped up and intensified their effort.
"They called a hold and Zach Cardinal was just standing there walling (a defender) off and never even moved his hands," Calley noted. "Instead of getting mad, we came back and, I think, once we got behind it kind of woke us up and we started making plays.
"There were several things that I thought should've been called but weren't and some things that were called that were questionable," Calley elaborated. "I thought there were several personal fouls that should've been called. I thought there was a lot of mouthing going on that should've been alleviated by the officiating crew but was not. I almost got a penalty when I told our guys that they couldn't talk. I said Parkview can talk apparently, but we can't. But we don't want to get caught up in all that stuff. We want to do our talking on the field. It gets frustrating for the kids when they see the other team doing it and they know they can't."
On the very next play, Peeler and Blake Zuber combined on a beautiful 44-yard pass and catch down the left sideline. After an interference penalty prevented one touchdown pass, moving the ball to the 12, the Hornets had another player step up. Peeler, rolling right, muscled up on a pass into the right side of the end zone trying to lace it into junior Richie Wood. The ball sailed but the 6-3 Wood skied to snare it and somehow got a foot down inbounds for a spectacular touchdown play.
Cockerham tied it with the extra point and the teams went to the half with the game knotted at 21.
Riddled in the second quarter, the Bryant defense started the second half by taking its turn at stepping up. After some adjustments, they started to get better pressure on Kimbrough. Ronnie Spivey and Thomas Byington combined on a sack to help thwart Parkview's first series, forcing a punt.
"We didn't make a lot of adjustments," said defensive coordinator Steve Griffith. "We had mixed in some 3-2 look with our four-man front in the first half. In the second half, we stayed mostly with the four front and used the middle linebacker (Zach Sanders) on a few blitzes to get an extra rusher on the quarterback. The biggest difference was the kids came out and played extremely hard."
Lee reeled off a 33-yard run but fumbled at the end of it. But Zuber was hustling downfield and covered it. Two plays later, the Hornets were at the Parkview 40 when a Peeler pass was tipped and intercepted.
Again, however, the defense came through. Parkview reached the Bryant 33 when Spivey dumped Kimbrough for a loss then the Hornets foiled a double reverse. Ware lost 9 yards on the play. On the next play, Bryan Griffith intercepted Kimbrough's pass at the 17.
Talk about intensity: At one point during the second half, Griffith, who led the Hornets with 11 tackles, blasted Parkview's 6-7, 235-pound tight end Marcus Winston on a pass over the middle. Winston's helmet went flying and he was unable to return to the game.
Like the first quarter, the third quarter was scoreless. Bryant gained its first lead after a short Parkview punt gave the Hornets the ball at Patriots' 42. Peeler scrambled for 6 yards. After David Lister picked up a yard, Peeler dropped back to pass and was hit by a blitzing linebacker as he released his pass toward Wood who was wide open deep down the right side. Wood again made a spectacular play. He was looking back over his right shoulder running a flag route. But when Peeler was hit, the pass went more down the middle. Wood turned completely around and caught the ball hip high on his left side and tumbled into the end zone. Cockerham kicked it to 28-21.
Parkview went three-and-out setting up Bryant's drive to Cockerham's clinching field goal.
Watkins scored on a 32-yard run with 2:29 left setting up a bizarre series of onside kicks. Because they were offsides each time, the Patriots had four kicks negated by penalty. Bryant not only covered the fifth attempt, the Hornets had recovered the first four for good measure.
Finally, with 2:19 left, the Hornets had possession and ran out the clock.