Photos by Andrew Schroeder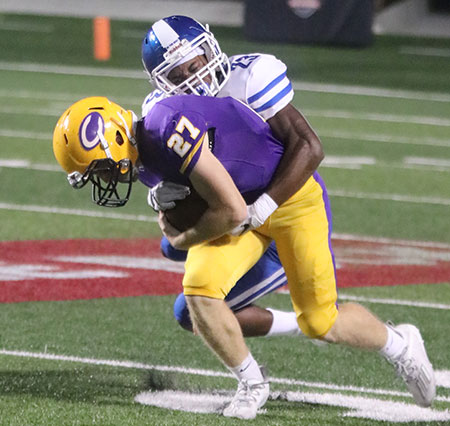 LITTLE ROCK — It never happened in 2016 or 2017. In 2018, Latavion Scott and Ahmad Adams did it against Conway. In 2019, Adams and Tanner Anderson did it against Cabot.
Now, in 2020, Anderson and Xavier Foote both rushed for over 100 yards for the Bryant Hornets. This time, it came against the Little Rock Catholic Rockets in a 31-3 victory at War Memorial Stadium.
It was the Hornets' 22nd win in a row dating back to week eight of 2018.
The Hornets rushed for nearly 300 yards in the victory. And all that running helped set up four touchdown passes by Austin Ledbetter — two to Jordan Knox, one to Cory Nichols and the first one of the night to Anderson. Bryant had 475 yards of total offense.
Meanwhile, the Hornets defense kept the Rockets out of the end zone for the first time this season. The Rockets came in averaging nearly 30 points a game. Catholic finished with 219 yards of total offense 76 of which came after the final score was on the board with just over five minutes left in the game.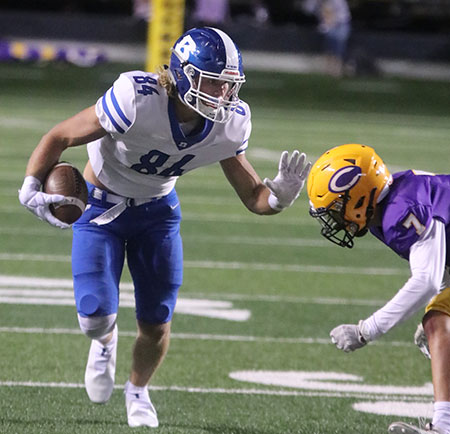 It's a testament to the program that head coach Buck James and his staff have developed that some might say the Hornets "only" won by 28.
"I can't complain about a 31-3 win," James said. "Do I think we were sharp? No, but you know we played good.
"I thought defensively we played great," he asserted. "I mean we bent a little bit, but those guys have been scoring a lot of points on people. So, for us to do that to them I thought was pretty good by a defense. You can see what we're working on as far as our gap integrity and squeezing blocks and stuff like that, but they did a good job.
"They have good backs and their offensive line is aggressive," the coach said of the Rockets. "I'm glad we worked on what we worked on all week because I think it would have made a big difference if we hadn't have. And I think we'll continue to get better on that."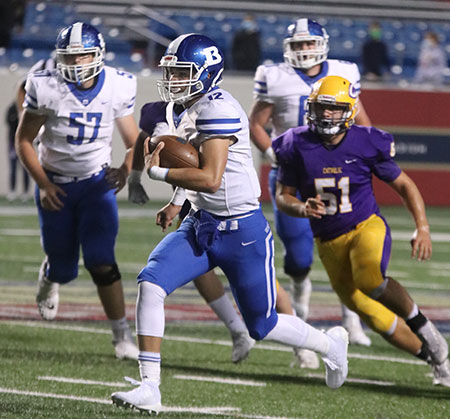 "They really set the tone of the game," he stated. "They were slow getting their stuff in. They ran the ball and then they were slow getting it in again. When they got rolling and they started to go fast, that actually helped us a little bit."
The Hornets were without six to eight players for various reasons. Some with minor injuries were held out by the coaches as a precaution.
"We had some guys who did a really good job," James said of those who stepped into more playing time. "I thought (Caleb) Waddle came in and did a great job. I mean, his first start in his life in high school and he did a great job."
Waddle was in at left tackle in place of Will Diggins, who dressed out but did not play. He joined Jason Shifflet, Jack Powell, Parker Elswick and Brooks Edmonson on the Hornets' front.
"We ran the ball really well," said James. "We missed a field goal. We're inside the 10 one time and didn't score. The best we could have done if we had really executed and played really, really well, we could've scored maybe 10 to 17 more points. I'll say we left at least 10 points out there that we should have gotten. And that's something we can build on.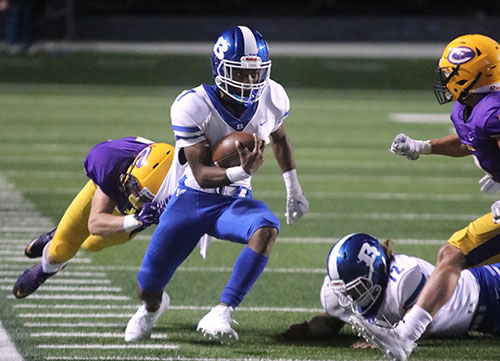 "I thought our kids did a great job," he concluded. "And it was under some tough circumstances. We got a game we can grow off of. I'm not complaining at all. I think our kids did a good job. You know we're going to always want more, and they want more. But we're 5-0 and 2-0 in conference. We won 31-3 and we got to play a lot of young guys. There were times when we had four or five sophomores on the field at one time. That's good stuff."
The Hornets got revved up on their first touchdown drive to open the game with a 14-yard pass from Ledbetter to Hayden Schrader. Anderson started on his 153-yard night with runs of 16 and 12. Daizure Hale hauled in a 13-yard pass to the Catholic 9.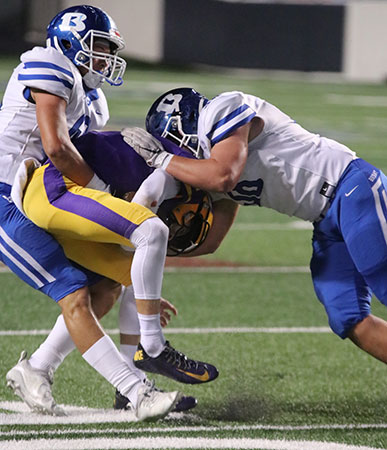 On the next play, Ledbetter was sacked by the Rockets' Campbell Pace back to the 17. But Ledbetter connected with Anderson for the touchdown on the next snap. Brock Funk, who was good on four extra points and kicked a game-capping 29-yard field goal, added the PAT to make it 7-0.
On Bryant's second drive, Ledbetter was 5 for 5 passing. Jordan Knox made a tremendous diving catch in the end zone on a 23-yard touchdown play.
The Rockets picked up a first down, but linebacker Gavin Burton stopped a run for no gain on second and 7 at the Catholic 39. A third-down pass fell incomplete and the Rockets had to punt.
This time, the Hornets went three-and-out with two of Ledbetter's passes knocked down by the Rockets Noah Perry. The tipped ball on third down was intercepted by Ethan Keys at the Bryant 32.
But the Rockets were unable to even pick up a first down, especially after the Hornets' Joshua Moore sacked quarterback Will Bowman on first down.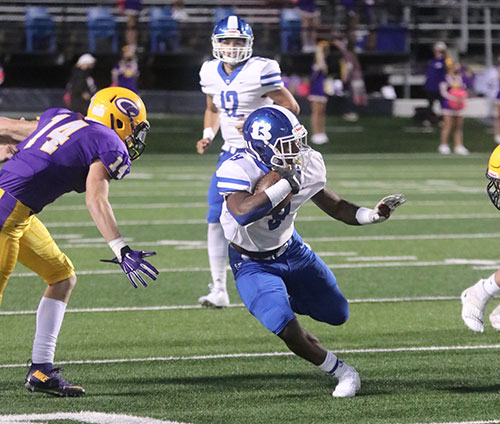 Spurred by runs of 20 yards by Jason Stith and 11 yards by Bowman, the Rockets drove to the Bryant 9 where they stalled. A third-down pass fell incomplete, so Paul Owens entered and booted a 28-yard field goal for what turned out to be the lone Rockets' scoring in the game.
Foote, who was on his way to 114 yards on 13 totes in the game, was featured in the Hornets' next series, which reached the Catholic 27 but they turned it over on downs there.
Jalun Davis and Andy Scott stopped Brandon Bisceglia for no gain on first down. On third down, Kyle Knox stopped Currence short of the first down, forcing a punt from the Rockets.
A 35-yard burst by Anderson got the Hornets into scoring territory. They reached the 13 then, on a fourth down, Ledbetter found Cory Nichols in the right flat. Nichols ran it in for a TD with 4:37 left in the half. Funk kicked it to 21-3 and that held until halftime.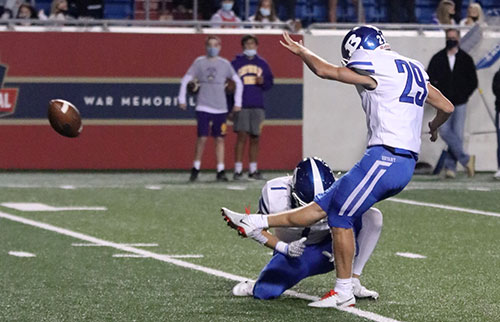 In the third quarter, a 13-yard pass from Ledbetter to Schrader opened the Hornets' second series. Foote got loose for 43 yards to the 12. Moments later, Ledbetter found Jordan Knox alone in the right corner for the touchdown that made it 28-3.
After forcing a punt, the Hornets drove to the Catholic 9 where Funk attempted a 26-yard field goal only to have it sail wide left.
In turn, the Rockets drove to the Bryant 26. The key play coming from Bowman, who hit Zylan Brown for 21-yards to convert a fourth-and-4.
But, once they reached the 26, they went backwards. Brayden Godwin sacked Bowman for 6 yards on third down and, on a fourth-down try, Jaylon Russ sacked him for a 15-yard loss.
Bryant took over and drove to the 8 where, a third-down handoff to Anderson was stopped for a loss. Funk entered and drilled a 29-yard field goal to set the final score with just over five minutes left in the contest.
The Hornets were set to host Little Rock Central for homecoming next Friday but an attack of covid-19 forced a cancellation of the game. Little Rock Southwest would be next but the last two games on the Griffons' schedule had been cancelled due to an outbreak of covid. The status for that game is up in the air.
James is trying to schedule a non-conference game to take the place of Central this week.