Hornets hammer Hogs, 42-0, in home opener
EDITOR'S NOTE: Because the look back at each day in Bryant athletic history has been so favorably received during the time when there was no sports during the COVID-19 shutdown, BryantDaily.com will continueposting past stories of Bryant athletics either posted on BryantDaily.com (from 2009 to the present) or published in the Bryant Times (from 1998 to 2008).
By Rob Patrick
Photos by Kevin Nagle
For the first time in 25 meetings over the last 30 years, the Bryant Hornets shut out[more] the Texarkana Razorbacks.
Admittedly, it's not the same Texarkana team that reached the Class 6A State finals last season but, that team too struggled early including a 35-6 loss at home to the Hornets, part of a 1-2 start. This year's Hogs are now 0-3 and have been outscored 91-6 so far including Friday's 42-0 loss to Bryant.
It provided a boost to the Hornets, who came in off their first loss of the season, 45-40 at Fort Smith Northside last week and, looking ahead, face Little Rock Catholic in their 7A/6A-Central Conference opener next week.
Friday night, those Rockets pounded Northside 62-31. Despite the disparity in scores, the Hornets can look to last year for what can happen. There too, Bryant lost to Northside then Catholic defeated the Grizzlies. The Hornets turned around and handed the Rockets a 31-7 loss the next week.
After piling up over 500 yards of offense at Northside, Bryant eclipsed 400 yards of offense this week with junior quarterback Hayden Lessenberry completing 22 of 29 passes for 267 yards and four touchdowns. He threw two to Dillon Winfrey who made sparkling grabs both times. Winfrey, altogether, hauled in seven passes for 115 yards. Sawyer Nichols caught eight passes for 74 yards and a touchdown. The fourth TD strike went to senior Charles Henson, who scored the first varsity touchdown of his career.
Touchdown runs by Karon Dismuke and Caleb Thomas sandwiched those scoring throws. Thomas, like Henson, found the end zone for the first time in his varsity career.
The defense, with adjustments in scheme, complexity and personnel in place, limited Texarkana, admittedly one dimensional, to just 137 yards of offense, 133 of that on the ground including 112 on 23 carries by Ke'Darious Grissom.
"I preached to them all week how dangerous Texarkana could be if they got going," said Bryant head coach Paul Calley. "They got going on the ground early but the defense rose to the occasion when they needed to. We got stops. It reminded me of old times. We bend, bend, bend but we never broke. We forced them into some bad plays offensively."
Indeed the key to the game early on may have been the fact that the defense made a stand after Bryant stalled on its second possession of the game.
Like the previous week, the Hornets scored early then stalled on its second possession. Northside took advantage of that to start the high-scoring shootout. Against Texarkana, however, the Hornets' squelched a threat in response and, buoyed by that stand, the Hornets got on a roll, scoring three times in the second quarter to build a 28-0 halftime line.
"After the opening drive, I felt like we sputtered a little bit," Calley said. "Sometimes if you take the opening kickoff and you go score, everybody gets a little complacent. So we tried to generate some enthusiasm among some of our players, our quarterback especially.
"When you can get him focused and he gets his feet right — that was his problem early. His feet got lazy and he was throwing the ball high, wasn't following through," Calley continued. "But when he got on, he was on. He can make some throws."
The opening possession started in good field position after Winfrey's return of the opening kickoff to the Texarkana 39. Still, the Hornets found themselves facing a third-and-18 at the 37. Lessenberry bought some time against the Razorbacks rush and Hayden Daniel broke free down the right sideline. Lessenberry got it to him and he dashed toward the goal line only to be knocked out of bounds at the 4.
After a penalty moved the ball to the 2, Dismuke crashed in for the touchdown. Jace Denker added the point-after and it was 7-0.
The defense, with Michael "Blue" Smith and Tyree Reese making a stop of Grissom on third down, forced a punt.
After serving as one of two starting middle linebackers in the Hornets 3-4-4 look in the first two games of the season, Reese manned the spot as the Hornets used more of its four-front defense against the run-oriented Razorbacks. Marshall Everett, the other mike linebacker, moved to defensive end to create the four-front.
An added group of linebackers saw considerable time, including sophomore Davis Nossaman; Justin Hollingshead, a junior move-in from Centerpoint; and junior Collin Battaglia, who all got in the mix with Parker Dunn and Walter Dunn. Kaden Mills relieved Reese in the middle as needed as did Everett.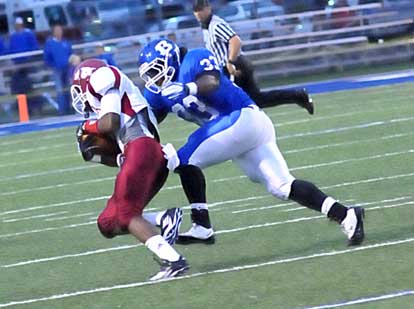 Reese led the team with 12 tackles including eight of them unassisted. He had a tackle for loss as well as a sack. Jesse Johnson and Travis Royal, Bryant's two safeties had eight stops apiece. Royal's including five of them on special teams. Defensive end Tim Kelly got in on six stops including a tackle for loss and a sack.
The Hornets' offense, in turn, was unable to overcome a penalty on the second play of the subsequent possession. Sophomore punter Dalton Griesmer, a move-in from Greenbrier, came on to punt for the first time this season. He boomed a 44-yard kick.
Given a second chance to forge a tie, the Razorbacks drove to the Bryant 25. On second-and-5 at that point Reese made a stop for a 2-yard gain. On third down, Tim Kelly and Austin Dunahoo stuffed Grissom for no gain.
On fourth down, the Razorbacks went for it and it appeared the quarterback Elgie Richards had his man, Brandon Jetton, near the left sideline. But Royal came up from behind and belted Jetton who coughed up the ball. It was ruled an incomplete pass.
Bryant took over on downs and Dismuke churned out a 13-yard run. After Lessenberry and Daniel hooked up on a pair of short passes, Dismuke dashed for 10 and Jalen Bell added runs of 14 and 9 yards. From the 23, Lessenberry hit Nichols for 11.
Still, it was third-and-13 at the 15 when Lessenberry threw one up in the end zone that Winfrey went up and grabbed for the touchdown.
After forcing another Texarkana punt, the Hornets drove 80 yards in six plays aided by a 15-yard penalty for illegal participation against the Texarkana sideline. The Hornets reached the Texarkana 47 when Lessenberry found Winfrey down the left boundary. Well coverted, Winfrey reached back over his right shoulder and snatched the ball out of the air. He then turned it into a touchdown.
"I thought Dillon made a couple of really good catches," Calley acknowledged. "I didn't think he was going to make that catch but then he was able to get it tucked and make a couple of moves and get into the end zone."
Trailing 21-0, Texarkana drove to the Bryant 23 where, on first down, Kelly and Dunahoo made a stop for no gain then Kelly broke through on second down to drop Grissom for a loss. Facing a third-and-13, the Hogs tried to pass, only to have Nichols, playing at cornerback, intercept.
"Sawyer is as good as he wants to be," Calley stated. "He made a pick tonight. He's a punt return guy. He made a big catch. They had a better corner on him early. That's why we kept throwing to Dillon. Then they put that guy on Dillon and we started going to Sawyer. It's hard to cover them both. That's what I made reference to early in the year when I said we were going back to the spread. You've got to respect those two guys because they can beat you."
Nichols returned the interception to the Bryant 25 and Lessenberry went to work going 5 for 5 on the drive including the scoring strike. Lessenberry connected with Henson from 28 yards out with around 20 seconds left in the half. Denker kicked it to 28-0.
Neither team scored in the third quarter. Both had opportunities. Bryant's drive to the Hogs' 24 ended when Texarkana's Chris Stewart intercepted.
Though the Razorbacks couldn't manage a first down — thanks in part to a stop for a yard loss on second down by Hollingshead and Johnson — they got a reprieve when the Hornets, trying to block the punt, knocked down Texarkana punter Jared Brown.
But the Hornets stepped it up on defense and stopped a third-and-one and fourth-and-one. Bryant took over on downs and, in three plays, found paydirt. Dismuke's strong run picked up 13 to the 35. On the next play, Lessenberry found Nichols for the touchdown that made it 35-0 and started the clock rolling in accordance with the Arkansas Activities Association "sportsmanship" rule.
Thanks to a big hit by Royal and Walter Dunn on the kickoff return, Texarkana started its next drive at its 15. On a third-and-8, quarterback Dylan Silvey completed a pass to Dominique Jones but Everett crashed in and dropped the receiver for a 3-yard loss. That forced the punt.
Bryant's second team took over from there and they drove for a touchdown. Thomas got the drive going with a 13-yard burst. Wesley Akers completed a 7-yard pass to Austin Powell then Texarkana was cited for being offsides on three successive plays.
From the 16, the speedy Thomas sprinted through the defense for the final touchdown.
Texarkana would get no last chance. A fumbled snap on the first play was recovered by Mills. And behind the running of Jacob Irby and the push by the offensive line, the Hornets ran out the last 2:41 off the clock to close out the win.

BRYANT 42, TEXARKANA 0

Score by quarters

Texarkana 0 0 0 0 — 0
BRYANT 7 21 0 14 — 42
Scoring summary

First quarter

BRYANT — Dismuke 2 run (Denker kick), 10:18
Second quarter

BRYANT — Winfrey 15 pass from Lessenberry (Denker kick), 11:54
BRYANT — Winfrey 47 pass from Lessenberry (Denker kick), 5:45
BRYANT — Henson 28 pass from Lessenberry (Denker kick), :19.4
Fourth quarter

BRYANT — Nichols 35 pass from Lessenberry (Denker kick), 10:06
BRYANT — Thomas 16 run (Denker kick), 3:31
Team stats
Texarkana Bryant

First downs 9 24
Rushes-yds 35-133 27-139
Passing-yards 4 276
Passing 3-10-1 23-31-1
Punts-avg. 4-32.3 2-41.5
Fumbles-lost 4-1 1-0
Penalties-yds 11-62 6-45
INDIVDIUAL STATS

Rushing: BRYANT, Dismuke 13-82, Thomas 2-29, Irby 3-23, J.Bell 6-9, Lessenberry 1-5, Akers 2-(-9); TEXARKANA, Grissom 23-112, Cleveland 3-28, Moore 1-2, Williams 1-2, Stewart 2-(-2), Sealy 4-(-10).
Passing (C-A-I-Y): BRYANT, Lessenberry 22-29-1-269, Akers 1-2-0-7; TEXARKANA, Richards 1-6-1-7, Sealy 1-3-0-0, Silvey 1-1-0-(-3).
Receiving: BRYANT, Nichols 8-74, Winfrey 7-115, Daniel 4-44, Henson 1-28, A.Powell 1-7, J.Powell 1-6, J.Bell 1-2; TEXARKANA, Jetton 1-7, Stewart 1-0, Jones 1-(-3).