The pads were popping and the enthusiasm was apparent as the Bryant Hornets football team began spring practice with their first workout in pads today.
The Hornets will get three weeks to put in seven days in pads, interspersed with "film, weight room, practice and special teams," said Hornets coach Paul Calley.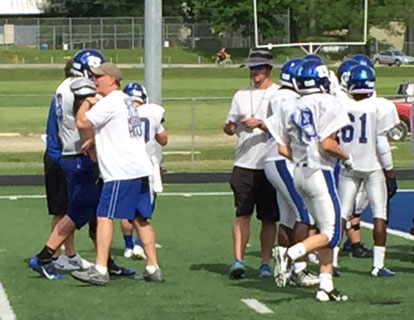 The team will be back in pads on Wednesday and Friday of this week. Next week, after Memorial Day, they'll work in pads on Tuesday and Thursday then finish up the last week of school (and first week of June) with contact work on Monday and Wednesday.
Calley was fired up after the abbreviated workout, which was held on the south end of Bryant Stadium as the Bryant girls soccer team prepared for Saturday's Class 7A State championship game against Fayetteville on the north end.
"I was very encouraged by the effort and by the physicality of the practice," Calley stated. "The two hours went by fast today.
"Once again, we're not very deep. We're not going to be deep. We're not ever going to be deep for various reasons but, man, I was very proud of the intensity today. I was proud that several of the seniors that I've been wanting to step up and be leaders — vocal leaders — did that.
"We're replacing the whole offensive line," he continued. "We're replacing the whole secondary. We've got some really good football players sprinkled in at other positions. If we can solidify those two areas, we've got a chance to be pretty dang good."
Actually, the Hornets do have some experience to build on in both areas. Part-time starter Brycen Waddle returns at tackle on the o-line and, in the secondary, Philip Isom-Green returns after coming to contribute in a big way late in his sophomore season.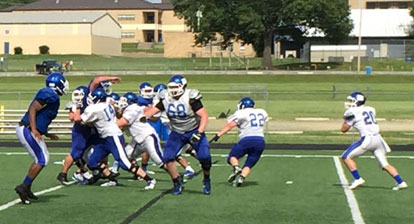 Offensively, Gunnar Burks has the most experience at quarterback. Running backs Savonte Turner, DeAmonte Terry, Demaja Price and Drew Alpe return and the team's top receiver last year, Evan Lee, is back.
Defensively, the strong suit of the Hornets figures to be the defensive line where three starters are back including Division I prospect Cameron Murray at tackle alongside two-year starter Mario Waits and Hayden Knowles, who stepped in late last year as a sophomore to give the Hornets a boost. At linebacker, Devon Howard and Devon Alpe played considerably last season.
"They showed a lot more intensity on defense than I'm used to, which is great," Calley said of Monday's practice. "Offensively, we weren't perfect but I saw some good things that we can build on.
"As long as you've got skill guys like we've got, it gives you a chance," he asserted. "The offensive line, I told them, you keep working hard, you block until the whistle blows and our skill guys are going to give us a chance to make big plays."
"Going into this, I pretty much knew what to expect," the coach related. "I'm hoping somebody catches my eye in the next couple of days. I'm hoping somebody does impress me and shows me something that I didn't think they had in them."
Among his goals for the spring, Calley said, "We've got a lot of seniors and I want our senior defensive linemen to be able to give us a two-deep defensive line. We've got a one-deep. I need my senior defensive linemen to step up, the ones that have gotten so much stronger and so much better as football players to give us that depth and let us two-platoon so when we need to rest somebody we don't have a drop off.
"That's what we've lacked," he continued. "That's the difference between us and a couple of State championships. We haven't had that two-deep in the defensive line and we get tired, especially when you're rushing passers. We've got to have that depth there. And we've got the guys that can do it. The question is, will they? I hope they do."