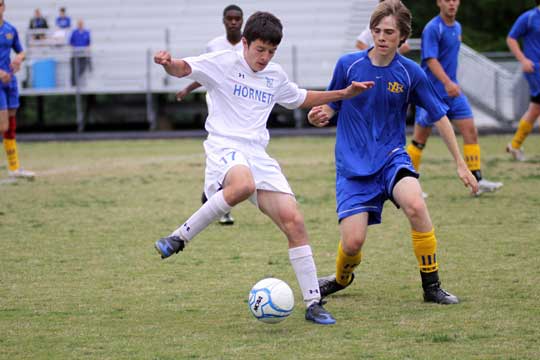 In his Senior Profile on BryantDaily.com, Sean Sobba made it clear, his mind is always on scoring goals for the Bryant Hornets.
And he's good at it.
But, on Senior Night at Bryant Stadium on Monday, April 26, Sobba was the Master of Assists, setting up teammates for all three of the team's goals in a 3-1 win that capped the regular season and completed a series sweep against North Little Rock.[more]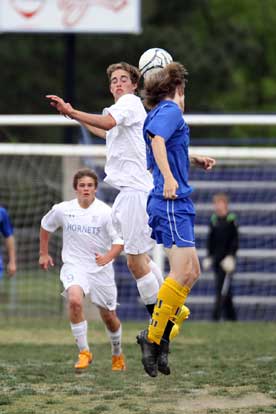 The win improved the Hornets to 15-7 overall, a record for wins for the boys program at Bryant. At 9-5 in the 7A-Central Conference, the Hornets have earned the No. 3 seed to the Class 7A State Tournament in Rogers. They open Friday at 7 p.m., against the Heritage War Eagles on their home field. Heritage is the No. 6 seed from the 7A-West.
It's the first State bid for Bryant in soccer since 2007. Though Hornets teams won Regional Tournament games in 2002 and 1998, none has ever officially won a State Tournament contest dating back to the start of the program in 1997.
The win was the sixth in a row for Bryant and seventh in the last eight games. The goal that North Little Rock managed was a rare thing. It was just the second all season against the Hornets in a win and it snapped a streak of five consecutive shutouts.
"It was a good way to finish the regular season," stated Hornets coach Jason Hay. "I was proud of the way all our seniors played tonight and the whole season. They have come a really long way and can leave at the end of the year knowing that they have earned some respect in our conference. We are looking forward to playing this Friday."
Along with Sobba, the Hornets seniors include Marshawn Hood, Jonathan Lowery, Devon Norris, Brandon Parish, Tyler Salminen and Daniel Tucker.
Bryant took a 1-0 lead in the first half when Sobba fed junior Kyle Nossaman for a goal.
In the second half, Sobba assisted on a goal by sophomore Jesse Wolf. And, later, goal-keeper-turned-outside-mid Norris knocked in the final goal off another feed from Sobba.
In a JV game, Bryant and North Little Rock finished in a tie to complete the season. Francisco Zamora and Caleb Lambert scored Bryant's goals. Alec Salminen and Justin Travis earned the assists.