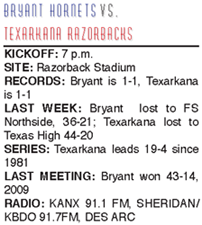 By Rob Patrick
Mistakes were made.
Texarkana coach Phillip Miller and Bryant coach Paul Calley (as well as defensive coordinator Steve Griffith) graciously praised the opposition after last Friday's games. Miller's Razorbacks had suffered a 44-20 loss to crosstown rival Texas High while Calley's Hornets had been upended by Fort Smith Northside, 36-21.
But, after video was reviewed and their teams moved on, the coaches acknowledged their own teams' role in their demise.
Miller was a little less explicit.
"We ran into a buzz saw with Texas High last week," he said. "Against Texas High, we failed to execute one quarter and they got after us pretty good and we ended up losing by 24."
Calley and Griffith were more detailed.[more]
"Offensively, mistake-filled," Calley said. "Missed opportunities, penalties at inopportune times. I thought we should've scored 21 points. The opportunities were there. I passed up a field goal at one time because I felt like we needed touchdowns to get back in the game.
"The second half, we were inside the 25-yard line four times and got no points. And then when it really came down to it — and I'll point out the offensive line, specifically — when we needed to make plays, we weren't getting the effort up front that we needed," the coach declared. "And I was very disappointed in that. I thought our skill people continued to play hard for the most part, trying to do their job. But, I think, after watching themselves on film, the offensive linemen were surprised at how they looked and disappointed with how they looked. We've got to have that group playing at a high level for four quarters or we don't have a chance to win."
Regarding the defense, Griffith said, "We saw on film basically what we saw Friday night, that, yes, Fort Smith Northside is a very good offensive football team but we did not execute at the level that we expect our guys to do. And I really believe if we'd executed up to the abilities that we have, the outcome could well have been different.
"That's taking nothing away from Northside," he added. "They made some plays. The quarterback did a great job of, when we did make a mistake, getting a good read and putting them in position to have a good play. So you have to tip your hat to them.
"But, watching the film, I think our young men will all tell you that we're very capable of playing much better than we did against Northside. Hopefully, we'll see that Friday night in Texarkana."
Like Northside, Texarkana has a talented quarterback with experience. Kierra Harris is a three-year starter, though he missed last year's game against Bryant due to injury. The Hornets wound up with a 43-14 victory. As a sophomore, Harris led a Texarkana comeback that the Hornets held off for a 17-14 win.
"That kind of starts our offense, our quarterback, because he has got the experience," Miller acknowledged. "He had a good year last year and we've got a lot of confidence in him.
"We spread the ball, probably go 50-50 as far as pass and run, depends on what the defense is giving us," he added. "It's no-huddle but it's not a rapid pace like Fort Smith (Northside) did last week. We try to read defenses and Kierra does a good job of that.
"We're not sure who the tailback's going to be yet," Miller mentioned. "We've had some injury problems. Right now, Tavaris Clark is our tailback and he'll be the main ball carrier. We don't have a lot of depth, so any injury has really hurt us and we've lost a returning linebacker and defensive end for a couple of weeks. And our starting running back Chuck Hillis has been out for two weeks now. We can't stand much of that."
"Texarkana presents a similar challenge as Northside in the fact that their quarterback is the best athlete on their team," Griffith said. "He does a good job throwing the football and he's very dangerous scrambling. Again, we're going to have to try to keep him contained and limit some of the stuff they do.
"We're going to work really hard at making sure we take away the running game," Griffith added. "That's something we've always been able to do but we did a very poor job of it against Northside. We're going to work very hard making sure we take that away so we force them to the passing game. If you can make a team one dimensional, it makes it somewhat easier to defend. It puts us in a better position and, hopefully, a better result for us at the end of the ballgame."
Griffith mentioned a shift in personnel.
"We're going to move Josh Hampton to defensive end position, move James Kidd back up inside," he said. "We feel like just the experience of Hampton at d-end is going to help us a little bit on reading some of the things that we have to be able to do and then James' energy inside is going to help us. We're looking forward to seeing how that works out.
"Our defensive line worked hard," Griffith asserted, regarding the Northside game. "It was hot night and they were chasing. Northside threw the ball 45 times. Some of our second guys came in and gave us some good energy."
"Bryant's a big, strong, physical team," Miller said. "They return their quarterback (senior Blake Davidson) but still have another younger quarterback (sophomore Hayden Lessenberry) that can play too. I think they'll try to balance their attack between the pass and the run. Defensively, they're a big physical team and we're really going to have to work to get our yards and our points.
"I know that Coach Calley does a great job up there and I have all the respect in the world in his program. We'll have to play good to have a chance."
Miller said his defense has been led by defensive linemen A.J. Morris and Trenell Moore.
"Those two guys have done a good job along with our mike linebacker Brian Briggs," he said.
"They're not very big up front but they're extremely quick," Calley said of the Razorbacks' defense. "Our guys are bigger than they are quick so it's going to be hard for us to get pads on them. They're a gap-control defense. They're going to shoot gaps and try to disrupt things in the backfield and they're good at it. They probably played us tougher against the run than anybody else we saw last year. So we've got to be able to throw the football and protect."It's the final non-conference game for both teams.
Next week, Bryant travels to War Memorial Stadium to play Little Rock Catholic while Texarkana takes on 6A-South newcomer, Little Rock McClellan.