Photos by Rick Nation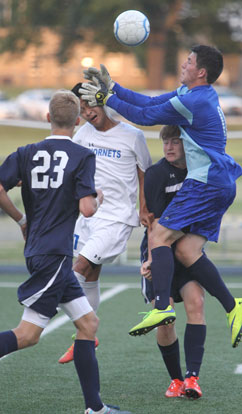 The game the Bryant Hornets had to win was Tuesday, May 5, against the Van Buren Pointers. It got them into Class 7A State Tournament. On Friday, they closed out the regular season on Senior Night at Bryant Stadium against the Greenwood Bulldogs.
The teams ended regulation tied 2-2 going to penalty kicks in a shootout. Greenwood got the best of it 5-4 to earn the win.
"I told the guys, I hate for the seniors to go out like that but I thought they went down fighting," said Hornets coach Jason Hay. "I think the sophomores and juniors and freshmen really wanted to win. They wanted the seniors to go out with a win.
"The good news is that now the records are all out the door," he noted, referencing the State Tournament in Cabot. "Everybody's 0-0, a clean slate. We get to go to the tournament and make some noise. We've been an underdog for a long time and that's the way we like it."
The Hornets will open play at State this Thursday at 2 p.m., against the No. 3 seed from the West, either Springdale or Rogers.
On Friday, the Hornets got on the board first as Corey Ballew drove one in off a corner.
"I thought we were possessing the ball well, moving it around," Hay said. "Greenwood came back later in the first half and had a really long throw and got a shot that went in. It just went off (goalkeeper) Hayden (Ray)'s glove and it took a funny bounce."
In the second half, Greenwood took a 2-1 lead on a penalty kick after a disputed call.
"We still had chances to win," Hay commented. "You've got to overcome that."
And the Hornets got a free kick with just 20 minutes left and Krishna Gurung found the range to knot it at 2.
"That's the way it stayed until the end," Hay related. "We had several shots on goal. We just couldn't get one to fall."
So the game went to PKs.
"I thought we played hard," the coach concluded. "It's kind of been the story of our season, everything really close. We just got unlucky. We couldn't get it done."