By Bridget Bauer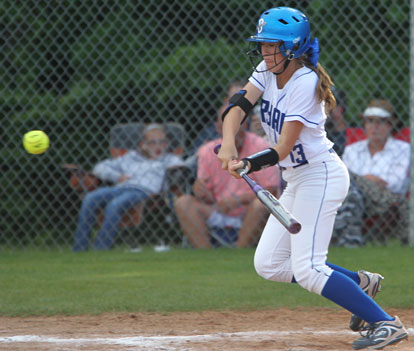 Bryant's last conference outing Friday at home with Greenwood was not a good one.
In the final 7A/6A-Central showdown, the Lady Hornets (16-5, 11-3) lost both doubleheader contests. The first was a 2-0 setback while the second was a 14-2 run-rule in six innings. Since Greenwood is a 6A school, the contests had no bearing on Class 7A State tournament seedings for Bryant. The only thing at stake was an overall conference championship.
"I tried to make them understand the importance of the games and hoped they got it," Bryant Coach Debbie Clark said. "We have such differences in ages on the field, and the only one who was with the 2012 team when we won state and conference was Abby Staton."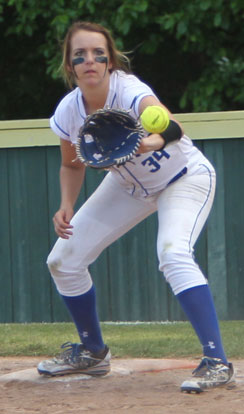 The Greenwood pitchers kept Bryant off all night. In the first contest, Victoria Taylor allowed four Lady Hornet hits and struck out 15 batters. The only time the Lady Hornets had chances to score were in the top of the second when they left three runners stranded and then again in the third after leaving two runners stranded. In the third inning, Bryant picked up two of its four hits after Cayla McDowell led off with a double, and Raven Loveless also singled. The other two hits came courtesy of Regan Ryan and Macey Jaramillo.
The second game started off quickly in the wrong direction for Bryant. In the top of the first inning, Greenwood erupted for five consecutive hits and added another one to tally five runs. The Lady Bulldogs added two runs each in the second and fourth frames for a 9-0 advantage. Kaila Cartwright only allowed the Lady Hornets to slap six hits in five stanzas, and Taylor pitched the bottom of the sixth.
"The first pitcher had movement and a drop ball, and we've always had trouble with outside pitches," McDowell said. "The second pitcher threw off-speed with a change-up."
Bryant recorded two runs in the bottom of the fifth to move to within 9-2 of Greenwood. Julie Ward started off the frame with a single, and Daniele Singleton followed with a one-base hit. Ward went home after Shayla McKissock reached base on an error. Baylee Rowton pinch hit and scored Singleton on her single. Ward and Singleton each added another base hit, and Staton accounted for the other of Bryant's six hits.
Greenwood added another five runs in the top of the sixth to secure a run-rule. Taylor then set down three straight batters in the bottom of the sixth to finalize the victory.
"We just aren't scoring enough runs," Clark said. "I don't like to lose, and I like not losing better than winning. We won't process this until Monday. The girls are frustrated enough and don't like popping up, striking out and losing 14-2."