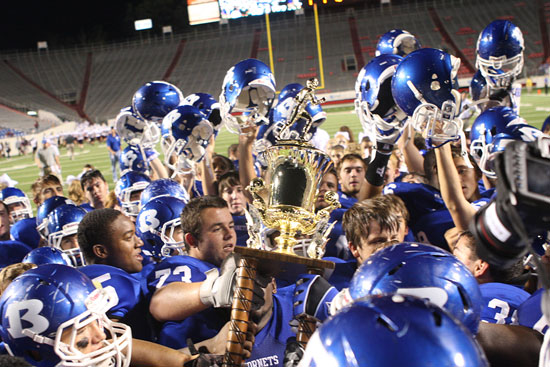 By Rob Patrick
Photos by Rick Nation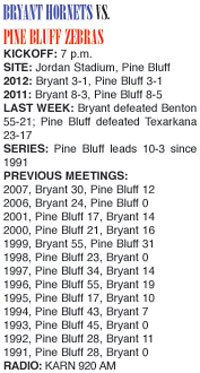 This week, the Bryant Hornets can't afford another slow start. The last two weeks, they've fallen behind but they were able to come back and win. Last week, they rallied with a vengeance to trounce the Benton Panthers 55-21. The week before, however, they eked out a 19-18 win over Little Rock Catholic.
Against the Pine Bluff Zebras tonight, however, it may be a little more difficult to get up off the deck if such is the case again.
The Zebras are playing well. Their 3-1 start includes a 53-27 romp over Bryant nemesis Fort Smith Northside, a 48-12 blitz of hometown rival Watson Chapel and a rugged 23-17 win on the road against Texarkana, in a game between longtime 6A-South Conference foes that just don't like each other.
The loss came against North Little Rock team that may turn out to be the best of Class 7A.
In 6A, Pine Bluff looks like its among the best with Greenwood and Jonesboro. They're led by all-everything running back Walter Ashley.
Bryant defensive coordinator Steve Griffith liked what he saw from his group after spotting Benton a 14-0 lead.[more]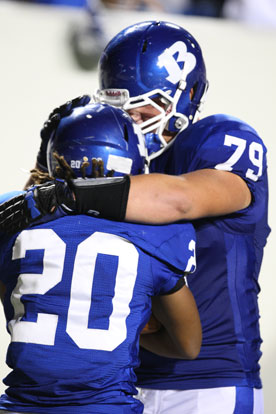 "The effort last week, after the first quarter, was really pretty good," he stated. "We played solid in the second quarter and really came out in the second half playing with a lot of intensity.
"We've got to do that from the very beginning with a quality team like Pine Bluff," he emphasized. "They're big and they're strong and they're fast, reminds you a lot of Conway with a big, physical offensive line, good running backs."
Bryant opened the season with a 21-3 loss in three quarters to the Wampus Cats.
"They're going to line up and pound right at you," Griffith continued regarding the Zebras. "They also have the ability to hit the edge and the corner with you then throw the ball well. Obviously, it's going to be a total challenge covering the entire football field.
"They're primarily an I formation football team," he noted. "They'll break the I and do some variations of it. I think when it comes down to it, they're still a base power football team."
Griffith lauded the play of defensive linemen Kordell Boykins and Tim Kelly last week. Safety Jake Johnson led the team in tackles.
"We've had a great week of practice," he noted. "Hopefully, that will carry over to the very start of the football game and we'll be able to play four full quarters."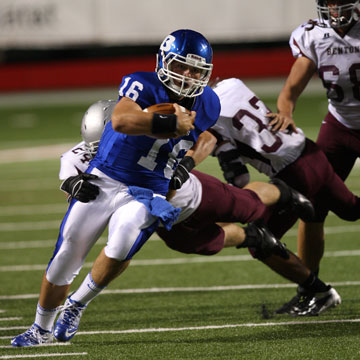 Despite scoring 55 points, Bryant offensive coordinator Lance Parker said the Hornets will need to show some improvement to be successful against a physical Pine Bluff defense.
"After watching the tape, I didn't think we played our best game," he mentioned regarding the Benton game. "We produced but we had a lot of breakdowns. But they made the plays. We probably played a more crisp game against Central but a win's a win and that was a lot of points. That's hard to do against anybody. We were pleased with the outcome.
"But we want our guys to keep hungry, keep wanting to get better because we're going to be playing better teams than Benton along the way. And one of them is this week."
The Zebras base out of a 4-3.
"They'll shift around but not much," Parker said. "They've shown a few different looks but, basically, their linebackers look really good and their secondary. They look really good all around but we're really impressed with their strong-side backer and their strong-side safety. Those guys could play for anybody.
"I don't know if they're as good as Conway but they sure are close if not as good," he mentioned. "They do some things better than Conway does and Conway does some different things better than them but they're going to be tough to beat.
"We've just got to be sure we can throw and catch and be consistent and keep our defense off the field," Parker concluded. "(Pine Bluff) is pretty good offensively and they can run the ball. We've got to throw and catch. We can't hang our receivers out to dry. And they're going to have to hang onto the football because they're going to hit us. If we can't do that, it's going to be a long night for us.
"It's going to be a tough night," he concluded, "but we need one of these games to get us ready for the end."