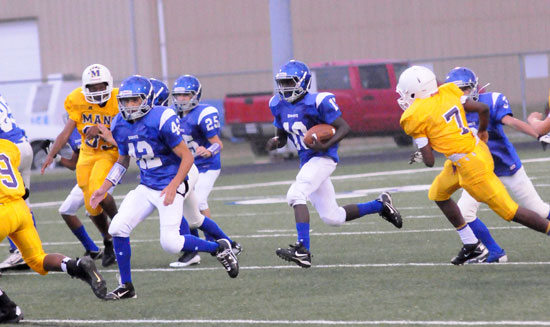 Photos by Kevin Nagle
With starting quarterback Desmond Duckworth sidelined by a concussion suffered Wednesday[more] in practice, Dale Jones, head coach of the Bryant Blue Hornets eighth grade team of Bethel Middle School, turned to Caylin Allen to run the offense against the Little Rock Horace Mann Bearcats at Bryant Stadium Thursday night.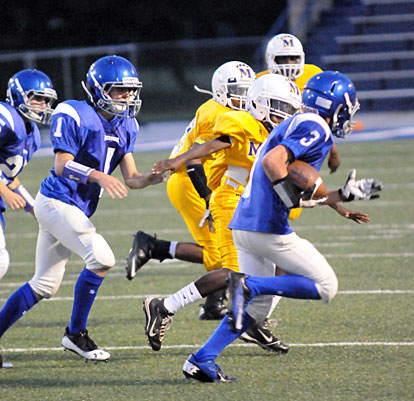 But, before Allen even took a snap, he came up big for the Hornets, returning the opening kickoff 83 yards for a touchdown, sparking a 14-6 win.
Allen wound up rushing for 34 yards and completing all five of his passes for 69 yards and a touchdown. The TD strike was a screen pass to Phillip Isom-Green who turned it into a 26-yard touchdown.
Chase Kincaid kicked extra points after each score.
After Allen's opening return, the Bearcats answered with a long, methodical drive for its touchdown.
"They had a running back," noted Jones. "That dude was good. He got loose once or twice but, after that first possession, he didn't get loose. Our defense played outstanding."
Bryant Blue held a 7-6 lead at the half. The clinching touchdown came in the third quarter.
"We didn't have much offense," he added. "We had just enough. When we had to have it, we got it."
Isom-Green finished with 24 yards rushing on seven carries. Sam Harrison caught three passes for 31 yards and Jeffery Hastings hauled one in for 12 yards.
After Isom-Green's touchdown, the Bearcats drove deep into Bryant Blue territory but, on four plays inside the 5, the Hornets held with a goal-line stand, stopping a fourth-and-goal play at the 1.
"That was a big goal-line stand," acknowledged Jones. "We managed to get out of the end zone and drive out to about midfield. We took quite a bit of time off the clock but we ended up having to punt to them with less than three minutes left."
Horace Mann drove for a pair of first downs.
"But no big plays," Jones noted. "It was fourth and about 6 and they tried to run a toss sweep, and Collin Welch and Derrick Blake tackled him behind the line of scrimmage for a loss of 5 yards."
That sealed the victory for the Hornets who improved to 4-1 on the season.
"That was a big, big play," Jones stated. "Those two guys played great on defense and so did Caylin Allen, who plays linebacker for us, played exceptional tonight.
"It was just an overall team effort," he added. "We dressed out 29 tonight. We're not very big up front, offensively or defensively, but they've got a bunch of heart. They play their guts out and I'm very proud of them."
The Hornets travel to play Little Rock Episcopal next Thursday.