File photo by Rick Nation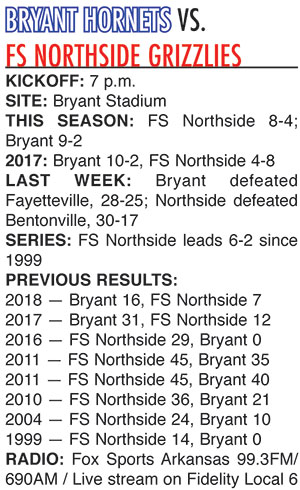 Now, admit it. When the Hornets had barely escaped with a win over the Fayetteville Bulldogs, just after Jakob Neel got a finger on Huxley Richardson's field-goal attempt sending it wide right with just seconds left in the game, and Hornets fans found out that the Fort Smith Northside Grizzlies had knocked off Bentonville, the excitement wasn't just the fact that there would be no long trip to Bentonville the next Friday night and the teams would be playing in Bryant, there was this:
The Hornets had already beaten Northside; they could do it again! After all, Bentonville has been a thorn in Bryant's side over the years including last fall when the Tigers knocked the Hornets out of the playoffs in the semifinals. No Bryant team has ever beaten a Bentonville team.
This was different. The Hornets would be at home, playing with confidence against a team they defeated — albeit in just one half of football due to lightning strikes that kept delaying the game deeper and deeper into the night. After twice being denied a trip to the State championship game at War Memorial Stadium, this was the chance for Bryant to finally break through and get there.
And the Hornets are favored. After all, they're 9-2 on the season now. Their only losses were by one to Fayetteville, the week before they played Northside, and by 6 to unbeaten and top-ranked North Little Rock in Week 9.
While the Hornets have improved since playing the Grizzlies, Northside has too. It's a team that went through considerable adversity in the middle of the season. A half dozen players or so were suspended by head coach Mike Falleur during the middle of the season including at least two of their losses: when they fell to North Little Rock 40-3 and lost at Cabot, 35-23.
It no doubt drew the team together. Since everyone did their time and returned to the field, the Grizzlies have won three in a row including a victory over the crosstown rival Mavericks of Southside and two playoff games, capped by the win over Bentonville, the Class 7A-West Conference championship team.
Early in the season, the Grizzlies handed the only defeat this season to Class 6A State powerhouse Greenwood.
"They absolutely believe that can come down here and win, go to the State championship game," acknowledged Hornets head coach Buck James. "We're going to play a whole lot different football team that we played the first time. There's a lot at stake. That was just the first conference game, and this is to be able to play for a State championship. This gets everybody's attention.
"Coach Falleur's done a great job of using that stuff," he continued. "He's saying, 'Hey, we only played these guys for a half. We were only down by 9. We've got a chance to beat them in the second half and they don't let us do it. Then we go play North Little Rock and we've got some guys suspended. If we had them, we could probably play again, and we'd have a chance to beat them.'
"Absolutely, he's used all that to motivate his team and get his team ready to play this game mentally," the coach added. "And at this point, that's really all you can do. Then, physically, you've got to get out there and play.
"But we've got to go out there and do some hitting," James asserted. "We've got to play some football and we've got to be disciplined and not worry about what they think and do what we do."
It matters that the Hornets have been in this position before, each of the last two years.
"Our guys have been here and done that," James said. "And I see a little bit of a resolve in these guys where they understand the process.
"We've had good practices this week," he noted. "That's a good thing because we didn't practice good last week. I thought our guys have been attentive. They've had a little chipperness about them. I thought the Wednesday practice was outstanding. We've just got to play well."
When the two teams played before, you'll recall, the Hornets held a 10-7 lead with less than five minutes in the half. Northside punted them back to their own 10. Bryant put together a convincing 90-yard march in 11 plays to add to the lead, mixing their powerful running attack with their stellar offensive line and running back Latavion Scott, with darts from the arm of Ren Hefley.
Scott scored from 4 yards out with :57.3 left and the lightning forced the teams from the field.
The Hornets enforced their will, as James likes to say.
It could be a defensive battle. The Hornets' defense has continued to get better and more physical since then. Northside seems to have gelled as well, allowing just 30 points over the last three games.
"We've got to play well," James said. "We've got to play great defense. We've got to be able to run the football and we've got to be able to throw the ball with accuracy and put some points on the board."
Just like every other game, of course.
In the other semifinal, North Little Rock hosts Bentonville West.
"We felt like the Central Conference has been the best conference in 7A football this year," James said. "We felt like, top to bottom, that it was the stronger conference and we're not surprised Northside beat Bentonville.
"I think that's why you see three of the final four teams from the Central still playing," he noted.