Editor's note: Tonight's game will be streamed live at https://mmproductions.net/bryantlive/. There is a $20 fee.
File photo by Kevin Nagle
How good are the Bryant Hornets?
How good are the Trinity Christian Tigers of Cedar Hill, Texas?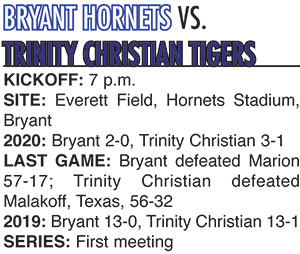 Both have a big-time reputation. After all, Bryant won its second consecutive 7A State championship going 13-0 lad year, while Trinity Christian won a State title in their classification in Texas with a 13-1 record.
With full knowledge that either of them could win in a rout, it figures to be fun finding out which one is better tonight on Everett Field at Hornets Stadium.
It's unfortunate that there are attendance restrictions due to COVID-19. Any other year and . . .
"This could be a standing-room-only crowd," acknowledged Hornets head coach Buck James. "This is a game that could be Salt Bowl status if we were in War Memorial Stadium.
"We're playing against guys that are obviously going to play in the NFL someday," he continued, "be big-time college players. We're going to play against guys that we'll see further their careers.
"I think it's a lot of fun for our kids," the coach asserted. "You know, I wish I would've had something like this when I was in high school."
It is in fact, the first time in the 71-year history of football at Bryant that the Hornets have ever played a team from another state.
"You know, our border towns have gotten some of this," James mentioned. "PA (Pulaski Academy) has gotten some of this. But this just solidifies that we're headed in the right direction. We're growing as a football community and football town and football school. But we've still got strides to make if we want to be a regional or national type team. We've got to be able to compete against teams like this and then play well against them."
Of course, Trinity Christian is well known because its offensive coordinator is pro football Hall of Famer Deion Sanders and his son Shedeur is the quarterback, a 6-3, 196-pound senior with a strong arm who has committed to Florida Atlantic University but it still being recruited by the top Division I programs.
Bryant's senior quarterback Austin Ledbetter, though he's committed to the University of Arkansas for baseball, is starting to get more and more attention from D-I programs as well.
But neither is a one-man army. Both are surrounded by tremendous offensive lines and skill players — weapons.
"They're very good at throwing the football," James said. "You know I think that's their number one thing. They want to throw the football. But they can run it. They've got a big offensive line. They're like PA. They want to throw the football, but it doesn't mean they can't run it. They've got a running back (Emari Matthews) that's pretty salty and would be a great running back on a lot of football teams. He's quick and shifty. Their offensive line is, like I said, humongous.
"It poses a lot of problems for us defensively to be able to stop their vertical passing game and they throw a lot of wide-receiver screens and then they run the football well. And the quarterback doesn't want to run but can and will. So, it's a big task for our defense. Our defense has got to play well for us to have a chance to win this ballgame and there's no doubt about it."
Trinity's offensive line includes four 300-plus pounders. Left tackle Shardez Taylor is 6-4, 355 while right guard Patrick Perkins is 6-7, 325.
On the other hand, Bryant's offense has been so good, they've rarely been required to play a full 60 minutes over the last two seasons. The Hornets outscored their opponents, 560-114 (averaging 43-9 per game) in 2019 and, so far, in 2020, have outscored the opposition 105-24.
The Tigers' defense is big too, anchored by noseman Josh Neal (6-4, 320). He's flanked by Quentin Pollard (6-1, 275) and Justin Ross (6-0, 280).
"They've got Division-I size on their front seven," James said. "They're long. They're big. They're very athletic. They've got a cornerback who runs a 10.4 100-meters. He also returns kicks. We don't even read about 10.4 100-meter guys in Arkansas anymore. So that's going to be lightning in a bottle.
"So, we've got to do a really good job of disguising what we're going to do, running our routes and having the ball there on time because, really, they can do everything wrong and still stop a play or they can still score.
"We've got to be able to handle their size and length," the coach continued. "There's a lot of difference when a guy's really long because, if you think you had him blocked, he's long enough to get out of it and make a play. If you do break one, they've got chance to catch you on every play. So, that's going to be something we're not used to. We're not used to getting caught or we're not used to getting out-leveraged.
"That poses a problem for our offense," he said. "It'll be something we haven't seen, maybe some typically against, say North Little Rock, Northside and Central, we see the sort of the same thing sometimes.
"Our offense is going to be challenged," James asserted.
Sanders is not the only NFL product on the coaching staff, either. The defensive coordinator Kevin Mathis played in the secondary for the Cowboys, the Falcons and the Saints.
"Our offense will probably dictate to our defense," said James. "If we can score points and keep the ball away from them, that helps our defense. If it's a game where our offense struggles, and our defense has to be on the field a lot then that's going to hurt our offense as well we're going to feel like we've got to hurry and we've got to catch up and do that kind of thing.
"So, we've got to take the game for what it is, and we've got to make it a four-quarter game. We've got to make them play the entire game and play the entire field and we've got to dictate some things offensively that gives our defense a chance to be successful as well."
It's the home opener after two games for the Hornets. For Trinity, it's the fifth road game so far this season including contests in Mississippi and Tennessee. The Tigers only have one home game on their schedule, Oct. 2, against a team from Columbus, Ohio. They play in Florida twice before the season's done and go back to Mississippi.
In the end, it's only a non-conference game but it is a chance for both teams to measure themselves against a quality opponent.
James compared it to playing Fayetteville in recent years after the Bulldogs had won State championships.
"It really counted for nothing, but it showed you where you were," he related. "Could you play against the best teams? And I think this is just a notch up. I mean, athletically, this is probably one of the most talented teams we'll see. It might be the most talented team we've seen since I've been here and that's saying a mouthful right there in itself.
"It doesn't affect us in the state of Arkansas other than it gives us a chance to show that if we're really where we need to be at a regional or national level," he concluded. "I think that's fun. I think that's what you want. I think it's the same thing as Arkansas playing Texas non-conference. I think it gives us a sense of our state football against their state football and I'm not sure they're taking it the same way. It's a game that, you know, has a little bite to it."