Photos courtesy of Jon Staton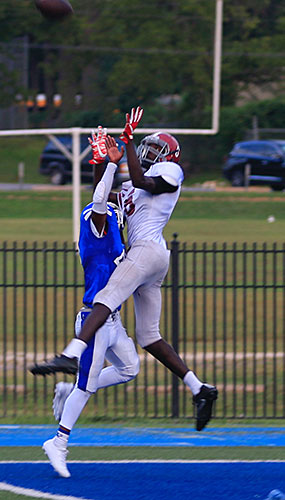 The Bryant Hornets junior varsity team got a jump on varsity by getting in their first game on Monday night, and on the Pine Bluff Zebras by building a 35-6 lead on the way to a 41-32 win at Bryant Stadium.
Sophomore quarterback Jake Meaders threw for two scores and ran for two more while linebacker Austin Bailey scooped and scored and running back Ahmad Adams caught a TD pass and ran for another score.
The Hornets led 41-14 before Pine Bluff scored three late touchdowns.
Bryant scoring began with a 19-yard pass from Meaders to Josh Robinson. The TD was set up by a 52-yard completion from Meaders to Adams.
Grayson Scoles added the extra point.
With completions of 24 yards to Hunter Ulmer and 51 yards to Adams, the Hornets drove inside the 10 only to turn it over. But moments later, Tristain Sehika sacked the Pine Bluff quarterback and jarred the ball loose. Bailey grabbed it and scored. With Scoles' kick it was 14-0.
Pine Bluff got on the board but came up short on a two-point conversion attempt.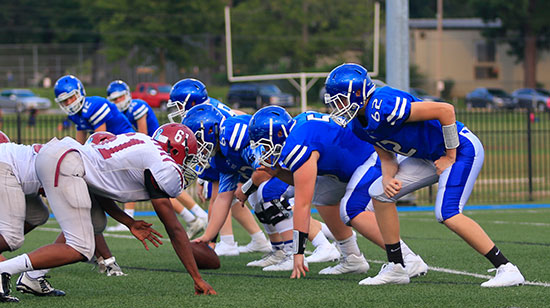 After a 30-yard pass from Meaders to Ulmer, the quarterback snuck it in behind center Josh Stevens, extending the lead, with Scoles' kick, to 21-6.
A 53-yard touchdown connection from Meaders to Ulmer extended the margin to 28-6 after Scoles PAT. Moments later, Meaders took off on a 69-yard touchdown run as the lead expanded to 35-6.
After Pine Bluff scored and added a two-point conversion, Adams broke an 88-yard touchdown run to increase the margin to 41-14.
The Bryant JV returns to action at Little Rock Catholic on Monday, Sept. 11.