By Rob Patrick
Photos by Kevin Nagle
Cedarrian Crosby scored 11 points while Brushawn Hunter and Ryan Hall added 8 each as[more] the Bryant Hornets junior varsity team never trailed on the way to a 37-24 win over the Russellville Cyclones JV on Tuesday night.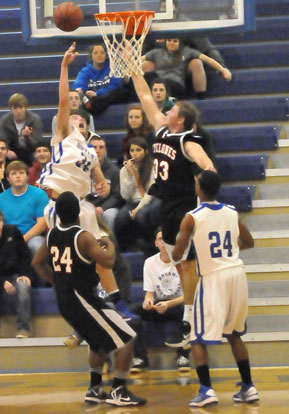 Crosby and Hunter each hit 3-pointers late in the first half that helped the Hornets extend a slim lead. They eventually led by as much as 18.
Ketrick Wilson and Kevin Rudd added 4 points each and Jaylen Peterson added a basket for the Hornets.
The game was tied 2-2 before Wilson hit the offensive glass and scored with 6:07 left in the first quarter, putting the Hornets ahead to stay. Rudd's driving jumper made it 6-2.
After Russellville scored, Hunter canned a pull-up jay then beat the buzzer ending the first quarter with a 3. And when Crosby scored off a baseline drive to start the second quarter, the Hornets were up 13-4.
The Cyclones whittled the margin down to 13-10 and had a chance to get closer only to turn the ball over. Crosby cashed in with a 3 and, after another Russellville miss by CoChese Temple-Laws, Hunter drained his second troika and the lead was back to 9.
It was 21-12 at the half.
And when Rudd scored the first basket of the second quarter, Bryant had its first double-digit lead. Hall followed up with a pair of buckets, one off a nice feed by Rudd, as the lead ballooned to 27-13.
Tyler Allen scored Russellville's first points of the second half with 3:59 left in the third quarter. Kregan Kordsmeier dropped a 12-footer and the lead was back to 10.
In the final seconds of the period, however, Hall got free inside and scored to make it 29-17 going into the final seven minutes.
The Hornets put the game away by scoring the first 6 points of the period. Crosby hit two free throws and Peterson scored inside. Though Davonte Howard couldn't get a free throw to go, John Winn hustled after the rebound for Bryant and whipped a feed to Crosby for a layup that made it 35-17 with 5:09 left to play.
Russellville scored 7 uninterrupted points but a layup by Wilson set the final score with 2:24 left to play.
The Bryant JV is set to play again this Friday at Cabot.