For more photos from this event by Kevin Nagle, go here
By Rob Patrick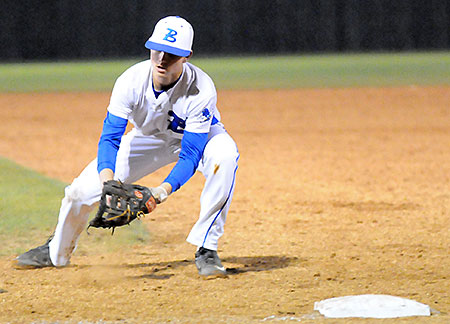 For most of the people at Bryant High School Field Monday night, the details of the Hornets' 13-3 win over the Arkadelphia Badgers will fade from memory. They'll become one page of the 2017 chapter of the program's illustrious history book.
Oh, Cameron Coleman may remember he had three hits and Seth Tucker may remember he earned his first win of the season by holding the Badgers to three hits with only one earned run. Coby Greiner made recall hitting two sacrifice flies, one of which was caught by the Arkadelphia first baseman. And Jake Wright may remember squeezing in the run that ended the game by run-rule. There may be other things folks remember too.
But no one will remember it quite like Travis Queck.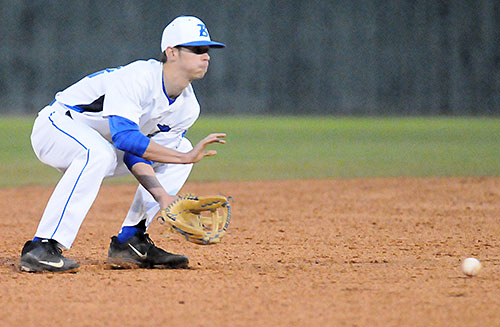 A former Hornet himself, Queck played on a 2004 team that was the first from Bryant to reach a State championship game. A two-sport star as an excellent outfielder and clutch hitter in baseball and a heck of a safety in football, Queck didn't go to college to be a coach but wound up returning home to become one anyway, an assistant until this year.
With Monday's win, the Hornets provided Queck with the first victory of his head coaching career; the first, no doubt, of many before he's through.
One of the things he'll likely remember about it is that the game was almost washed out. Overnight rain and off-and-on showers during the morning threatened it.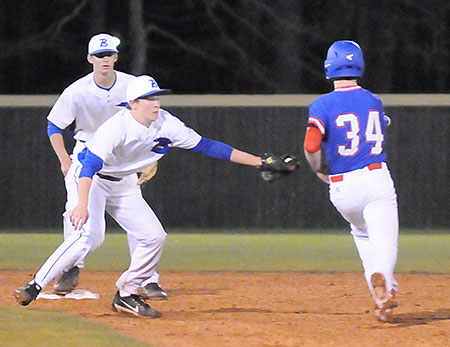 "I was up here at 9:30 when it started raining the second time," Queck recounted. "This morning, we pulled the tarp, got all the water off the field, did a great job. Then I looked on my phone and it was 50 percent chance. I had to ask Coach Buck (James) and Coach (Guy) Brown, had to borrow some kids out of some P.E. classes. We got it tarped back up and I had to pump water all day. But it worked out.
"It came game time and I was thinking, 'I'm not even ready for this game,' but I got all the office work done this morning and the field had to be ready," he added. "When it was ready, I got to re-focus on the game. And the guys did a good job executing the game plan."
The side-winding Tucker held the Badgers without a hit over the first three innings while the Hornets grabbed an 8-0 lead. He wound up with seven strikeouts, a walk and a hit batsman over five innings.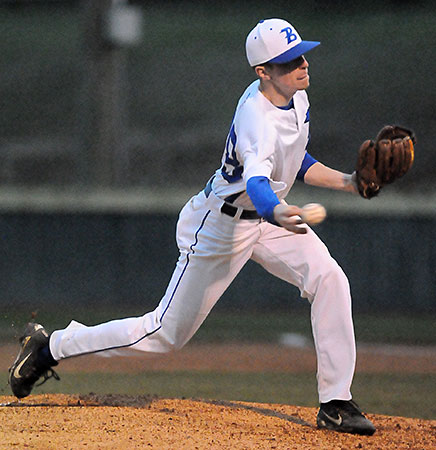 Asked what he was most pleased about, Queck said, "Tucker's leadership on the mound, throwing strikes.
"We had a couple of instances where we let them get back in the game," he mentioned. "It's stuff we've got to clean up. We can't have that going forward. It's stuff that's fixable, which is really good. We've just got to be able to make the plays, to eliminate those innings.
"The guys did a great job of stopping the bleeding," the coach concluded. "Tucker had a lot to do with that because he came in throwing strikes."
The lone walk was in the top of the first. It came on the ninth pitch of a battle with the Badgers' Brayden Todd with two away. Todd was stranded when, a pitch later, Alec Lewis bounced out to Greiner at short.
At the plate, the Hornets benefitted from some wildness by Arkadelphia starter Eric Groom. Tucker battled for a lead-off walk then Scott Schmidt drew a free pass on four pitches. Coleman yanked a single to right to drive in the game's first run.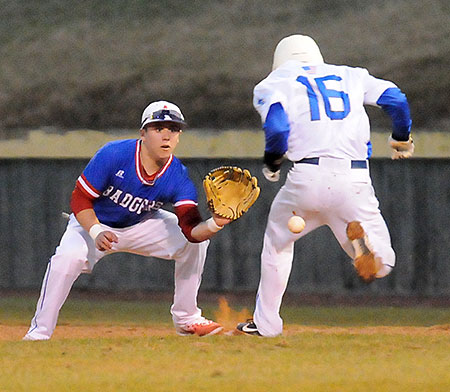 Wright, looking to sacrifice, wound up beating out his bunt for a hit to load the bases. Schmidt scored on a wild pitch as Logan Chambers was waiting out a walk.
That brought Greiner up with the sacks filled. On a 3-2 pitch, he popped a fly into foul territory down the right-field line. Though Lewis, the Badgers' first baseman tracked it down, Coleman had tagged and beat the throw home to make it 3-0.
Alertly, Logan Grant, running for Wright, and Chambers moved up on the play as well. So, when Beaux Bonvillain flew out to center, he got a sacrifice fly and an RBI as Grant sprinted home.
With Logan Catton at the plate, a wild pitch allowed Chambers to score to make it 5-0. Catton worked the fourth walk of the inning but was stranded.
"Good teams take advantage of things they're given so I'm proud of the guys for that," Queck said.
In the top of the second, Tucker fanned two and speared a liner back to the box for a 1-2-3 frame that required just 10 pitches.
In the bottom half, he earned another walk to start a three-run uprising. Schmidt stroked a sinking liner to left that fell in for a single then Coleman slapped a single to left to load the bases. Wright drew an RBI walk.
Chambers made a bid for a hit but Todd, Arkadelphia's shortstop, caught the liner. Hoping for a doubleplay, he fired to first but errantly, which allowed Schmidt to score. With Coleman at third and Grant hustling to second, it set the stage for Greiner's second sac fly, a fly to center that made it 8-0.
The Badgers' River Malugin reached to lead off the top of the third on catcher's interference when Tucker was a strike away from retiring him. Maddox Breashears followed with a roller up the middle that Schmidt got to. He tried to tag Foxx Ward, who was running for Malugin, but somehow Ward evaded the tag. A throw to first was too late to get Breashears.
A passed ball then moved them to second and third with the top of the batting order up and no one out.
Greiner took the out at first when Groom hit him a grounder. Ward scored to get the Badgers on the board. But, with Breashears at third and one out, Tucker fanned Turner Pentecoast and Todd to keep it 8-1.
Groom got the first out of the bottom of the third then Matthew Sandidge reached on an error with a hot shot to second that Pentecost tried to short-hop unsuccessfully. With his pitch count at 74, Groom gave way to right-hander Carson Smith, who got out of the inning with no further damage.
And the Badgers trimmed more off the Bryant lead in the top of the fourth. Lewis managed the first hit allowed by Tucker, a scratch single that Schmidt got a glove on with a dive in shallow right. A pitch later, Alec Ruble pulled a solid single to right sending Lewis to third. Joe Rocole was hit by a pitch to load the bases with no one out.
Smith picked up an RBI with a groundout as Greiner made a nice play. Tucker then struck out Melugin and was a strike away from retiring Breashears. But another catcher's interference extended the inning, loading the bases again. Groom singled up the middle to make it 8-3 but Tucker ended it there with another strikeout of Pentecost.
In the fifth, Konnor Clontz made a sparkling play wide of third to get the first out. Tucker induced a comebacker for the second out then ended it with his final strikeout.
The Hornets put it in run-rule territory with a fourth-run fourth. Wright walked and Grant stole second with one out. Chambers then sliced a double to left to bring him around. A balk allowed Chambers to advance to third and he scored from there on a wild pitch as Greiner was working a walk. Bonvillain yanked a double to right and, with two down, Sandidge came through with a sharp single to left-center that made it 12-3.
In the bottom of the fifth, Schmidt got aboard for the third time, struck by the first delivery of the frame. Coleman pulled a single into right off the glove of Pentecost and Schmidt sprinted to third. That brought up Wright who got down a bunt on the squeeze play to made it a 10-run lead.
"These guys are starting to see our process and what we've worked on so long," Queck said of the offense. "They're starting to apply it in the game and they're having some success, which is good. Once they have a little success, it's easier to buy into things. These guys are starting to do that but we're still not there."
The process will continue, weather permitting, when the Hornets host the White Hall Bulldogs this Thursday at 5 p.m., with a junior varsity game set to follow. The Hornets B team is set for a doubleheader at Bauxite on Tuesday.
HORNETS 13, BADGERS 3
Arkadelphia ab r h bi Bryant ab r h bi
Groom, p-rf 3 0 1 2 Tucker, p 2 2 0 0
Pentecost, 2b 3 0 0 0 Schmidt, 2b 2 3 1 0
Todd, ss 2 0 0 0 Coleman, rf 3 2 3 1
Ward, ss 0 0 0 0 Wright, c 1 0 1 2
Lewis, 1b 3 1 1 0 Grant, cr 0 2 0 0
Saunders, 1b 0 0 0 0 Chambers, 1b 2 2 1 1
Ruble, lf 3 1 1 0 Greiner, ss 0 1 0 2
Rocole, 3b 1 0 0 0 Bonvillain, lf 2 1 1 1
Kirksey, rf 1 0 0 0 Catton, dh 2 0 0 0
Smith, p 1 0 0 1 Sandidge, cf 3 0 1 2
Melugin, c x-1 0 0 0 Clontz, 3b 0 0 0 0
Ward, cr 0 1 0 0
Breashears, cf x-1 0 0 0
Totals 19 3 3 3 Totals 18 13 8 9
x—reached on catcher's interference.
Arkadelphia 001 20 — 3
BRYANT 530 41 — 13
One out when game-ending run scored.
E—Wright 2, Todd, Pentecost. LOB—Bryant 5, Arkadelphia 5. 2B—Chambers, Bonvillain. S—Wright. SF—Greiner 2, Bonvillain. SB—Sandidge, Grant.
Pitching ip r er h bb so
Arkadelphia
Groom (L) 2.1 8 7 4 6 2
Smith 2 5 5 4 2 3
Bryant
Tucker (W) 5 3 1 3 1 7
Balk—Smith. HBP—Rocole (by Tucker), Schmidt (by Smith). WP—Groom 2, Smith. PB—Wright.