Editor's note: Tonight's Bryant-Lake Hamilton game will be broadcast at 93.7 FM and 690 AM Fox Sports Arkansas with pre-game at 6:30 p.m., and live streamed by Fidelity Local 6 here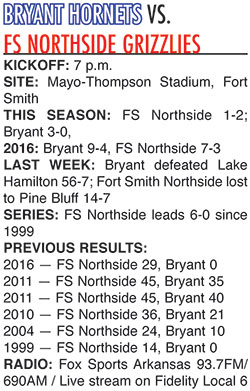 A year ago this week, the Bryant Hornets football team hit rock bottom. Or at least it seemed that way.
With a 29-0 loss at home to the Fort Smith Northside Grizzlies, folks were wondering if they'd seen the team's last victory of the season with the come-from-behind 24-21 win at Lake Hamilton the previous week.
But, as the old coach always said, "Nothing's ever as bad as it seems and nothing's ever as good as it seems."
No one realized that, with 30 seniors, the Grizzlies were just getting started with one of their best seasons in a while. They came off an open date and had two weeks to prepare for the Hornets in the 7A-Central Conference opener.
The loss also forced the new Bryant coaching staff to reassess.
"We had some injuries," recalled Hornets head coach Buck James. "And we had some philosophy things that we wanted to do that we weren't sure we could do. So we really went back to the drawing board, sort of went to basics.
"We slowed down," he added. "We were going to be a tempo football team even though our defense was capable of it. We shored up our kicking game. And we were able to put some things together and play pretty good football."
The result was that the team went 7-2 the rest of the season with the only losses to North Little Rock in week 9 and in the semifinals of the Class 7A playoffs.
"It still wasn't what we wanted to do," James related. "It still wasn't the brand of football that I wanted to bring to Bryant. It wasn't the type of offense that I wanted our kids to be a part of. Although defensively, we got it a little bit better, offensively, we weren't there.
"You do what you've got to do sometimes to be able to win," he explained. "It was good that we had a great defense and that we could make some mistakes and depend on them.
"It was part of the process of being first-year coach at a school and going through that process to get to where we wanted to get to," the coach concluded. "When you take over a program, most coaches will tell you it takes 3 to 5 years to get it like you want it. But that's not fair to the kids that we had that were seniors last year or seniors this year."
It's a process, he asserted, that is still ongoing as the Hornets have started the 2017 season 3-0 including a huge road win in Fayetteville, against the defending State champs, and last week in a rout of a Lake Hamilton team that had scored big in its first two games.
Yes, ongoing. The 56-7 win over the Wolves was not the game James was completely satisfied with nor did he want his players to be satisfied with.
"It was probably our best effort as far as what I was looking for, offensively, defensively and special teams," he allowed.
"It's all about approach," the coach said. "It's about what you expect from yourself, what you expect from your teammates and what you expect from your coaches. Our kids have been resilient. They've embraced everything that we've tried to do. It hasn't always been easy. It hasn't always been fun but, at the end of the week, Friday nights are a lot of fun because we understand the process that it takes to enjoy those wins."
Regarding Northside:
Losing 30 seniors takes its toll on any program. The Grizzlies come into the game 1-2 but their losses have been against two tradition rich programs, Greenwood and Pine Bluff. They're young but James said, "They'll probably be the most talented football team we've played up to this point. They have the best athletes and, you know, they can do everything wrong on a play and still score or still stop the play. Those types of teams are scary. It's going to be a tough game."
Defensively, the Grizzlies aren't huge but their speed and athleticism make them hard to block. Their secondary, James said, will play back and refuse to let you beat them over the top, which is how the Hornets amassed over 300 yards passing against Lake Hamilton.
Offensively, Northside's big weapon is quarterback Derrick Wise. He's passed for 280 on just 17 completions (in 35 tries) with two interceptions and four touchdowns. But it's Wise's feet that produce. Quick and elusive, he's rushed for 255 yards on 51 carries and three scores. He had 184 yards rushing and 133 yards passing in the team's win over Van Buren.
"He's probably one of the best athletes in the conference," James said. "He's a tailback playing quarterback."
The Hornets are coming off a game in which they amassed over 500 yards of offense and held a run-oriented team to 95 yards. Eight defenders have reached double digits in tackles this season, led by junior middle linebacker Jakob Neel with 27. Corner Antonio Rice has been in on 20 and safety Rondale Messer 17. Linebackers Nick Smith and Jake Wright have been in on 16 and 14, respectively. With corner Andrew Hayes in on 13 while leading the team in interceptions. Defensive end Johnny Wallace has 11 tackles including four for losses with a sack. Tackle Josh Salguerio has made 10 stops, one for loss.
Offensively, junior quarterback Ren Hefley is 44 of 67 for 787 yards with three interceptions and eight touchdowns. He's also rushed for 26 yards, which, being in positive figures, indicates the offensive line has not allowed him to be sacked often, if at all.
Running back LaTavion Scott, who was used sparingly against Lake Hamilton, has 307 yards rushing and leads the team in receptions with 11. Brandon Murray, Randy Thomas and Ja'Kalon Pittman each are over 100 yards in receptions with Murray, who caught three touchdowns last week at 206. Luke Curtis is on the cusp of 100 yards with 96 on six grabs so far.
The Hornets have experienced some big-time firsts since this week last year. They won twice in the playoffs and, two weeks ago, beat Fayetteville for the first time. Tonight's game offers another opportunity:
No Bryant team has ever beaten Northside in six games dating back to 1999 when the Grizzlies ended Bryant's 11-0 season.