Tonight, the Bryant Hornets football team embarks on a conference schedule that may be the toughest a Hornets team has ever faced.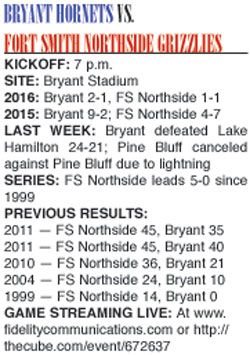 In recent years, the Hornets have played in mixed conferences, including both Class 7A teams and Class 6A teams. Admittedly, one of the Class 6A teams was Greenwood, which beats 7A teams on a regular basis, but this year, all eight teams in Bryant's league, the 7A-Central, are in the same 7A classification and seven of the eight made the Class 7A State playoffs last year: Bryant, Cabot, Catholic, Conway, Fort Smith Northside, Fort Smith Southside and North Little Rock. The only one that didn't was Little Rock Central and the Tigers are usually included.
The consensus is that, top to bottom, the Central is tougher than the traditional power conference in the West — though the West still includes powerhouses Fayetteville and Springdale Har-Ber.
The Hornets and Northside Grizzlies square off tonight. Bryant is 2-1 coming off a come-from-behind win over Lake Hamilton. Northside is 1-1 after having its game against Pine Bluff cancelled last week due to nearby lightning strikes.
So, the Grizzlies may be fresher. No doubt, a game against Pine Bluff would've been a physical one.
Big and fast, Northside is a veteran team that has been one of the reasons the West has been so rugged in the past. The Grizzlies were original members of the West before spending two years in the Central while Bryant was playing in the 7A/6A-South in 2012 and 2013.
The Grizzlies opened the season with a 33-25 loss to Greenwood then dismissed Van Buren, 42-14. They have a two-headed running tandem with Kedrick Thomas and Tre Norwood. Quarterback Max Frazier, over the first two weeks, went 17 of 23 passing for 218 yards and three touchdowns. His top targets have been Deuce Wise and DeAaron Robinson.
But Northside may be at their best on defense.
"We've got to be able to execute and be able to move the football," said Hornets coach Buck James. "Offensively, they've got the play-making ability where they can do everything wrong and still score.
"This is a tough contest," he added, "because they're so athletic and so big."
The Hornets are gradually cutting down on mistakes. A trend that, if it continues, will put them in better position tonight. Over three games, they've suffered 24 penalties and six turnovers (though the defense has forced seven).
Bryant has used three quarterbacks. Each has contributed in different ways. Senior Beaux Bonvillain completes a high percentage of his passes (57 percent) but in more of a ball-control fashion, averaging just over 6 yards a completing. Sophomore Ren Hefley's percentage hasn't been a high but he's averaging 16 yards a completion. Cameron Vail, who starts at safety on defense, comes in to supply an additional running threat but has completed a pass along the way.
A stable of running backs has produced 365 yards on the ground over the three games. Though the Hornets are without senior DeAmonte Terry, senior Cameron Coleman returned last week to help out. Junior Kris King and senior Jeremiah Long have been productive as well as the Hornets' offensive line continued to develop and get better.
Defensively, the Hornets have blanked the opposition in the second half of each of their two wins. Senior ends Madre Dixon and Hayden Knowles along with linebacker Marvin Moody lead the front seven. Safety Caylin Allen had a particularly good game against Lake Hamilton.
James said he would welcome some early success on offense. The Hornets have yet to score in the first quarter this season.
"Try to let our defense play with a lead," he said. "I'm looking for a game where we go out and from the first snap of the game, we play extremely well, have some good things happen for us, make some good things happen, and be able to play four quarters of good football."