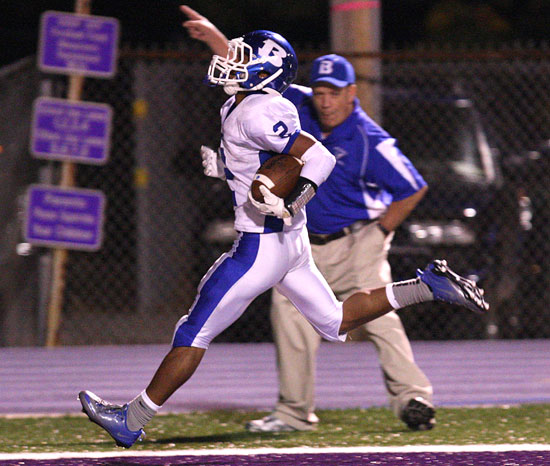 Photos by Kevin Nagle and Rick Nation
By Rob Patrick
It looked like, for the first time since 2004, the Bryant Hornets and the Cabot Panthers[more] weren't going to play each other. Both had been moved out of the 7A-Central Conference (Bryant to the South; Cabot to the East) but, as it turned out, the two schools will meet on the football field for the 40th time since 1953 — yes, they've been at it that long.

They know each other well. The Panthers know the Hornets' offense will run it when it can but primarily try to move the ball through the air. The Hornets know the Panthers will line up in their old-school dead-T and pound, pound, pound the ball, hoping to average 3 yards a play in order to just keep grinding out first downs all the way to the end zone. And three or four times a game, they'll do all that close-quarter faking in the backfield and catch you napping with a big pass play.
Bryant, after winning four in a row, is coming off a 42-35 loss to the El Dorado Wildcats. Cabot, after losing two straight, bounced back with wins in its last two contests.
"Last week, El Dorado came out and ran a lot more power football as far as fullback-tailback I-formation than we'd seen out of them," noted Hornets defensive coordinator Steve Griffith. "I think they decided that they wanted to go right at us hard then come off of that with play-action.
"Our kids played hard," he asserted. "We were just missing a few run fits and stuff that allows a team to take advantage if they have outstanding players, which El Dorado does. A couple of times, we got so conscious of the run, they got us to bite on the run and got over the top of us with a play-action pass. They were able to execute.
"This week, that's a danger playing Cabot," Griffith explained. "You've got to get all 11 guys involved in stopping the run but you've got to be focused on your keys so when they do pass, you've got your eyes where they need to be and you're able to make a play.
"If they get 3 yards they get excited," he said of the Panthers. "The challenge is to be able to get off the field in three, four, five plays and not allow them to have a 20, 22, 23 play drive that keeps your offense on the sideline. Our big challenge of the week is just to have our kids stay focused, be able to make some stops and get off the field and let the offense have some time out there."
The offense amassed over 400 yards last week but Bryant offensive coordinator Lance Parker wasn't satisfied.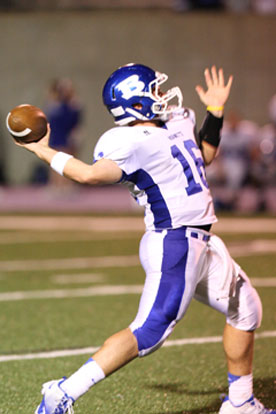 "We threw and caught well," he acknowledged. "I think we had a couple of really critical penalties that knocked us out of scoring position one time. We had opportunities. We had a lot of yardage production but we really didn't get in the end zone as much as we should have. We didn't do enough to win.
"I think we've just got to make sure we don't have any stupid penalties this week that knock us out of scoring range," he emphasized. "Traditionally, Cabot is going to hold onto the ball. Our possessions may be cut down so we've got to be very efficient with what we do. In the red zone, make sure we score every time we touch it and try to give our defense some breathing room."
If the Panthers are eating clock and moving the ball, an opponent may get no more than half the possessions they normally would.
"They're a good football team," Parker said. "They're not going to let us run it so we're probably going to have to try to beat them through the air. I think it'll be a good game."
During the time the two teams played in the Central Conference, they played six times. The home team has won every meeting except the first of those meetings. In 2006, Bryant won at Cabot, 7-0.

BRYANT HORNETS

2012 unofficial stats through 10 games

Score by quarters

Opponent 35 49 7 90 — 210
BRYANT 117 92 93 50 — 352
Team stats
Oppt Bryant

First downs 139 158
Rushes-yds 338-1633 242-1043
Passing 86-188-10 170-264-5
Passing yds 1111 2256
Fumbles-lost 20-10 10-7
Penalties-yds 61-455 60-506
INDIVIDUAL STATS

Rushing: Hill 25-248, J.Bell 57-217, Irby 42-169, Lessenberry 58-149, Hunter 15-91, Young 9-73, Lawhon 6-30, Reese 7-26, Warner 3-25, Akers 5-21, Powell 3-(-6).
Passing (C-A-I-Y): Lessenberry 153-240-5-2060 (20 TDs), Warner 15-21-0-158 (3 TDs), Hill 1-1-0-21 (1 TD).
Receiving: Hill 40-659, Hunter 37-619, Howard 25-316, Powell 18-183, J.Bell 14-96, Rutherford 11-119, Irby 7-58, Akers 4-45, Sears 4-38, Greismer 2-35, Vail 2-21, Richards 2-13, Giles 1-22, Shuttleworth 1-16, Lessenberry 1-16, Lawhon 1-0.
Scoring: Hill 72 (3 td-r, 9 td-p), Lowery 51 (3 for 3 fg {43, 36, 26}, 42 of 43 PATs), Reese 30 (5 td-r), Lessenberry 42 (7 td-r), J.Bell 18 (2 td-r, 1 td-p), Hunter 36 (6 td-p), Howard 18 (3 td-p), Irby 6 (1 td-r), Johnson 6 (1 td-int.ret), Stevens 6 (recovery), Nossaman 6 (1 td-fum.ret), Richards 6 (1 td-p), Rutherford 12 (2 td-p), Tipton 6 (1 int. ret), Shuttleworth 6 (1 td-p), Lawhon 6 (1 td-r), Nossaman 6 (1 int. ret), Young 6 (1 td-r), Powell 6 (1 td-p), Kelly 2 (1 safety), A.Denker 1 (1 of 1 PAT)