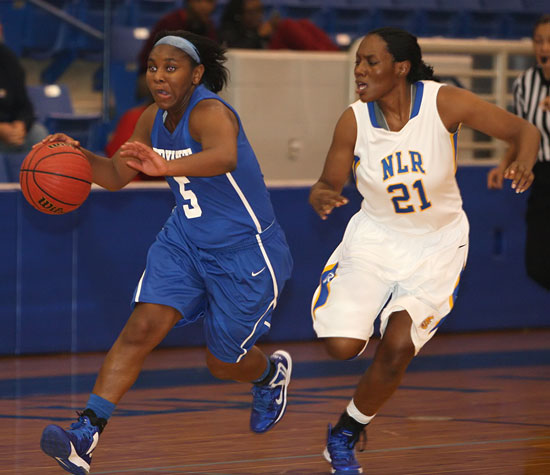 Photos by Rick Nation
By Rob Patrick
NORTH LITTLE ROCK — No Bryant Lady Hornets varsity basketball team has defeated a[more] North Little Rock Lady Charging Wildcats team since the spring of 2005. In fact, it's gotten ugly at times, especially at North Little Rock.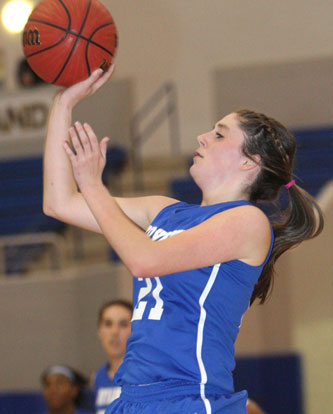 Scores like 54-15, 67-45, 82-44, 56-38 and 49-28, during a stretch in which North Little Rock developed into one of the State's powerhouses including State championships in 2006 and 2010. They figure to be in that same kind of class this year.
But, on Thursday night, the 2012-13 edition of the Lady Hornets had their rivals from North Little Rock on the run — and their fans practically apoplectic — much of their game. Bryant led by as much as 8 late in the first half and by 5 late in the third quarter.
Down 51-50 with just under five minutes left, North Little Rock mustered a final run. A 3-pointer by Bryant's Peyton Weaver with 3:18 left had the Lady Hornets within 55-54 but that was the last of Bryant's scoring as the Lady Cats escaped with a 61-54 win.
In fact, despite some very physical play of its own in the fourth quarter, North Little Rock was awarded eight free throws and Bryant none.
A group that has seen several star players depart of one reason or another over the last two years, this Lady Hornets' team looks like it may be a better team than anyone — including perhaps themselves — expected. There were stretches of Thursday's game when they flat out-played the bigger, stronger, faster, more experienced Lady Cats.
Dezerea Duckworth scored 20 points, Courtney Davidson had 14, Logan Davis 10 and Weaver 6 for Bryant.
But it was on the boards that the Lady Hornets dominated. Davidson pulled down 17 including eight on the offensive end while Whitney Meyer collected 12 caroms including five at the offensive end. As a team, Bryant out-rebounded the Lady Cats 46-33.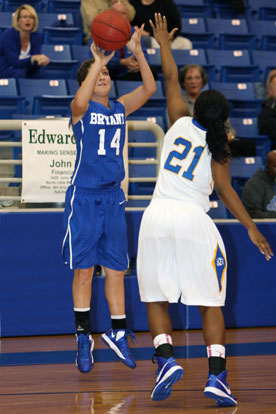 "North Little Rock's really, really good," stated Bryant head coach Brad Matthews. "They lost a lot of great players last year. I think three or four of them are playing Division I (college ball). But they just re-load. They're really well coached. They're so athletic; very talented.
"I thought our kids really held it together," he added. "When you get that kind of pressure, you've got to just go make a play. And I thought in spurts we did that. We've talked about that. We talked about it today and we've talked about it since Aug. 21. You've got to be able to make plays when the pressure's on.
"I was proud of our kids," the coach asserted. "It's a different game than when we played (season-opening foe) Vilonia. That's kind of why we scheduled this. We need to see all this because this is the kind of stuff we're going to see in our conference."
Until this season, Bryant and North Little Rock were Central Conference rivals. This year, the Lady Hornets are in the South Conference and the Lady Cats are in the East.
"Whitney Meyer," Matthews declared. "I don't know if she scored (2 points, actually), but I thought she gave us stuff she's never given us since I've been here. She was competing. I thought (Kristen) Scarlett and Courtney and Hayley (Murphy) and Erica (Smith) all made some plays, played their roles."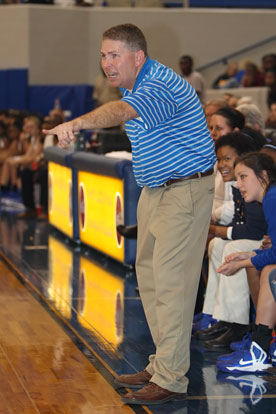 That group plays on the front line for Bryant and they not only did great work on the boards but set solid picks — crucial in Matthews' offenses — and played the Lady Cats' bigger inside players tough on defense. In the second half of the game, North Little Rock's perimeter players started attacking the basket more, drawing Bryant's inside players for help defense then dumping the ball off to post player Kiara Webb who wound up with 22 points, 14 of that after intermission.
"Our kids were competing," Matthews reiterated. "We've got some kids that are not experienced, fighting like heck and making plays. North Little Rock's really good. They're going to beat a lot of people. I'm really proud of our kids. We can take a lot of things out of this moving forward."
Duckworth hit free throws to give the Lady Hornets the first 4 points of the game but, by the end of the first quarter, North Little Rock had managed a 14-9 lead. The Lady Hornets missed a couple of chances to cut into that in the last minute of the quarter but Jayla Anderson, in off the bench, made a steal and Davidson went to the rack and drew a foul. Her free throws cut the lead to 3.
After Jasmin Mays hit a free throw at the start of the second period, Duckworth followed her own miss to score then Weaver drained a triple to put Bryant back on top, 16-15.
The game seesawed from there until, with just over three minutes left in the half, Bryant went on a tear. Davis hit two free throws to erase a 23-22 deficit. Davidson was fouled grabbing a defensive board and converted twice and, after Dajha Hardaman knocked down a baseline jumper for the Lady Cats, Murphy hit the offensive glass and scored to keep Bryant ahead.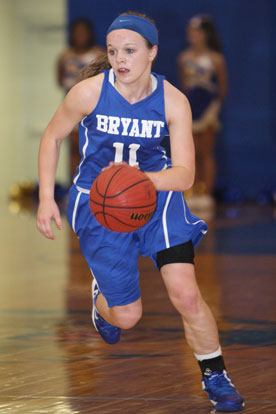 She then took a charge at the other end and Davidson cashed in with three free throws in four attempts on the next two possessions. And when Halley Hill misfired for North Little Rock, Davidson crashed the offensive boards off a teammate's miss and scored.
So, with 1:11 left in the half, Bryant held a 33-25 advantage. It was 33-28 at the half.
With renewed aggression, the Lady Cats added to the 3-0 run at the end of the second quarter as the third period developed. They scored the first 10 points of the second half to regain the lead 38-33.
But, sparked by Duckworth and a change in defense, the Lady Hornets had an answering surge. She and Webb traded points until, with 3:28 left in the quarter, Duckworth scored and was fouled. Though she missed the free throw, Davidson out-maneuvered the Lady Cats for the rebound and was fouled. She converted to cut the margin to 42-40.
North Little Rock's Tashika Harris couldn't get a shot to go and Davidson missed at the other end, but Duckworth went coast-to-coast for a tying hoop.
Davidson came back on defense to block a shot by Mays. And, after pushing it up the floor, Davis fed Duckworth for a go-ahead layup. Davis then made a steal and cashed it in with a triple that had the Lady Hornets back up by the halftime margin of 5.
They had four chances to increase that edge but North Little Rock's Sasha Giles beat the buzzer to make it 47-44 going into the final eight minutes.
The Lady Cats continued their comeback and held a 48-47 advantage before Duckworth and Davis combined to force a turnover that led to a layup by Duckworth which had Bryant up 49-48.
Kyra Collier and Duckworth traded baskets resulting in Bryant's 51-50 lead. North Little Rock's closing run began with a 3 by Hill. After blocking a shot by Duckworth, Webb hit a short jumper to make it 55-51.
That's when Weaver nailed her second trey off the dribble. It took almost a minute before Giles pushed the lead back to 3 and Bryant was stymied the rest of the way. Hardaman extended the lead at the free-throw line.
Now 1-1 on the season, the Lady Hornets will have until Nov. 20 before they play again. They'll host Mount St. Mary Academy, another old Central Conference rival.
LADY CHARGING WILDCATS 61, LADY HORNETS 54
Score by quarters
BRYANT 11 22 14 7 — 54
NLR 14 14 16 15 — 61
LADY HORNETS 54
Player fg-fga ft-fta reb fls pts
o-d-t
Davis 3-14 2-2 1-1 2 4 10
Duckworth 8-21 4-5 3-2 5 2 20
Weaver 2-6 0-0 0-4 4 1 6
Scarlett 0-0 0-0 0-1 1 0 0
Meyer 1-2 0-2 5-7 12 2 2
Anderson 0-3 0-0 0-1 1 1 0
Davidson 3-10 8-10 8-9 17 1 14
Nichols 0-0 0-0 0-0 0 1 0
Murphy 1-1 0-0 1-2 3 0 2
Baxter 0-0 0-0 0-0 0 0 0
Smith 0-0 0-0 0-0 0 1 0
Team 0-1 1
Totals 15-57 14-19 18-28 46 13 54
LADY CHARGING WILDCATS 61
Player fg-fga ft-fta reb fls pts
o-d-t
Giles 4-11 2-2 0-0 0 1 10
Hardaman 2-6 4-4 0-1 1 3 8
Mays 2-6 4-4 0-1 1 3 8
Webb 10-11 2-6 2-8 10 1 22
Harris 0-2 0-0 1-5 6 2 0
Hill 2-7 0-1 4-2 6 1 5
McDaniel 2-5 0-0 0-0 0 0 6
Collier 2-9 2-2 3-3 6 3 7
Bridwell 0-2 0-0 0-0 0 2 0
Team 2-1 3
Totals 23-59 11-17 11-22 33 15 61
Three-point field goals: BRYANT 4-20 (Davis 2-10, Weaver 2-6, Duckworth 0-2, Davidson 0-1, Anderson 0-1), North Little Rock 4-13 (McDaniel 2-5, Collier 1-3, Hill 1-2, Mays 0-2, Hardaman 0-1). Turnovers: BRYANT 18, North Little Rock 9.