By Rob Patrick
Photos by Rick Nation
NORTH LITTLE ROCK — The Bryant Lady Hornets junior varsity held the North Little Rock[more] Lady Charging Wildcats JV to one free throw over the final 4:40 to turn an 18-18 game into a 22-19 win at Charging Wildcats Arena Thursday night.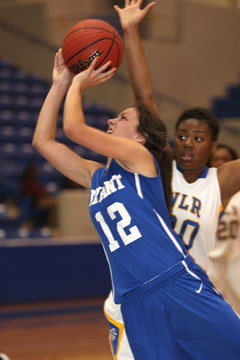 The game was two eight-minute quarters.
Jayla Anderson scored 9 points and Madeleine Baxter 7 to lead the Bryant team to victory. Erica Smith pitched in with 4 points and Destiny Huffman had 3.
After trailing 14-13 at the end of a tight first period, the Lady Hornets scored the first 6 points of the second period to stake out an 18-14 lead that held until North Little Rock hit back-to-back buckets midway through the quarter. But the Lady Cats' basket with 4:50 left to play proved to be their last field goal of the contest.
Anderson and Baxter each hit a free throw in the interim then, with :25 left, Baxter got behind the North Little Rock defense for a layup that sealed the victory.
Bryant actually led most of the first half. Smith and Anderson had the first tow baskets of the game. But the Lady Cats hit a pair of buckets, one a 3 on either side of a basket inside by Smith to cut it to 6-5.
Baxter scored off a drive to the hoop to keep the Lady Hornets ahead but North Little Rock surged to an 11-8 edge. Huffman hit a free throw, Anderson followed with a layup then Huffman got free for a layup to put Bryant back up 13-11.
A 3-pointer at the buzzer gave the Lady Cats the edge at the break.