Editor's note: This is a regular feature profiling senior athletes at Bryant High School.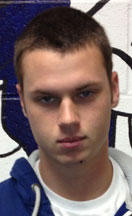 NAME: Jacob Stringer
PARENTS: Dan and Ashley Stringer
SIBLINGS: I'm the oldest of five. I've got two brothers and two sisters. Ben is 15, Sam is 13, Burke is 3 and then Tate is 1.
FAVORITE SUBJECT IN SCHOOL: History
WHAT DO YOU LIKE TO DO IN YOUR SPARE TIME? I like to play guitar. I like to hang out with friends.
FAVORITE FOOD: Mexican
FAVORITE MUSIC ARTIST OR GROUP: Probably "For Today", my favorite band.[more]
FAVORITE MOVIE: The Dark Knight Rises

FAVORITE TV SHOW: Definitely, The Walking Dead
WHAT WAS YOUR FAVORITE TOY AS A KID? I loved little action figures like G.I. Joe.
WHAT ARE YOUR PLANS AFTER HIGH SCHOOL? I'm probably going to go to Fayetteville to school and study business or engineering, and I might join the military part time.
OTHER THAN YOUR PARENTS, WHO HAS HAD THE BIGGEST INFLUENCE ON YOUR LIFE? Probably, either my coaches or an intern at my church a couple of years ago named Jason, a great guy; by their example. Not so much in what they say but their actions, just the way they handle themselves.
WHAT'S YOUR FAVORITE THING ABOUT FOOTBALL: I love the game and I love the friends I've made. I love the brotherhood.
POSITION: Defensive end
WHAT DO YOU FEEL LIKE IS YOUR PRIMARY RESPONSIBILITY ON THE FIELD? I've got to make sure I fill my gap, make sure I read the tackle. I've got to make sure I keep the linebackers free so they can make the play too.
WHAT DO YOU THINK OF THE SEASON SO FAR? It could always be better. This is the first time in a while that we've only won seven games instead of eight during the regular season but we're looking forward to this Friday against Cabot. We're going to try to get farther than we've ever been in the playoffs. We're optimistic.
WHEN THE TEAM'S PLAYING WELL, WHAT'S THE KEY TO THAT? I think it's just everybody being on the same page. Everybody doing what they're coached to do and whenever things do go wrong, nobody placing blame anywhere; just everybody sticking together and doing what they've got to do.
WHAT'S BEEN THE HIGHLIGHT TO THE SEASON SO FAR? Probably Homecoming week against Sheridan. We won 58-zip. It was great. It was a really good game. We executed real well on both sides of the football.
WHAT'S IT GOING TO TAKE FOR THE TEAM TO BE SUCCESSFUL IN THE PLAYOFFS? We've just got to keep the momentum going from the regular season. We've got to eliminate mistakes and we've all got to do what we're coached to do. The only team that can beat us is ourselves.
INDIVIDUALLY, WHAT ABOUT YOUR GAME ARE YOU MOST CONFIDENT ABOUT? Stopping the run game, especially when they run a trap I know exactly what to do.
WHAT DO YOU WORK HARDEST TO IMPROVE?
I work on quickness, being fast off the ball, making sure I make the right read because if I make the wrong read, it can be bad.
AFTER YOU'RE THROUGH PLAYING FOOTBALL AT BHS, WHAT DO YOU THINK YOU'LL REMEMBER MOST FONDLY ABOUT IT? I'm going to remember all my awesome brothers that I've got here on this team, all the hard times and all the good times we've been through and I'm just going to look back and go, you know what, all those years were so fun and I wish I could go back.