Photos by Kevin Nagle and Rick Nation
To celebrate the first day of full contact practice, Bryant Hornets head coach Buck James had his football team engage in an hour-and-a-half scrimmage this morning in front of a host of curious fans at Bryant Stadium.
The team got a break from the heat with overcast skies. Just minutes after the scrimmage, it began to rain.
"I thought, for the first day of pads, I can't ask for, really, much better," James assessed. "Considering where we started and where we're at, I felt like our football team improved today."
"The things that we did wrong are things that football teams generally do wrong in the first scrimmage after five days of practice," he continued. "I think we can clean all that up. We just missed some blocks and missed some route assignments. We missed some play assignments. We were late getting guys on the field in transition. Those are things we've got to clean up.
"I thought our conditioning was excellent," said the coach. "I thought our execution was pretty good. And I thought our effort was great. With all that being said, we can build off what we did today.
The team will practice in the evenings starting Monday with padwork every other day. Friday, they'll be back at it in the morning with the conclusion of teacher in-service on Thursday. School begins Monday, Aug. 15.
"I think we have a lot of guys," James mentioned. "When we get the 11 best out there — we've still got them scattered out — I think we've got a chance to be a very competitive football team."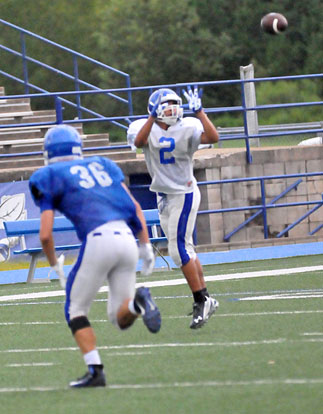 The coach lauded the improvement of his third- and fourth-teams. Overall, he added, "I thought Jeremiah Long did a great job as a tailback. He was at linebacker. We moved him back (to tailback) two days ago. I thought he looked good. I thought Kris King looked good. DeAmonte Terry looked good.
"I thought our second offensive line looked really good," he mentioned. "I was impressed with those guys. I thought our secondary played fast. They looked fast out there. And our kickers did a good job. We did a good job of executing our kicking game.
"There's a lot of positives," he concluded.
The team will travel to Pulaski Academy on Tuesday, Aug. 23, for a pre-season scrimmage then open the 2016 season in the Salt Bowl at War Memorial Stadium on Friday, Sept. 2.