Hornets pound Panthers in Salt Bowl X
EDITOR'S NOTE: Because the look back at each day in Bryant athletic history has been so favorably received during the time when there was no sports during the COVID-19 shutdown, BryantDaily.com will continueposting past stories of Bryant athletics either posted on BryantDaily.com (from 2009 to the present) or published in the Bryant Times (from 1998 to 2008).
By Rob Patrick
LITTLE ROCK — There's not much that's sweeter, really.
With all the history and histrionics, the pranks at one another's stadiums, a little trash talk, the hype — all the falderal — the very best part is the victory. To come out in front of a record 26,300 fans — about 2/3 from Bryant — and to dominate your arch-rival, it's just very satisfying.
Such was the case for the Bryant Hornets on Friday, Sept. 4, when they opened the 2009 season against the Benton Panthers in the 10th annual Salt Bowl and the 37th renewal of their rivalry.
Two words:
Everybody played.[more]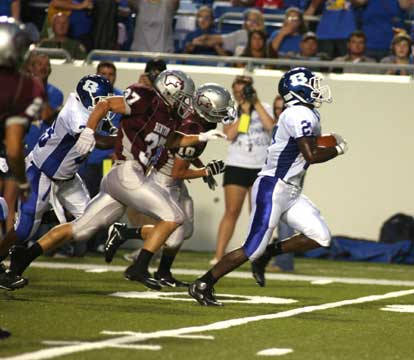 Two more words:
A lot.
You know how some people say of a lopsided score, that it was a lot closer than the score indicates? The opposite applied to Bryant's 38-7 romp on Friday.
When the Hornets' spectacular senior running back Chris Rycraw slashed 11 yards for his third touchdown of the game and Jace Denker connected on the extra point at the 8:28 mark of the second quarter, Bryant's lead was 28-0 and Hornets' coach Paul Calley started sifting in the reserves.
That, incidentally, was Rycraw's final play of the night, his eighth carry, giving him 188 yards.
Head coach Paul Calley began sifting in his back-ups after that and Hornets still built a 38-0 halftime lead, piling up 314 yards of offense while limiting the Panthers to a net of 37 yards.
It was a first half that couldn't have gone much better.
"It went really well," acknowledged Calley. "I was pleased with our focus before the game. I was pleased with our hustle. I thought we executed well.
"I was disappointed with the penalties early," he added, noting the six flags in the first half. "A lot of them were due to noise but we have to get that corrected. You have to concentrate more, you have to be more disciplined. But, overall, I thought it was a great, great effort."
Rycraw's first touchdown came on an perfectly blocked play off the left side that he broke for 47 yards.
The Panthers, in turn, working out of a double-wing spread set on offense managed a first down when Ashton Roberts picked up 3 yards on a third-and-1. But Benton was stymied after that and was forced to punt.
"They came out a little different up front (on defense) than what I thought they would do but we adjusted to that well," Calley stated. "Offensively, they did a lot more than what they had shown in their scrimmage. It took us a while to get adjusted but we got adjusted."
Penalties sabotaged the Hornets' next possession but the Panthers couldn't muster much in return. On a third-and-9, defensive tackles Ronnie Maxwell and Josh Hampton scoped out a swing pass from Benton's Grant Jones to Tammario Beaugard, dropping him for a loss and forcing a punt.
A short punt gave Bryant possession 43 yards away from another score and, on second down, Rycraw took it to the house again. Denker made it 14-0 with 3:28 to play in the first quarter.
Rycraw set up the third touchdown with a 68-yard bolt. Cutting back to avoid a tackler inside the 15, he was caught on an angle by a hustling Classic Freeman for Benton but, a play later, on the opening snap of the second quarter, quarterback Jimi Easterling found fullback Marcus Harris out of the backfield for a 9-yard touchdown pass.
It was Easterling's fourth completion in five attempts to that point and his fourth different receiver.
Denker booted it to 21-0.
The most dominant series for the Hornets defense followed. Benton's first play, a run by Beaugard was tracked down by Maxwell for a 4-yard loss. On second down, Jones rolled out to pass only to have middle linebacker Hunter Mayall slice through the interference and drop him for a loss. A third-down pass play was foiled by Ryan Cox, who came up with the first of his two sacks in the game.
Another short punt left Bryant 41 yards away from yet another score. It took five plays and a penalty to cover it. James Jones, in for Rycraw, contributed a pair of 9-yard runs and, on the second, a late hit out of bounds cost Benton 10 more yards getting Bryant to the 11.
On the next play, Rycraw slashed for the score.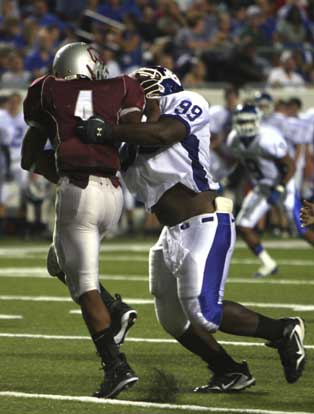 Benton reached Bryant territory for the first time on its subsequent possession but stalled at the Hornets' 49 when Maxwell, Mayall and Hampton dropped Drew McCurry short of the first down marker on a third-and-6 play.
In hopes of keeping the drive alive, the Panthers attempted a fake punt only to have Roberts' throw, intended for Connor Calaway, sail too high. Calaway made a valiant leap for the ball but it feel incompete and the Hornets took over.
A nice swing pass from Blake Davidson to sophomore running back Jacob Powell got the Hornets 24 yards closer to another score but the drive stalled and, after a penalty, Denker came on to drill his first varsity field goal from 40 yards out.
Benton went to the air again on its subsequent possession only to have Jones' throw picked off by Mayall who stepped in front of the intended receiver, Roberts, and out-muscled the receiver for the ball at the Panthers' 44.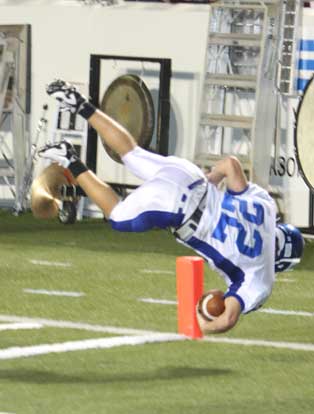 With 1:23 left in the half, Powell burst for 11 yards. Davidson followed with a swing pass to fullback Jon Reed for 10 yards and a first down at the Benton 23.
Powell crashed for 8 yards to the 15 then the Panthers jumped offsides during Davidson's long count, making it first and goal at the 10.
Two incomplete passes later, Davidson swung out a throw to Powell who raced down the left sideline then made a spectacular leap over a pair of Panther defenders and into the end zone.
Denker made it 38-0 with :19.8 on the clock in the first half.
Even with mostly reserves playing, the Hornets' defense would not allow Benton to manage a first down over the next three possessions.
The Hornets' first fourth-quarter possession was sabotaged by a holding penalty that pushed the line of scrimmage back to the 24. Jones picked up 11 on third down and a personal foul was tacked on but Bryant was still too short for the first down.
Tolbert came on and punted the Panthers deep into their own end. McCurry set up to return but muffed the catch, barely getting to the ball in time to recover it at the 6.
The Panthers couldn't pick up a first down. A third-and-2 play proved ineffective as Collin Chapdelaine and Ross Smith converged on McCurry for a loss to 2.
The punt followed which provided one of the highlights of the second half when Dillon Winfrey broke a 22-yard return to the Benton 18. Underminded by a penalty, the Hornets got back to the 7 but Davidson was sacked by Matt Willmon.
Denker tried a 33-yard field goal but it was short.
Willmon provided another second-half highlight when he caught a pass to the flat and laced his way through the defense for 68 yards, just getting dragged down short of the goal line.
Davidson sneaked to the 1 but lost a shoe in the process and sophomore Dylan Cross came on for his first varsity action. But he fumbled the snap and Benton recovered at the 1.
The Panthers finally got on the board when Roberts capped off an 11-play drive with a 1-yard run to paydirt.
Against the Hornets reserves the Panthers drove 99 yards in 11 plays, avoiding the shutout with 1:29 left in the game. The touchdown was set up by a sparkling catch of a Jones pass by Brooks Balisterri at the 1.
Tyler Freshour provided one last highlight for the Hornets, snapping off a determined 32 yard run on Bryant's second-to-last play.
The Hornets visit Sheridan on Friday, Sept. 11.
BRYANT 38, BENTON 7
Score by quarters
BRYANT 14 24 0 0 — 38
Benton 0 0 0 7 — 7
Scoring summary
First quarter
BRYANT — Rycraw 47 run (Denker kick), 9:21
BRYANT — Rycraw 43 run (Denker kick), 3:28S
Second quarter
BRYANT — Harris 9 pass from Easterling (Denker kick), 11:51
BRYANT — Rycraw 11 run (Denker kick), 8:28
BRYANT — Denker 40 field goal, 1:55
BRYANT — Powell 9 pass from Davidson (Denker kick), 0:19.8
Fourth quarter
BENTON — Roberts 1 run (Carrigan kick), 1:29
Team stats
BRYANT Benton
First down 15 7
Rushes-yds 29-272 33-57
Passing 9-18-0 9-18-1
Passing yds 148 95
Punts 2-43.0 7-30.4
Fumbles-lost 3-1 1-0
Penalties yds 8-45 5-40
INDIVIDUAL STATS
Rushing: BRYANT, Rycraw 8-188, J.Jones 6-44, Powell 9-21, Garland 1-8, Davidson 2-(-8), Cross 2-(-14); BENTON, Roberts 6-25, McCurry 12-22, Weeks 3-12, Beaugard 3-3, Harris 1-3, G.Jones 8-(-8).
Passing (C-A-I-Y): BRYANT, Davidson 5-12-0-120, Easterling 4-6-0-28; BENTON, Jones 8-16-1-95, McCurry 1-1-0-1, Roberts 0-1-0-0
Receiving: BRYANT, Powell 2-34, Winfrey 1-68, Garland 1-11, Reed 1-10, Harris 1-9, Garrett 1-8, Butler 1-3, Nichols 1-3; BENTON, Roberts 3-19, McCurry 2-42, Balisterri 2-28, Brassuell 1-9, Beaugard 1-(-2).