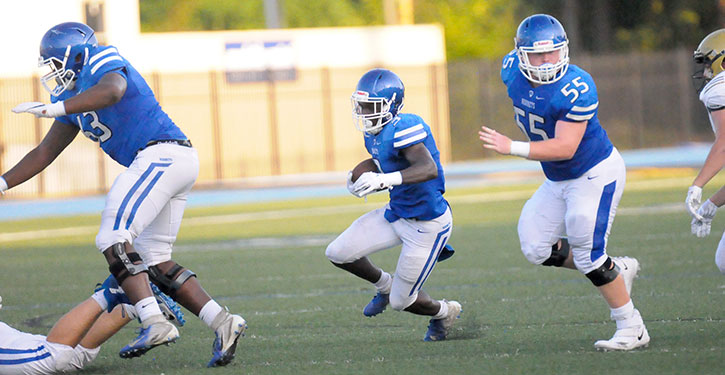 Photos by Kevin Nagle and Rick Nation
Quarterback Austin Ledbetter passed for four touchdowns and ran for three more, completing 21 of 40 passes for 396 yards while Jake Meaders caught nine passes — including three of the TD's — for 195 yards as the Bryant Hornets out-gunned the Pulaski Academy Bruins 55-28 in a preseason benefit scrimmage at Bryant Stadium on Tuesday night.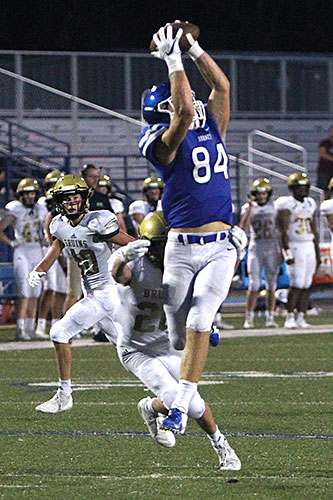 As impressive as those numbers are, including the final score, however, Bryant coaches found plenty for the team to work on in advance of their season opener against the rival Benton Panthers in the Salt Bowl, which is Friday, Aug. 30.
Actually, the most encouraging thing about the offensive explosion in which Bryant accumulated 618 yards in four quarters (the fourth period was a JV match-up), was the fact that Ledbetter was only sacked twice in three quarters despite the constant blitzes that the Bruins attacked the Hornets with. The offensive line is considered the Hornets' biggest question mark going into the season.
That was tempered by the fact that Bryant only rushed for 106 yards, led by Ledbetter with 55 on eight attempts (including the sacks). Ahmad Adams added 46 yards on 13 carries.
"There were some bright spots," said Hornets head coach Buck James. "I'm going to have to sit back and look at the film. I thought the offensive line keeps getting better. I didn't like the way we ran the ball particularly, but (PA) brought seven or eight guys and we were able to protect a little bit. We caught the ball pretty good. We need to catch it better.
"We had a lot of good plays," he acknowledged. "That was obvious. We made big plays but look at how many times we were third or fourth and long and had to make a play. You're not going to win against good football teams consistently being in third or fourth and long. We've got to clean that up on offense. It's just more consistency than anything else."
Still, the Hornets' varsity offense scored on 7 of 9 possessions through three quarters.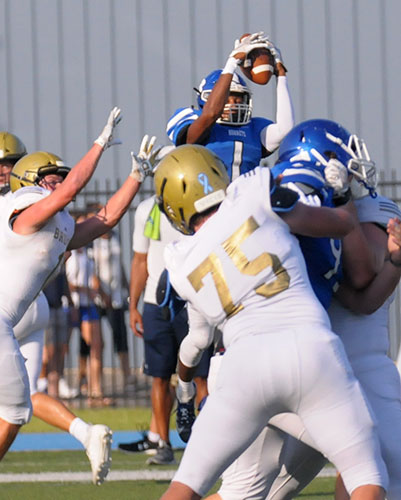 Through the three varsity quarters, Bryant held a 48-21 lead with the Bruins scoring once in each of the three quarters. They finished with 490 yards of offense with starting quarterback Braden Bratcher completing 26 of 39 passes for 266 yards and two touchdowns.
Hornets' defensive coordinator Quad Sanders noted that only one of Pulaski Academy's big plays was a busted coverage. The rest were a result of missed tackles, something correctible.
"Our defensive line didn't play well early, but I thought they started to get some confidence at the end," James said, referring to another area in which the Hornets have some big holes to fill. "The linebackers had a hard time lining up and being where they're supposed to be. But, you know, that's a hard offense to get ready for and, really, we don't game plan for them. Some of that's not on all of (the players).
"Still, we bent a little too much on defense," he added. "But we held those guys, really, to only 21 points. Not many people do that against them, period.
"So, there's a lot of bright spots," the coach assessed. "I just think that we've got to play better. Our enthusiasm, our mentality is still lacking. We got excited when our young guys got in there. Those guys played hard. I thought they did good. I think that's what we've got to learn with our older guys. Try to have some fun doing this.
"But that's really the first time we've gone live, where we went to the ground," he concluded. "I told them, 'I expect to improve greatly between now and next Friday.' And we will improve. Now, is it going to be enough? We're going to have to make sure we get a sense of urgency about ourselves.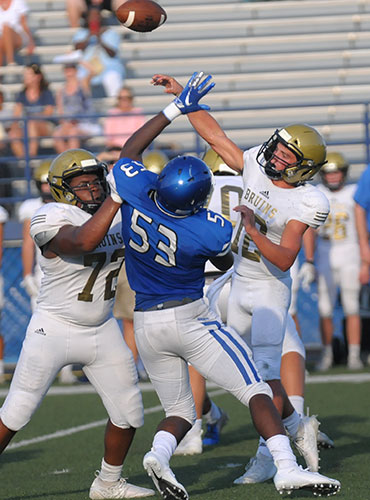 "We had a lot of holes that we had to fill, that we had to shore up, and I think, for the most part, we're getting some of them filled up."
The Hornets bent on defense on the first two offensive series by the Bruins. They drove to the Bryant 44 then Darrick Rose ended the drive with an interception. He returned it to the Bruins' 42 and, two plays later, Ledbetter found Meaders on a drag route over the middle that he broke for a 40-yard touchdown. Along with Meaders' run and the downfield blocking by the other wide receivers, the play was impressive because of the offensive line's blitz pick-up.
On PA's second possession, they drove to the Bryant 18. A holding penalty negated a gain to the 9. A third-down run was foiled by defensive end Rodricho Martin and a fourth-down pass was off target.
Bryant took over and, despite a false start penalty drove for another score. Ledbetter and Meaders hooked up for completions of 18 and 34 yards. Hayden Schrader, who caught four passes for 91 yards in the game, caught a 7-yarder.
From the 5, Ledbetter, on a read-pass option, ran it in to make it 13-0.
Pulaski Academy answered with a 70-yard touchdown drive, converting one fourth down and two third down situations. Izarius Woods scored from the 1 after a 19-yard run by Joe Himon.
The Hornets came right back to score on their third consecutive series. The big play was a 45-yard completion from Ledbetter to River Gregory. Meaders caught the 10-yard touchdown pass.
In turn, the defense forced a four-and-out and the Hornets took over on offense at the PA 39. An illegal block penalty set the drive back then, on a third-down scramble, Ledbetter fumbled at the 32 and Josh Holleman recovered for the Bruins.
Their drive reached the Bryant 16 where, on a second-and-7, Bratcher's short pass to Himon was blown up by linebacker Daylon Land, who forced a fumble that Austin Bailey recovered.
An intentional grounding penalty undermined the Hornets there and, given a short field, the Bruins scored again. Bratcher found Mason Kolb from 6 yards out on the seventh play of the 30-yard drive.
Linebacker Cameron Scarlett nearly intercepted a pass during the drive while Kyle Green, Koby Melton, David Shifflet and Bailey made big stops to make the Bruins work a little harder for paydirt.
Their lead at 20-14, the Hornets finished up the first half with another TD drive. The 70-yard march was highlighted by Ledbetter's 18-yard strike to Meaders on a fourth-down play and his 26-yard scramble. He scored from the 6 moments later.
Bryant got the ball to start the third quarter and scored again. The scoring strike was a 38-yard completion from Ledbetter to Meaders that converted a third-and-21.
Bailey sacked Bratcher during the Bruins' next possession to knock them off schedule and they eventually turned it over at the Bryant 45.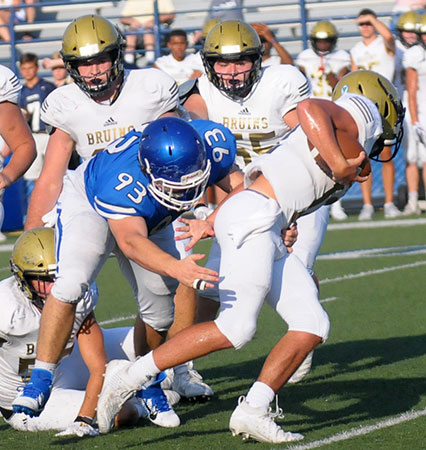 And the Hornets increased the margin to 41-14. Keyed by a fourth-down pass from Ledbetter to Schrader that covered 44 yards, Bryant found the end zone from 3 yards out on another keeper by Ledbetter.
After Bratcher's 56-yard touchdown pass to Jayden Kelley narrowed the margin a bit, the Hornets finished up with a scoring drive that was sparked by a 23-yard completion from Ledbetter to Tre'vun Herron. Schrader made a catch covering 27 yards to set up Ledbetter's four TD toss, a 7-yarder to Joseph Young to cap the scoring through three quarters.
In the remaining time, each JV squad scored once. After missing on his first five passes, Bryant's back-up quarterback Austin Schroeder completed 6 of 8 passes for 116 yards. Brandon Barber caught two of those including a 30-yarder that set up the 1-yard touchdown run by Xavier Foote.
Kyle Meachum capped off the romp with an interception for the Hornets, making an impressive return from the 45 to the PA 27.