By Rob Patrick
CONWAY — For a while, it looked like the Bryant Hornets were going to make one of those thrilling comebacks like they had early in the season. Trailing 6-1 going into their final at-bat, the Hornets rallied to tie the game and had the go-ahead run at third when the final out was made.
In extra innings, however, the Conway Wampus Cats pulled out the win, 7-6.
So the frustration of the Hornets' hitting slump may be over but the aggravation of a losing streak — now at four games — continues.
They will try again to snap that Friday at home against the White Hall Bulldogs.
In the meantime, the results of the evening's 7A-Central Conference games, including the Bryant-Conway game, left half the eight teams (Conway, Little Rock Central, Russellville and Van Buren) tied for first with 3-2 marks and the other half (Bryant, Cabot, Little Rock Catholic and North Little Rock), a game back at 2-3.
The Hornets are 15-5 overall.[more]
Conway won the game on a grounder through the left side of the infield for an RBI single by Connor McClain. Tyler Langley, who opened the bottom of the eighth with a double, scored the run. In between, Wesley Hoover had flown out to center and Patrick Mann had been intentionally walked to set up a double-play situation. McClain's base hit was agonizingly close to being a double-play ball.
Bryant's rally in the seventh began with Landon Pickett getting hit by a pitch from Conway reliever Andrew Adams. With one out, Adams also hit Dylan Cross. That brought up senior Brennan Bullock at the top of the Bryant lineup. When Adams started him off with a ball, Conway coach Noel Boucher made a change to Matt Lefler. On Lefler's third pitch, Bullock smacked a three-run homer that seemed to wake up the Bryant bats.
Garrett Bock hit a shot to center that was caught for the second out but Hunter Mayall followed with a bouncer up the middle for a single then Chris Joiner hit a bouncer to the left side that Langley, at third, got to with a dive only to knock it down. Joiner had a base hit and the Hornets had the tying runners aboard for sophomore Jordan Taylor.
Again, on the third pitch from Lefler, Taylor sliced a drive into the left-field corner that drove in both runs. On the late throw to the plate, Taylor wound up at third.
But Lefler got the final out by getting Brady Butler to bounce back to the mound.
In the bottom of the seventh, Bock robbed Lefler of a lead-off extra-base hit with a diving catch at the base of the wall in left-center. Wells then fanned Anthony Nail. A pinch-hit double by Jordan Cates gave Conway a chance to win it in regulation but, after Aaron Boucher was given an intentional walk, Ryan Lazo bounced to Taylor at short who flipped to Joiner for the force at second to end the threat and send the game into extra innings.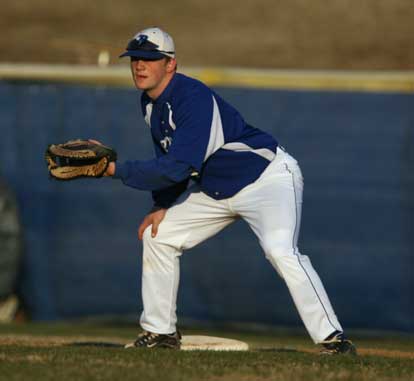 In the top of the eighth, Lefler retired the Hornets in order, fanning two, setting the stage for the Wampus Cats' winning rally.
Up until the seventh, the Hornets' offensive frustrations were again evident. Perhaps over-anxious, they flew out or popped up for 11 of the 18 outs in the first six innings.
Conway struck for three runs in the first inning and added single runs in the fourth, fifth, and sixth, two of which were unearned.
"We finally decided to compete in the seventh inning," stated Hornets coach Kirk Bock. "We didn't compete in the first inning. We gave them runs in the fourth and the sixth. If we don't, we win that game.
"Our hitting problems are over," he declared. "We're good. We don't have any problems. We hit the baseball. We didn't square it up but we hit it. I'm not worried about that.
"What I'm worried about is competing, from the time they get off the bus to the time when they go to bed," continued the coach. "That's what I'm worried about."
After struggling early, Wells went the distance for the Hornets, throwing around 150 pitches while striking out 12, walking seven and giving up 10 hits.
"He kept wanting to go back in," Bock said. "In the seventh inning, now he's ready to compete. We got a lot out of him, maybe too much out of him. Hindsight's always 20-20. But he kept saying, 'Coach, I'm fixing to get them right here.' Once we tied it up, the adrenaline kicked in and he was ready to go. It probably wasn't a good decision on my part. I let him talk me into it. But, if that ball (the game-winning hit by McClain) is three feet over, it's a double play and we're out of that inning anyhow."
Conway's first began with a scratch infield hit by Boucher. With one out, he scored from first on a double off the center-field fence by Langley. Hoover singled to put runners at the corners. He stole second but Mann struck out. Wells and McClain battled to a full count before McClain walked to load the bases.
Wells got within a strike of getting out of the inning against the next batter, Lefler, as well. But his 2-2 delivery was bounced into left for an RBI single. A four-pitch walk to Nail forced in the third run before Wells fanned Kipley Powell to end the inning.
He went on to retire six of the next seven batters.
McClain, meanwhile, was shutting the Hornets out on one hit over the first three frames. In the fourth, however, he issued a walk to Mayall. Joiner got down a sacrifice bunt and, with two down, Butler came through with a clutch hit, doubling over the center fielder's head to make it 3-1. Pickett singled to put runners at the corners for Caleb Garrett who made a bid for a hit to left only to be robbed on a nice play by Langley at third.
Conway got that run back in the bottom of the inning when Nail beat out an infield hit. Powell was hit by a pitch and, with one out, Lazo hit a slow roller toward third. Lucas Castleberry made a nice play to get to the ball but his rushed throw to first was in the dirt and Nail was able to round third and score.
Langley walked to load the bases with one out but Wells worked out of the jam by fanning Hoover and getting Mann on a comebacker.
McClain gave way to Adams to start the top of the fifth and the Hornets made a bid to whittle on the lead some more. Cross was hit by a pitch and Hayden Daniel came on as a courtesy runner for the catcher. He advanced to second on a wild pitch before Bullock slapped a hump-back liner over Lefler at second.
Daniel was sent home on the play but Hoover fired a strike from right field and the ball was waiting when Daniel slid in. Bullock took second on the play but was stranded as a promising beginning to the inning came to naught.
Conway added a run in the bottom of the inning. McClain walked and courtesy runner Cole Anderson stole second. Lefler got a bunt down and when Wells tried to get the out at third, his throw was late and both runners were safe.
Joiner made a nice play on a bouncer to the right side by Nail. He got the force at second but Anderson scored to make it 5-1.
With two down, Boucher singled to right and reached second on Garrett's throw to the plate that held Powell at third. Wells got out of the jam by getting Lazo to roll to short.
But the Hornets went down in order in the top of the sixth. Conway tacked on one more in the bottom of the inning when Hoover drew a one-out walk, stole second, then third and scored on a passed ball before Wells could get the final out in the books.
That gave the Cats the 6-1 lead that the Hornets erased in the top of the seventh.
CONWAY 7, BRYANT 6
Hornets (15-4, 2-3) Wampus Cats (12-4, 3-2)
ab r h bi ab r h bi
Bullock, lf 4 1 2 3 Boucher, ss 4 1 2 0
Bock, cf 4 0 0 0 Lazo, dh-2b 5 0 1 0
Mayall, dh 3 2 2 0 Langley, 3b 4 2 2 1
Joiner, 2b 3 1 1 0 Hoover, rf 4 2 1 0
Taylor, ss 4 0 1 2 Mann, lf 4 0 0 0
Butler, 1b 3 0 1 1 McClain, p-c 3 0 1 1
Pickett, 3b 2 0 1 0 Anderson, cr 0 1 0 0
Castleberry, pr-3b 0 0 0 0 Lefler, 2b-p 4 0 1 1
Daniel, pr 0 1 0 0 Nail, 1b 3 1 1 2
Brown, 3b 1 0 0 0 Powell, cf 2 0 0 0
Garrett, rf 4 0 0 0 Cates, ph 1 0 1 0
Ellis, c 0 0 0 0 Blackwell, c 0 0 0 0
Cross, c 2 0 0 0 Adams, p 0 0 0 0
Daniel, cr 0 0 0 0
Wilson, cr 0 1 0 0
Wells, p 0 0 0 0
Totals 30 6 8 5 Totals 34 7 10 5
BRYANT 000 100 50 — 6
Conway 300 111 01 — 7
One out when winning run scored.
E—Pickett, Castleberry. LOB—Bryant 6, Conway 13. 2B—Langley 2, Butler, Taylor, Cates. HR—Bullock. S—Joiner. SB—Hoover 2, Anderson, Powell.
Pitching ip r er h bb so
Bryant
Wells (L) 7.1 7 5 10 7 12
Conway
McClain 4 1 1 3 2 1
Adams 2.1 2 2 1 0 0
Lefler (W) 1.2 3 3 4 0 2
HBP—Powell (by Wells), Cross 2, Pickett (by Adams). WP—Adams. PB—Cross 2.