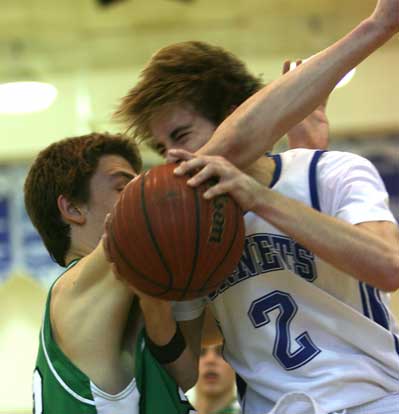 By Rob Patrick
After finding themselves down 22-9 at the half the night before in Russellville, the Bryant Hornets were facing a 20-9 deficit at intermission at home on Saturday afternoon against the Van Buren Pointers. Against Russellville, they scrapped their way back within a point only suffer a 49-43 loss. Against Van Buren, they again scrambled, whittling the lead to 50-46 only to have the Pointers close out a 58-46 victory.
Van Buren improved to 18-6 overall and 6-4 in the 7A-Central Conference. The Pointers had spent the night in Little Rock after suffering a loss at Catholic on Friday which, no doubt, intensified their effort against the Hornets. Now tied for third in the league, they're battling for State tourney seeding.[more]
The Hornets' chances of getting to State took another hit. They'll get a free shot at knocking off league leading Conway on Tuesday then head to Cabot on Friday in a must-win situation. Bryant, 9-15 and 2-8, closes out the regular season at home against North Little Rock on Feb. 23, then at Little Rock Central on Feb. 26.
Van Buren will host State starting March 3.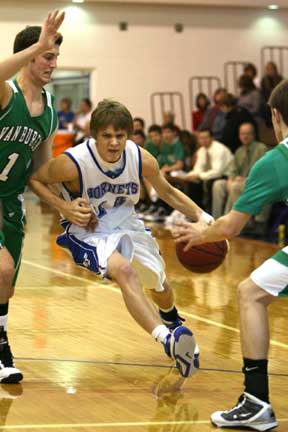 The Hornets kept Van Buren's inside-outside duo of 6-7 Hooper Vint and 6-4 Drew White under wraps for the most part at Van Buren back on Jan. 12, though they struggled to score themselves in a 44-38 loss. This time, Vint and White proved more difficult to contain. The duo split 42 points with Vint gathering 15 rebounds, blocking a handful of shots and altering others.
Bryant was paced by point guard K-Ron Lairy's 23 points. Brandon Parish had 11.
The Pointers shot 59 percent from the field (20 of 34), the Hornets just 28 percent (13 of 46) but eight of their successes were from 3-point range. Van Buren finished with a 34-17 rebounding edge, though the Hornets forced 17 turnovers while committing just nine.
Van Buren led by as much as 16 as late as the 7:18 mark of the fourth quarter. Connor Rayburn drained a 3-pointer minutes after he had taken a charge at the start of the period, one of four he absorbed in the second half. Quinton Motto took a charge and it eventually led to his layup off a nice drive-and-dish from Lairy.
The Hornets had trimmed the lead to 41-30. But every time the Pointers needed a basket, they went to Vint inside. He scored with 5:28 left to stem the tide for the time being.
Lairy added two free throws but White canned a 3 and the Pointers were back up 46-32 with 4:57 showing.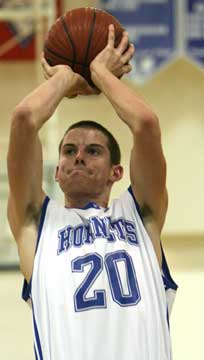 Another trey, this time by Lairy, got the Hornets going again. Dontay Renuard stole a pass for the Hornets but Lairy's 3-point try wouldn't go. Rayburn, however, took another charge and, moments later, he was at the line after being fouled on a 3-point try. He made two and the lead was under double digits for the first time since midway through the third quarter.
The Hornets forced another turnover but Parish couldn't get a 3-ball to go. Vint collected the rebound and was fouled, adding to the lead with two free throws.
Motto and Xander Johnson traded free throws then, with 2:16 left, the Lairy went to the line and converted twice. Motto made a steal and Parish cashed in with a triple that trimmed the lead to 49-43.
And when Van Buren was cited for another charge, the Hornets had a shot to get closer only to have Parish's drive thwarted by Vint. Johnson hit a free throw to make it a 7-point lead. Lairy misfired on a 3 but Parish tipped the carom to Rayburn who got it back to Parish to the right of the top of the circle. He pump faked a defender into the air, took a dribble to his left and nailed a 3 that had the Hornets within 4 with 1:17 to go.
But that proved to be Bryant's last score. Consecutive layups by White and free throws by Jesse Schoolcraft and Vint pushed the margin back out to 12 at the end.
Bryant had led 5-4 in the early stages of the game on a 3 and a driving jumper by Lairy. But Van Buren put together a 12-0 run at that point to gain the upper hand. It was 9-5 at the end of the quarter and 16-5 before Lairy popped a 12-footer to get the Hornets back in gear.
White, who scored 9 of his points in the second quarter, hit a pair of shots to set the halftime score at 20-9.
Eventually, the Pointers increased the margin to 27-11 at the 5:42 mark of the third quarter. Lairy hit a 3 but Vint hit two free throws and White turned in a three-point play that gave Van Buren its largest lead of the game at 32-14.
Renuard hit a 3 and Lairy scored off an inbounds play for the Hornets but Van Buren wound up taking a 39-25 lead into the final period.
VAN BUREN 58, BRYANT 46
Score by quarters
Van Buren 9 11 19 19 — 58
BRYANT 5 4 16 21 — 46
VAN BUREN (18-6, 6-4) 58
Player fg-fga ft-fta reb fls pts
o-d-t
Goodwin 3-4 0-0 1-2 3 4 7
Patterson 0-5 2-2 0-2 2 1 2
Spoon 0-1 0-0 0-2 2 5 0
White 9-13 1-3 1-4 5 2 21
Vint 7-9 7-11 2-13 15 3 21
Schoolcraft 1-2 3-4 1-1 2 2 5
Johnson 0-0 2-5 1-2 3 2 2
Team 0-2 2
Total 20-34 15-25 6-28 34 19 58
BRYANT (9-15, 2-8) 46
Player fg-fga ft-fta reb fls pts
o-d-t
Lairy 6-17 8-8 1-1 2 4 23
Parish 4-15 0-2 2-1 3 4 11
McLaughlin 0-2 0-0 0-1 1 0 0
Motto 1-2 2-4 0-3 3 2 4
Renuard 1-5 0-0 0-3 3 2 3
Butzlaff 0-1 0-0 0-3 3 5 0
Rayburn 1-4 2-3 1-0 1 1 5
Team 1-0 1
Total 13-46 12-17 5-12 17 18 46
Three-point field goals: Van Buren 3-13 (White 2-4, Goodwin 1-2, Patterson 0-5, Spoon 0-1, Schoolcraft 0-1), Bryant 8-27 (Lairy 3-11, Parish 3-8, Renuard 1-4, Rayburn 1-4). Turnovers: Van Buren 17, Bryant 9. Technical fouls: Bryant bench.