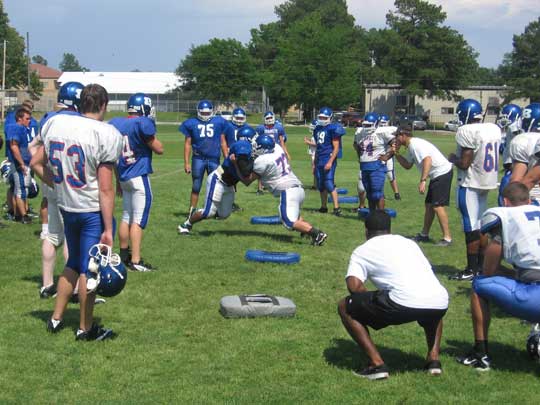 By Rob Patrick
You could close your eyes and tell how things were going on the first of the 10-days of spring practice in pads for the Bryant Hornets on Monday.
You could hear it.[more]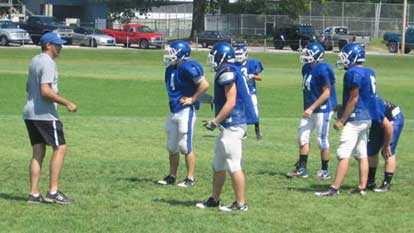 The Hornets took to contact with enthusiasm and that put a smile on the face of their head coach Paul Calley who was hooting and hollering during a line drill in which offensive linemen and defensive linemen challenged each other in one-on-one battles.
"They were ready to hit," Calley acknowledged. "We were talking after practice. I was excited. I really like this group, just character-wise. It's just a good group of young men. They enjoy playing football and we enjoy teaching it to them. You could tell today when we got out there, they were having a good time.
"I'm excited about them," he emphasized. "We're not going to have any depth it doesn't look like. We have to establish some, hopefully, in the next two weeks but there will have to be some surprises. We're going to have to depend on some sophomores whereas we'd rather not. It looks like we're going to have to."
This year, teams can practice in pads all 10 days of spring ball. It used to be they'd have 10 days to get in five in pads.
"I was really kind of concerned about how physical we'd be but they weren't shying away from contact," Calley noted. "That's something you like to see. If you've got someone that will stick their nose in there and is not scared to hit, you can make a football player out of them, in most cases.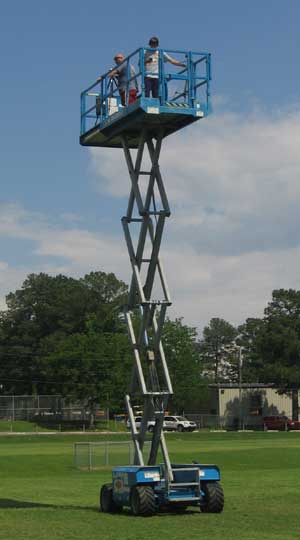 "We've done a lot of work in just shorts and helmets," Calley said of his team's off-season efforts. "The pads take a little getting used to so we started out with a lot of group time, a lot of drill work. We had the one-on-one drills, we had some pass scale and inside drill then we ran against the scout team for about 25 minutes just to try to get ready.
"I think we got good effort out of all of them," he stated.
On Tuesday, the Hornets were set to scrimmage.
"It doesn't look like the weather's going to cooperate with us Wednesday and Thursday," Calley mentioned. "Our practice field, we tore it up in one day because of the rain (on Sunday). We're going to try to get a good scrimmage, a good group of plays in (Tuesday). Hopefully, we can run about 45 or 50 plays. And, if the weather cooperates, we can be back out Wednesday to polish."
With graduation on Thursday night, the team will watch video of practice from the previous days. Calley and his coaches are able to film each day's practice thanks to a local business providing a platform lift that towers high above the field. Indications are they'll be able to use the lift the through the summer and this fall's full season.
"Friday, we're going to practice a little bit," Calley said, "but I'm going to let them out so they can make it to the game (state baseball championship) in Fayetteville."
Several of the baseball players also play football including three of them — Blake Davidson, Dylan Cross and Hayden Lessenberry — that play quarterback. In their stead, Calley's been going with sophomore Austin Powell and junior KaRon Dismuke.
"We're running more spread, spread option, read stuff," he explained. "We have two different packages. We've got a spread option offense and a pro-style which we've been running the last couple of years. We're alternating between the two. Karon is running more of the spread option. Powell can run the spread option and he can run the pro-style. When we get our other quarterbacks back, we're going to put Powell and Dismuke both in the spread option look and we'll go with the other three in the pro-style.
"They're so far behind right now but our base plays are going to remain the same. They can probably catch up in a couple of days," Calley said. "We're not going ask them to try to do everything that we've been doing when they come back."
Defensive coordinator Steve Griffith commented, "We did all right today. It was just a lot of drill work, no full, all-out scrimmage. We had a lot of excitement and enthusiasm in our one-on-one drill with the offensive line. I thought our first four, five or six guys did a pretty solid job against some pretty good offensive linemen. We've got some real good offensive linemen coming back. So, that was encouraging.
"The big thing that so many of our guys need is just reps," he continued. "We need to see them in scrimmage situations and we'll start getting that (Tuesday). We go one-on-one's and two-on-two's but that's a whole lot different than when we go to an inside drill or against the scout team. We'll see if we can finish off some plays.
"We've got some new guys in the secondary," Griffith mentioned. "We'll see how they look. They've made a lot of progress in pass scale but now we'll see what they'll do when you add the run dimension and they've got to come up, make tackles and so forth.
"I'm excited to see what (Tuesday) brings," he said. "We've just got a lot of guys whose names are written in pencil (on the depth chart) right now. We're hoping that through the spring, we'll be able to see if they can get it done or we'll go back to the drawing board and get it figured out."
The Hornets will being the 2010 season on Friday, Sept. 3, with the annual Salt Bowl at War Memorial Stadium against the rival Benton Panthers.