By Rob Patrick
As is the case for most folks who lose a loved one before their time, Kirk Bock doesn't go a day without remembering his dad.
Billy Bock was an Arkansas legend for his athletic accomplishments and his long list of coaching achievements, a Hall of Famer. He was just 68 years old in 2003 when, after his Pine Bluff Zebras team had played at North Little Rock's DeJanis Field in Burns Park, he collapsed on the way to the team bus. He passed away July 8 of that year.[more]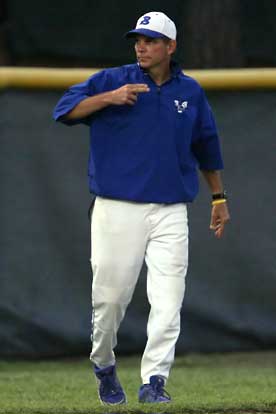 For Kirk Bock, the head coach of the Bryant Hornets, any game at DeJanis Field evokes memories of those events. But, on Monday night on the very same field Billy Bock coached the last game of his 44-year career, the Hornets — including senior Garrett Bock, Kirk's son, Billy's grandson — gave their coach something sweet to go with the bitter. They defeated the Catholic Rockets, 1-0, to earn a trip to Fayetteville's Baum Stadium at the University of Arkansas for the Class 7A State baseball championship.
"Every time I come to this field, I think about that," Kirk Bock allowed. "If we were ever going to make it back to the finals — because that's what he was trying to do that year — I'm glad it's on this field."
Just as Garrett's playing for him, Kirk played for Billy and was a member of a couple of those State championship teams.
"There's no doubt he was with us tonight," Kirk said of his dad. "I've seen him do some amazing things when I thought they were out and gone. They'd always come back and win. Or they'd go into a skid like we did. They'd always pull out and win a dad-gum state championship.
"I wish I had what he had to make kids do that. I don't. I don't' think anybody ever will. But there's no doubt, over these last seven or eight games and, especially in this tournament, he was right there with us."
And he's smiling.