Hornets return to mercy-rule supremacy, capture league crown, top seed
EDITOR'S NOTE: Because the look back at each day in Bryant athletic history has been so favorably received during the time when there was no sports during the COVID-19 shutdown, BryantDaily.com will continueposting past stories of Bryant athletics either posted on BryantDaily.com (from 2009 to the present) or published in the Bryant Times (from 1998 to 2008).
For more photos of this event by Rick Nation, go here
CONWAY — Twenty years ago, a Bryant Hornets football team shucked off 14 consecutive losing seasons with a stunning 10-0 run through their regular-season schedule. Bryant hasn't had a losing season since, culminating in the program's first State championship in 2018.
But 1999 was the only time a Hornets team had gone unbeaten through a season.
Until this year.
Following up that State title, the Hornets have pushed through another 10-0 season, finishing it off with a 42-7 victory that spoiled Senior Night for the Conway Wampus Cats, who came into the game with a chance to forge a tie for the 7A-Central Conference championship and gain the top seed from the league for the State playoffs.
It was the first conference championship for the Hornets since 2013.
The Cats scored first in the game only to have the Hornets reel off 42 unanswered points with junior quarterback Austin Ledbetter breaking a school record he had tied twice earlier in the season. Ledbetter threw six touchdown passes, the most in a single game in school history.
Senior Jake Meaders caught three of those TD tosses. Hayden Schrader caught 8 passes for 89 yards and a TD while Tre'vun Herron hauled in six passes for 111 yards and a score.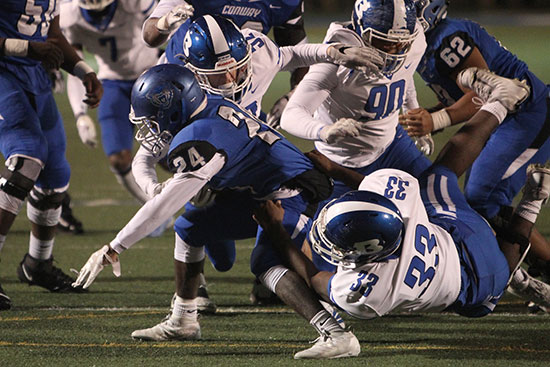 Defensively, after the opening touchdown drive the Hornets did not allow Conway to get inside the Bryant 30 until the mercy rule was in affect and reserves were finishing out the contest.
Linebacker Catrell Wallace blocked two more punts while Daylon Land picked off a pass.
The Hornets, with the top seed for the playoffs will be off next Friday. They'll host the winner of this week's Cabot-Fayetteville game on Friday, Nov. 22. That's when they'll begin defense of their State title.
The win over Conway was the ninth time in 10 games this season that the Hornets have utilized the Arkansas Activities Association's sportsmanship rule. When Xavier Foote scored on a perfectly timed screen pass with 11:24 left in the game, making it 42-7, the clock ran unabated the rest of the game.
"It was a great night," acknowledged Hornets head coach Buck James. "Our offensive line did a good job to give Austin the chance to throw the ball. There were such tight windows and all of them were like unbelievable catches.
"I'm just proud of the way our kids played," he added. "It was a big game and the way our guys went out and competed and made plays makes it a special night for us."
Regarding Ledbetter, who was 31 of 40 passing for 398 yards, James said, "I think he's special. And Conway after seeing him play tonight will say the same thing. He's got an unbelievable mindset. He could be a linebacker. But to make the throws he makes, to sit in there and make those kinds of throws game in and game out shows what kind of talent he is. He's the motor, the catalyst of our football team."
It was a bit of a struggle for the offensive line against the blitzing North Little Rock defense last week in Bryant's 35-21 win. So, that was a point of emphasis during practice leading up to the Conway game.
"We worked them, and we pushed them hard and they responded," James said. "I thought they did a heck of a job of protecting Austin. I still think we can do a better job of run blocking, but you've got to give the other team some credit. They really didn't want us to run the football. They were saying, hey, throw it if you want to throw it. They were biting hard on the run fakes, the RPO's were right there. Coach (Kirk) Bock (offensive coordinator) did a really good job of really taking what they gave us, and we were able to execute."
Those linemen included seniors Tanner Wilson, Devin Pitts, Ty Johnson, Reese Dawson and sophomores Will Diggins, Jason Shifflet and Brooks Edmonson.
Conway's scoring drive covered 73 yards in four plays. The big plays were a 21-yard completion from quarterback Nick McCuin to Shane Smith on a fade route in which McCuin threw to the back shoulder. Manny Smith then ran 47 yards for a touchdown.
At that point, it felt kind of like it was going to be another challenge, like against North Little Rock.
But the Hornets adjusted on defense.
"We told them all week they had to fill gaps, had to play gap exchange and get over blocks and stuff," James said. "(Conway has) done that to everybody but our guys did a really good job of stopping that after the first series. Then, being able to take away that back-shoulder ball that they throw so much on offense, really our kids stepped their play up. Our defense has been doing it game in and game out all season.
"I think they got better jams at the line of scrimmage and Coach (Quad) Sanders (defensive coordinator), dialed up a couple of different looks for them, that kept them a little bit confused. But, really, I saw some d-backs making plays."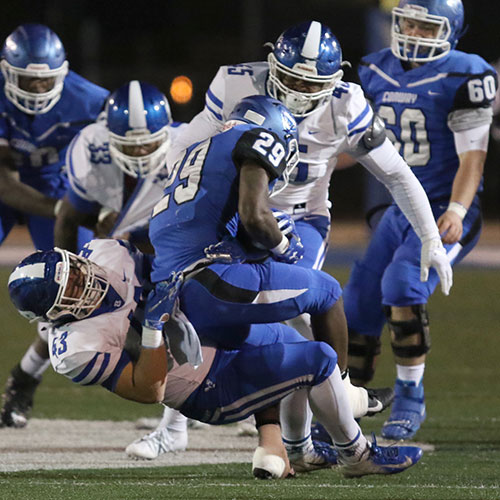 Corners Kyle Knox and Darrick Rose, in particular, broke up passes.
After falling behind, the Hornets scored on their next three possessions. The first covered 76 yards in 11 plays. Adams got loose for a 20-yard run along the way. Ledbetter was 5 of 6 passing. His first TD toss was for 8 yards to Meaders.
In fact, the final four completions by Ledbetter on the drive started a string in which he connected on 14 passes in a row before a second incompletion.
Conway picked up a first down on the subsequent series, but middle linebacker Cameron Scarlett sliced through to tackle Smith for a loss and the Cats never recovered. And when Ashton Walter stepped back to punt, he used a rugby-style approach and Wallace blocked it.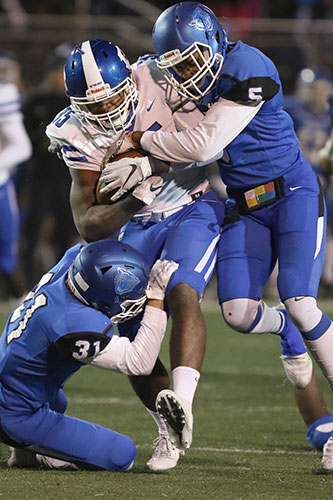 The Hornets' offense got the ball at the Conway 36.
Two plays later, Meaders hauled in a perfectly thrown pass to the back of the end zone from Ledbetter. Bryant had the lead for the first time and for good.
A big kick-off return by Smith had the Wampus Cats in position, at the Bryant 34, to pull even again. But the drive stalled. Will Hogue came in to try a 49-yard field goal. It fell short and the Hornets had the ball at their own 20.
In eight plays, Bryant increased its lead to 21-7 as Ledbetter found Meaders again, this time from 6 yards out.
Austin Bailey and Cameron Scarlett made tackles for losses on the subsequent series. The Cats reached the Bryant 47 before punting the ball back.
This time, the Hornets drove from their own 23 down to the Conway 11. Tanner Anderson made a tackle-breaking run that ended at the cusp of the goal line. While battling for that extra yard, the ball came out and Conway recovered it in the end zone for a touchback with 1:42 left in the half.
Bryant used its last two timeouts of the half to try to get another shot at scoring. And their efforts were aided when, on a third-and-12 from the 8, McCuin went back to pass and threw incomplete, stopping the clock.
A short punt left the Hornets needing just 39 yards for the score. A 22-yard pass from Ledbetter to Schrader got a chunk of that. Meaders caught a 13-yard throw to convert a third down a little later. From the 4, Ledbetter threw to Schrader for the touchdown with just :06 showing on the clock.
So, the Hornets had a 28-7 lead at the half.
And Bryant got the ball to start the third quarter. They drove to their own 42 where, on a fourth-and-1 Ledbetter's pass to the right flat fell incomplete and Conway took over on downs.
But the Cats were unable to take advantage of their good field position either. On a third-and-10 from the 32, McCuin threw deep down the middle only to have Land intercept.
Ledbetter returned the favor to end the Hornets' drive into Conway territory. Traland McCuien got the pick.
A holding penalty helped the Hornets force a three-and-out. And when Waller went back to punt, he tried the rugby style again and Wallace got a piece of it. The result was a 21-yard punt that set up another Hornets' scoring drive.
It was the kind of drive that guts a defense. Ledbetter was sacked and the Hornets were hit with a pair of penalties that set up a second-and-40.
One of the penalties was an unsportsmanlike conduct penalty that cost the Hornets senior center Devin Pitts in which a battle between him and the Conway nose guard that had been flaring up all game, came to blows. Pitts was ejected from the game and will likely miss the Hornets' first playoff game.
After a short completion to Meaders, they combined on a longer one, for 28 yards to the 29. With fourth-and-6, the Hornets went for it and Ledbetter found Herron for a touchdown.
Brock Funk, who was good on all of Bryant's touchdowns, booted the PAT to make it 35-7.
Conway punted again and Bryant scored one last time. The 58-yard march included the pass that ended Ledbetter's run of completions. But he hit 5 of 6 including the screen pass to Foote for a 19-yard touchdown pass. The play burned a major blitz by the Cats.
And time flew.