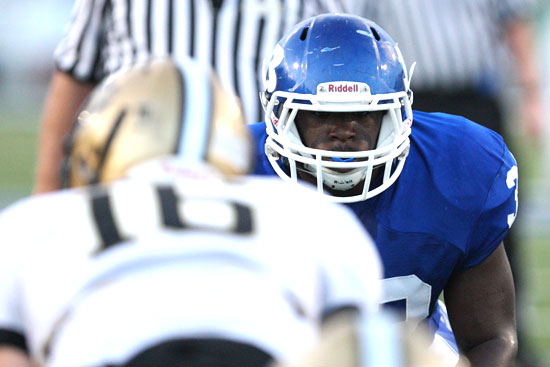 By Rob Patrick
Photos by Rick Nation
There's a 40 percent chance of thundershowers tonight. It must be Friday.[more]

Neither the Bryant Hornets nor the Catholic Rockets of Little Rock have been able to play a full game as yet without lightning interrupting. Now, in the third week of the season, they'll play each other at War Memorial Stadium with hopes of a normal process, played straight through without delays.
We'll see.
Bryant was only able to play three quarters in its opener against Conway while Catholic's season-starter against Little Rock Central was stopped then taken up again after a considerable wait. In week two, the Hornets barely got a half in against Central while the Rockets battled Cabot for all but seven seconds of the opening half. Bryant and Central waited less than an hour to call off the second half. Catholic and Cabot lingered for almost two hours before going home.
Asked about what he expects in tonight's game, Rockets head coach David Estes said, "I don't really know what to think. We've played zero games start to finish uninterrupted.
"I don't know what to expect from (Bryant), I don't really know what to expect of us," he continued.
"I know they're going to be very well coached," Estes mentioned. "They've got talent. They've got skill, particularly on offense. Their quarterback (Hayden Lessenberry) is seasoned. He's been in the system and knows what he's doing. You can see that on film.
"Defensively, they're fast up front, they're fast to the edges," he added. "They're going to be tough. Their special teams are well coached. They always are. It'll be a challenge."
It would be easy to say that, since Bryant had a 28-7 lead on Central after a half and the Tigers downed the Rockets 24-10 (though they needed two turnovers in the red zone and a late touchdown to get that done), the Hornets should be favored. But sometimes scores aren't a true indication. Teams match up differently.
"We think we're competitive," Estes related. "We've had a good week. We'll see. We're young on both sides of the ball. We start three seniors on offense and five on defense. We start as many sophomores as we do seniors so we're very young. We need reps. We need time. We're getting there but, honestly, I don't know where we are right now."
As for the Hornets, after scoring just 3 points against Conway, adjustments helped produce 28 in a half against Central.
"We simplified," noted offensive coordinator Lance Parker. "We didn't try to do as much, which I think helped us. You know, sometimes less is more."
It'll be helpful to have senior running back Jalen Bell healthy and ready to go after being limited by a sore neck.
"We're expecting a big night from him," Parker said. "He should get plenty of touches."
Regarding the Rockets' defense, he added, "Catholic is going to try to confuse us, bring pressure from a lot of different places and play some different d-line techniques. They're just going to try to disguise things. If our guys do what their assignment is, it shouldn't cause us a whole lot of problems. The main thing is us being mentally sharp and not letting the different looks confuse us. I think if we hang onto the football, we block, we take care of it, we should be in the ballgame and have a really, really good chance to win."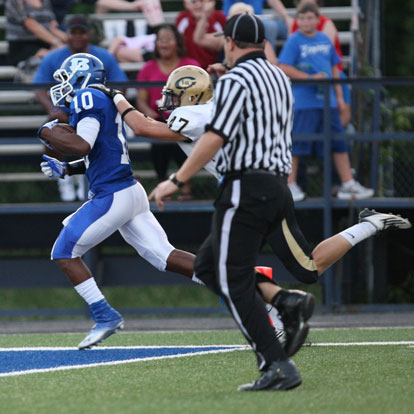 Improvement in the offensive line was key last Friday and will be again, Parker acknowledged.
"They got a lot better last week," he said. "They're playing a little meaner and looking more like an offensive line and not as soft as we looked against Conway. I think they're coming along. I think we had a good week of practice so I hope it transfers over to having a good game. I feel pretty good about it."
Hornets' defensive line coach Brad Stroud feels like the defense as a whole and the line in particular has made strides.
"We were kind of catching in the first game against Conway," he related. "They over-sized us a little bit and as the game wore on they took over the line of scrimmage.
"Against Central, we did a lot better job of attacking," Stroud explained. "You have to step to your spot, defend, and you've got to be aggressive. We did better. But we've still got to get better at, 'All right, I get blocked, get off my block, get my eyes up where the running back's going.'
"This (Catholic) tailback (D.J. Brown) this week, if the play's designed to go right, he'll take off and go left," the coach mentioned. "He'll go anywhere he feels daylight. They run hard. They're scrappy on offense. I like their quarterback (Zac Pinter). He does a good job and they do a good job of catching the ball.
"They'll run a bunch of different formations, which will make us line up in different things. They'll run a lot of two tights. Usually you don't see that. Then they'll spread the field with two wideouts over here and two over there. So, we've gone over different scenarios, depending on what they bring out there.
"After five quarters, it's still week three and it's a work in progress," Stroud said of the Bryant defense. "We need to keep getting better at tackling. I'm looking for a good game."

7A/6A-SOUTH CONFERENCE STANDINGS

Football
Conf Ovl

Pine Bluff 0-0 2-0
Benton 0-0 1-1
Bryant 0-0 1-1
Lake Hamilton 0-0 1-1
Sheridan 0-0 1-1
El Dorado 0-0 0-2
Little Rock Fair 0-0 0-2
Texarkana 0-0 0-2

Tuesday, Aug. 28

Arkadelphia 42, Benton 28
Friday, Aug. 31

Conway 21, Bryant 3
Camden Fairview 49, El Dorado 21
North Little Rock 42, Lake Hamilton 7
North Pulaski 13, Little Rock Fair 12
Pine Bluff 53, Fort Smith Northside 27
Sheridan 26, Little Rock Hall 6
Texarkana, Texas 13, Texarkana, Ark., 7

Friday, Sept. 7

Bryant 28, Little Rock Central 7
Benton 34, Jacksonville 20
Fort Smith Southside 38, El Dorado 21
Lake Hamilton 28, Earle 0
Pulaski Robinson 8, Little Rock Fair 6
Pine Bluff 48, Watson Chapel 12
Arkadelphia 48, Sheridan 22
Greenbrier 42, Texarkana 24
Friday, Sept. 14

Bryant at Little Rock Catholic
Greenbrier at Benton
Little Rock Central at El Dorado
Lake Hamilton at Marion
Little Rock Fair at Van Buren
Pine Bluff at North Little Rock
White Hall at Sheridan
Liberty-Eylau, Texas at Texarkana, Ark.