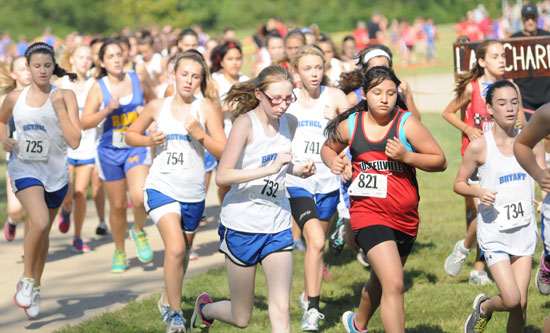 Photos by Kevin Nagle
For the second week in a row the Bryant Junior Lady Hornets dominated the competition.[more]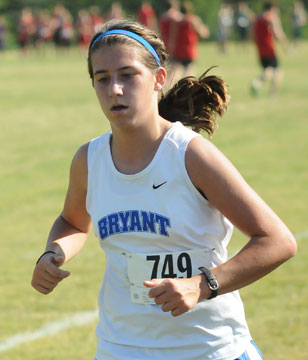 At the Bryant Invitational Thursday night, all five of the Junior Lady Hornets' scoring runners finished in the top seven places to garner the team title with phenomenal 19 points. Russellville was a distant runner-up with 79 points followed by Pulaski Academy (82), and Lakeside (108). There were 6 teams and 125 individual runners in the race.
Once again, eighth-grader Sydney Wilson took individual honors and Hannah Shelby was runner-up. Wilson won with a time of 13:14 with Shelby close behind in 13:19.
Sarah Cowell finished in fourth with a time of 13:50. Reagan Smith (5th, 14:03) and Hadley Dickinson (7th, 14:09) finished out the scoring quintet. Abby Ostrem (12th, 14:29) and Jessica Butler (20th, 14:50) completed Bryant's top seven. Those seven earned a top 20 medals.
"Our junior girls team just continues to amaze me," said Bryant coach Danny Westbrook. "When you put your top five runners in the top seven places in a field of 125 runners it's pretty amazing.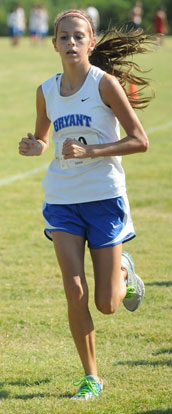 "I was really proud of Sydney Wilson," he added. "She is a very talented athlete, but she owes Hannah Shelby a ton of credit because the last two races Hannah has gone to the front and led the race till the very last few meters where Sydney out-kicks her. I am proud of Hannah for her willingness to lay it on the line every race."
The team will be involved in the annual Bryant Magic Mile Festival on Saturday, Sept. 22, then is scheduled to compete at the Russellville Invitational on Oct. 6.