Hornets score on every possession on the way to 56-7 romp
EDITOR'S NOTE: Because the look back at each day in Bryant athletic history has been so favorably received during the time when there was no sports during the COVID-19 shutdown, BryantDaily.com will continueposting past stories of Bryant athletics either posted on BryantDaily.com (from 2009 to the present) or published in the Bryant Times (from 1998 to 2008).
For more photos of this event by Rick Nation, go here; by Kevin Nagle, go here
By Rob Patrick
Only the clock could stop the Bryant Hornets offense Friday night.
On the way to a 56-7 romp over the previously unbeaten Lake Hamilton Wolves, the Hornets scored every time they got the ball, eight touchdowns in as many possessions. (A ninth ended when time ran out at the end of the game.)
Ren Hefley threw for four touchdowns, all in the first half, one short of the school record of five set by Jeramie Wooten in the Salt Bowl of 2000. Brandon Murray caught three of Hefley's TD tosses, one shy of the school record of four touchdown receptions in a game, set by Zach Cardinal in the 2003 Salt Bowl.
Altogether, the Hornets amassed 512 yards of offense, just shy of the school record of 562 set in 1998.
The Hornets, working deep into their bench, had a ninth possession when they ran out the final 4:51 of the game, which, by that time, was proceeding with a running clock in accordance with the Sportsmanship (or Mercy) rule.
Bryant led 42-7 at the half on the way to their third victory in as many games this season. It was the first that wasn't close. The Hornets open 7A-Central Conference play at Fort Smith Northside next Friday, hoping to avenge a 29-0 loss to the Grizzlies last fall.
Hefley wound up 12 of 14 passing for 278 yards, only playing in the first half. That's 23 yards per completion. Sophomore Jake Meaders completed all three of his passes in the second half for 25 yards, pushing the passing total over 300 yards.
Murray's five receptions accounted for 160 yards.
"We thought, vertically, we could challenge them a little bit," explained Bryant offensive coordinator Kirk Bock. "We thought we could get a guy on a linebacker and that's what we did and we took advantage of it. We had enough speed to get by them.
"Protection was great," he added, regarding the offensive line. "I don't think we had any breakdowns. We had a breakdown on a hot route that we didn't hit but, other than that, it went pretty good. Ren stayed in the pocket tonight and when he did scramble, he kept his eyes downfield."
Early on, it looked like it might be a ping-pong game as the teams traded scores.
On the very first snap, Wolves' quarterback Utah Aitken's pass was picked off by Andrew Hayes who returned it 34 yards for an apparent touchdown but a post-possession blocking penalty negated the TD.
A play later, Hefley found Pittman from 26 yards out. Martin Ramirez kicked the extra point and it was 7-0 just 26 seconds into the game.
Sparked by a 57-yard return of the kickoff by Jake Johnson, the Wolves drove to a tying score. It took six plays to go 35 yards. On the second third down of the drive, Aitken found Johnson for a 22-yard touchdown pass.
In turn, the Hornets drove 57 yards in seven plays to regain the upper hand. The running of Latavion Scott and Kris King pushed the ball to the 34. King broke a 28-yard run but most of it was negated by a holding penalty.
On the very next play, however, Hefley and Murray hooked up again, this time for a 31-yard touchdown.
Ramirez, who had been good on the first 13 extra points of his varsity career, missed this time and it was 13-7 at the 5:59 mark of the first quarter.
Behind a run of 21 yards by Jacob Nichols, Lake Hamilton drove out to their own 46. But facing a fourth-and-2, the Wolves lined up for a punt only to have the snap go to Aitken the upback. He threw down the middle but overshot Kanaan Williams who was blasted by safety Cameron Vail. The hit put Williams out of the game and, despite the protests of Hornets coach Buck James, it drew a penalty.
Given new life on offense, the Wolves threatened to even the game up or to take the lead, driving to the Bryant 17. But, on a fourth-and-2, Nichols was stacked up by the interior of the Hornets' defense, short of a first down.
Lake Hamilton never got that close again. In fact, the Wolves never even made it back into Bryant territory at all. At that, they had accumulated 81 yards of offense. The Wolves would accumulate only 58 yards the rest of the game.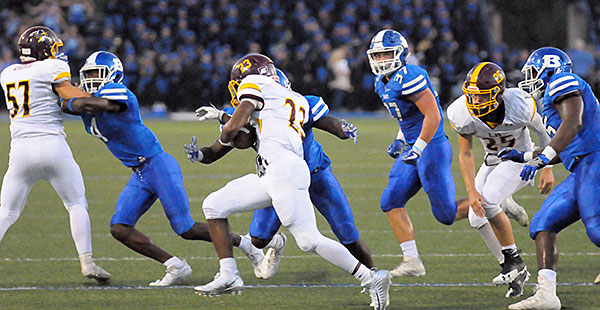 Asked if anything was changed at that point, defensive coordinator Darrell Burnett said no.
"The kids just dug deep," he explained. "You look at the first half, in general, everything they got, we pretty much gave to them. That's not to take anything away from them. We got the penalty on fourth down for the big hit. We got a pass interference (later in the first half). Then we did some things just fundamentally wrong. Too many guys running on and off the field.
"But 7 points is 7 points," Burnett acknowledged. "We tell the kids, we're not going to be ungrateful. We played good. They played hard. We've just got to keep it going for four quarters. To play championship ball, you can't just fall in a hole here and there and let them get a third-down or a fourth-down conversion."
"We played better," James acknowledged. "You know, I'm still a little disappointed. I want us to play better run defense on first and second down. I thought once we started doing that then we didn't play very well on third down.
"I'd like for us to clean it up a little bit," he added. "I thought we bent too much but when we knuckled down, we did a great job. Lake Hamilton was scoring 46 points a game. They have a pretty good offensive unit. Our defense played very well. It's just that we don't want them to bend as much as they bent. We want three-and-outs. We want off the field. If we don't expect that then we'll never get that."
After the defensive stand ended that Lake Hamilton threat, the Hornets needed just three plays to go 84 yards for another score. Hefley found Murray for 21 yards and, a play later, the two teamed up on a 65-yard strike.
Ramirez made it 20-7.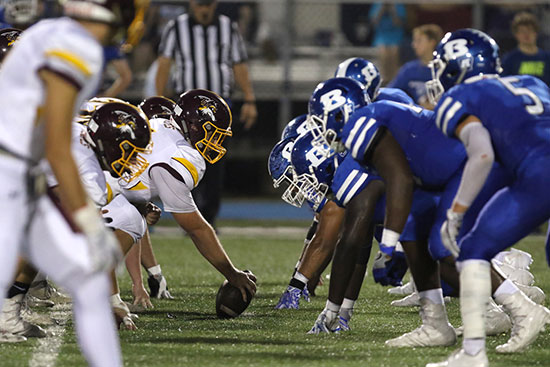 The Hornets got their first three-and-out on the subsequent possession, forced a punt and, added to the lead with a 65-yard scoring drive. Hefley was 4 for 4 on the march. A 15-yard completion to Luke Curtis was augmented by an unsportsmanlike conduct penalty on the Wolves.
Though the Hornets gave a lot of that back on a holding penalty, from the 32, Helfey threw deep to C.J. Wallace who was hauled down at the 1. King scored on the next play and, with the Ramirez PAT, made it 27-7 with 5:50 left in the half.
And the Hornets were not done. Forcing a punt deep in the Lake Hamilton end, Bryant regained possession 43 yards from more points and 3:29 still left in the half.
Once again, it was Hefley to Murray for 37 yards and another score as the lead ballooned to 34-7 with 3:10 still on the clock.
Thanks to the interference penalty, the Wolves picked up a first down but actually managed just 3 yards on five other plays in the possession.
Another punt and with 1:28 to go, the Hornets dashed 64 yards in six plays to score again. Scott's 1-yard plunge capped the drive which was highlighted by a 24-yard pass to Randy Thomas and a spectacular leaping catch by Josh Robinson near the sideline that got the ball to the 11.
"That was the best catch of the night, with J-Rob coming back to the ball," Bock noted.
The Hornets made it a 35-point lead with a two-point conversion, a swing pass from Hefley that King caught and bulled into the end zone.
That guaranteed that the clock would run continuously in the second half, shortening the night.
"Offensively, we looked pretty sharp," James commented. "I thought we took what they gave us. Kirk did a heck of a job with the play-action and drawing them up and throwing over a loaded box."
The half ended with Hayes making his second interception.
To start the second half, Meaders took over at quarterback and, behind a 37-yard run by Keethan Hudson, the Hornets added on. Sophomore Ahmad Adams capped the drive with a 25-yard run for his first varsity TD.
Lake Hamilton managed its only two first downs of the second half on the ensuing drive as they moved out from their own 15 to their 42. But an illegal block on a 5-yard run by Malik Brewer knocked them off track. Two plays later, they punted.
Meaders completed passes to Robinson, Matthew Sandidge and Adams to move the ball to the Lake Hamilton 43. He then scooted 33 yards on a keeper to set up Hudson's second touchdown on a 7-yard run.
Grayson Scoles added the extra point and, with 10:10 (and counting) left, the Hornets had hit 56 points. The first time they'd eclipsed 50 since a 58-0 romp over Sheridan in 2012.
"I tell you, our football team, we've worked our tails off," James stated. "I told them, we're ready to play well. We deserve to play well. But the thing is, it takes every guy to concentrate and focus to their utmost ability every time the ball is snapped. When we do that, we're a pretty good football team. When we don't do things right, we're not good enough to go out there and play poorly and succeed. It's all got to work in unison."