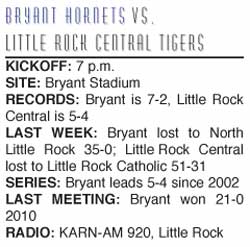 By Rob Patrick
Bryant Hornets seniors Austin Dunnahoo and Michael Smith have been playing side by side since they were in eighth grade.
To hear Austin's older brother Cody tell it, they've manned one defensive tackle spot or the other all along the way, even pushing each other with some friendly competition in the weightroom in the off season, to the point that both have bench pressed over 300 pounds.
"They may not be very big but they've worked at those spots for a very long time and caused some o-lines all kinds of fits," Cody said with[more] a brother's pride.
"At one time, they were called Blue and Old Red," he added. "Michael got his nickname in the eighth grade. His head was too big for any of the white helmets."
So, he got a blue one.
Austin got his nickname a little later.
"He had a red truck that had a decal across the windshield that said, 'Old Red,' Cody continued.[more]
The name caught on.
Now, after all these years, the number of games for Blue and Old Red, along with many other longtime teammates and friends just like them, are dwindling down to a precious few. It's what the traditional Senior Night is all about every year. Dunnahoo and Smith and their fellow seniors will be honored, like so many others that have worn the Bryant blue before them.
While the Hornets hope to get at least one home playoff game, there's still a chance that tonight when they play the Little Rock Central Tigers, it could be the last time those seniors take the field together at Bryant Stadium. Once in the playoffs, of course, every game could be the last.
So, it should be a special night for the Hornets seniors, their families, coaches and fans. And a victory would make it even more so. Not only would it clinch a home playoff game (and possibly a first-round bye with a little help elsewhere) but it would make these seniors the first class in the history of the Bryant program to be a part of back-to-back conference championships.
"It's a unique opportunity," stated Hornets head coach Paul Calley.
"We've never even had a class that won two conference championships as sophomores and seniors," mentioned defensive coordinator Steve Griffith. "Hopefully, the kids will find that a challenge and reach inside and play with great spirit and effort."
"The main thing that I've tried to impress upon them is that there's a lot of people playing right now that aren't in this position, that have had a lot worse seasons and don't have an opportunity to play for a conference championship," Calley said. "I keep stressing to them that they're going to be a part of history. Their names are going to be up on the wall in that indoor (practice area) from now on. You hope that will motivate them even more to want to perform."
Asked if he expected it to be an emotional night for the players, Calley related, "I think some of them will be emotional but, for some of them, it'll just be another day. Every group's different and this is one of those groups that's kind of hard to read and there's not a lot of emotion, not a lot of rah-rah. With this group, the more I go into games with them the more I realize that.
"I've had groups before where you start getting them fired up and they're ready to rip the wall down and this group just looks at you," the head coach explained. "So you just have to take a business-like approach with this group. You try to give them something motivational and I thought our players stepped up before we played Conway. Several of them said what was on their heart and what it meant to them. I'm not going to say that that's what led us to play so well in that first half (that night) but it sure didn't hurt. I'd like to see that again tonight. I hope some of these guys will share their feelings and maybe that will get them fired up."
The Hornets will be trying to bounce back after one of the worst losses in years for a Bryant team, a 35-0 game at North Little Rock.
"I thought we were a little intimidated last Friday night," Calley commented. "Maybe it was because of everything I told them.
"But we can beat Little Rock Central if we play well," he asserted.
The resurgent Tigers are set to be the No. 6 seed from the Central in the Class 7A playoffs. They'll be headed to Fayetteville or Springdale or Fort Smith next week. They're 5-4 overall this season and 3-3 in league play. Since a 41-36 win over Cabot, they've lost twice. A three-game losing streak heading into the playoffs is something they'll no doubt be determined to avoid.
"I would describe them as a power football team," Griffith said of Central's offense. "They will spread the field some but I think when push comes to shove, they're going to get in their power sets. Even when they spread the field, they're still going to keep two backs in the backfield. They're going to try to run downhill.
"They're playing very, very hard," he added. "They've got outstanding running backs that could play for anybody. The offensive line is solid. But the one thing Coach (Ellis 'Scooter') Register's got them doing is playing hard, and anytime you've got kids that will go out there and play hard, you're going to give yourself a chance in most ballgames. We've got to match their intensity and beat their intensity. That's what we've talked to the kids about, playing physical and everybody playing hard every down.
Regarding the week's preparations, Griffith said, "We've worked really hard on recognizing the variety of sets that they'll line up to run out of. We want to make sure we get our proper alignment.
"We had a real good practice Monday, trying to get a little physical," he said. "The kids responded well. We had some JV guys step up and give us a great look at running back and I think that helped the spirit of practice, and the varsity assumed that challenge. They didn't want to look bad against the JV guys. We got some good work in. I hope it'll carry over."
Of the Central defense, Calley said, "They're defensive line is comparable with North Little Rock's. They're very large — big, fast, strong, athletic — and they've got eight of them. If one of them gets tired, they plug somebody else in.
"I've schemed a lot to try to figure out how to run on these guys," he related. "I think we can. We just have to execute. I'm hoping they'll over-pursue and we're able to run.
"And I hope that we can pass protect," he concluded. "That's the main thing to me, having time to throw the ball. I think we can complete passes as long as (junior quarterback) Hayden (Lessenberry) is not having to worry about who's breathing down his neck."