Editor's note: This is a regular feature profiling senior athletes at Bryant High School.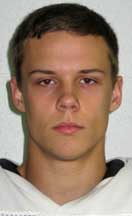 NAME: Zach Freeman
PARENTS: My mother's name is Beverly Bivens and my father's name is Clay Freeman.
SIBLINGS: Brady McCall, a brother. He's 9. Charlie McCall, a sister, 11; Nick McCall, brother, 12; Ben Freeman, brother, 15; Nicki Ingram, sister, 27.
FAVORITE SUBJECT IN SCHOOL: English
WHAT DO YOU LIKE TO DO IN YOUR SPARE TIME? I don't have much spare time. I like to read.
FAVORITE FOOD: Chinese food.[more]
FAVORITE MUSIC ARTIST OR GROUP: I like Country music.
FAVORITE MOVIE: I like scary movies.
FAVORITE TV SHOW: Sons of Anarchy
WHAT WAS YOUR FAVORITE TOY AS A KID? Mr. Potato Head
WHAT ARE YOUR PLANS AFTER HIGH SCHOOL? I'm going to Fayetteville. I don't have a major picked out yet.
OTHER THAN YOUR PARENTS, WHO HAS HAD THE BIGGEST INFLUENCE ON YOUR LIFE? Coach (Paul) Calley. I've known him since — it seems like since I was a baby. It's only been since ninth grade but that's really when I started learning a lot and maturing, just learning a lot personally about life.
FAVORITE THING ABOUT FOOTBALL: The structure and the example that it sets. It teaches you a lot of virtue and a lot of work ethic and stuff like that.
POSITION: I play offensive line.
WHAT DO YOU FEEL LIKE IS YOUR PRIMARY RESPONSIBILITY ON THE FIELD? To protect the quarterback.
WHAT DO YOU THINK OF THE SEASON SO FAR? I'm very happy with the path that the season's taken. I really am surprised. I'm glad to see us come this far. I hope we have further success.
WHAT'S BEEN THE KEY TO THE SUCCESS SO FAR? Communication between our offensive line and our quarterback.
WHAT'S BEEN THE HIGHLIGHT TO THE SEASON SO FAR? The victory over Conway.
WHAT'S IT GOING TO TAKE FOR THE TEAM TO BE SUCCESSFUL THE REST OF THE SEASON? Focus. I think we'll have that focus though after our loss at North Little Rock.
INDIVIDUALLY, WHAT ABOUT YOUR GAME ARE YOU MOST CONFIDENT ABOUT? Pass block.
WHAT DO YOU WORK HARDEST TO IMPROVE? My run blocking, I guess.
AFTER YOU'RE THROUGH PLAYING FOOTBALL AT BHS, WHAT DO YOU THINK YOU'LL REMEMBER MOST FONDLY ABOUT IT? I'll remember the people and definitely the coaches, the things that they've taught me and how much I think being on this team has helped me.