Hornets sew up share of conference title with 21-12 win over Tigers
EDITOR'S NOTE: Because the look back at each day in Bryant athletic history has been so favorably received during the time when there was no sports during the COVID-19 shutdown, BryantDaily.com will continueposting past stories of Bryant athletics either posted on BryantDaily.com (from 2009 to the present) or published in the Bryant Times (from 1998 to 2008).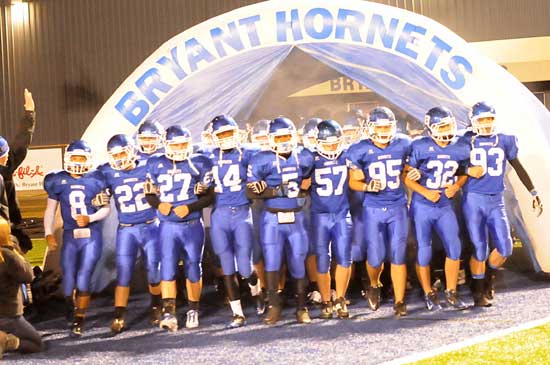 By Rob Patrick
Photos by Kevin Nagle and Rick Nation
As it entered this its 60th year, the Bryant Hornets football program had produced just[more] five conference championships. The first was a three-way title in 1980. Back then, only two teams from each league went to the playoffs and the Hornets were the odd-team out. When they finally did make their first playoff appearance, it was in 1985 when they fell short of a league title.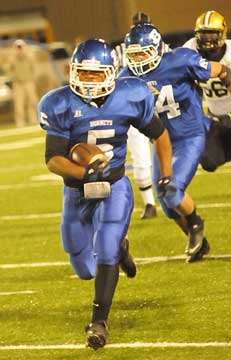 The program's breakout season came in 1999. With an unbeaten regular season, the Hornets were champions of the 5A-South Conference. Since then, they've won titles in 2004, 2007 and 2010.
Now, in 2011, they have achieved a sixth title going back-to-back for the first time, after a 21-12 win over the Little Rock Central Tigers Thursday night at Bryant Stadium.
The win improved the Hornets to 8-2 overall and 6-1 in the conference. They'll play next in the State playoffs. Their seeding, their opposition — even the date they'll play — are to be determined by games played tonight.
It may very well be the least likely championship of them all. (It is, incidentally, another three-way title with Conway and, probably, North Little Rock, which plays at Van Buren tonight.)
The Hornets returned very little experience from the 2010 championship team — four starters on offense and fewer than that on defense. Undersized, as well, they appeared to be up against it with the kind of teams that take the field each week in the Central Conference.
It proved to be a team of heart; a team of over-achievers.
"(At the beginning of the season) our hope was 5-5," admitted Hornets head coach Paul Calley. "That was our hope. Inexperience was the main thing. When you play in this conference, you better have some guys that know what's going on and we didn't. I never doubted them and we kept working them. We tried to teach them and did everything we could. They're not real emotional. It's just not an emotional team. But they came out and they played hard and they did what they had to do. And I am happy for them."
Calley wouldn't say it but, with all due respect to the talent on the Hornets' squad especially the seniors who have now become the first class to don a conference crown twice, it may have been the most impressive job he and his staff (short-handed by 7A standards) have ever done.
And that's saying a lot for a program that has now avoided a sub-500 record since 1998.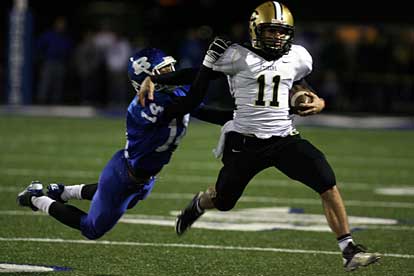 In the title-clincher on Thursday, Calley, whose team had run a pass-happy spread offense most of the season, decided to emphasize the running game. In fact, Calley, with assistants Jason Hay and Dale Jones, was scheming right into game day.
And, sure enough, behind 189 yards on 25 carries by senior Karon Dismuke and 72 more on 15 totes by junior Jalen Bell, the Hornets amassed a season-high 271 yards on the ground.
Junior quarterback Hayden Lessenberry threw just eight passes, completing five for 41 yards including a 7-yard TD strike to Sawyer Nichols.
"We were determined to run," Calley explained. "I felt like the close games that we've had, when we needed to move it, that's what we did.
"I love to throw the ball too," he answered when asked if, as a former college center, he had an affinity for the run game. "But I feel like when it comes down to it and you have two teams that are pretty even, I think it's the team that runs the ball that's going to win.
"When you look at what Bentonville does, they throw it some but they run it. (Fort Smith) Southside, when they've won it, they've run; when Har-Ber won it, they ran it," he added, referencing recent Class 7A State champions. "You can throw the ball up and down the field but when you get in the red zone, if you can't run it, you're not going to win. A lot of times, your scoring percentage isn't even 50 percent."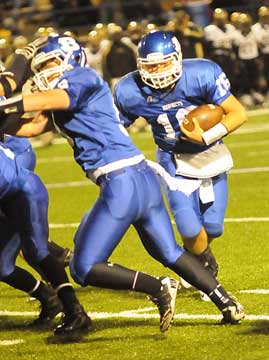 After struggling with seven three-and-out possessions and three turnovers in the 35-0 debacle at North Little Rock the previous week, the Hornets had nary a turnover and not one three-and-out series against Central.
"I felt like we could run block them better than we could pass protect," Calley said. "We did a good job when we had to pass but Hayden's ankle has been killing him. I didn't want him to have to run all over the place and I didn't want him taking a lot of punishment. (Central has) rushed the passer well against everybody all year.
"They came out and did something totally different than they've done all year," the coach said of the Tigers' defense. "They've been playing man coverage. So everything I'd done all week was based on man coverage. Today, I went back and watched our film from last year and they played zone, played cover-two. So I'm thinking, surely they're not going back to playing cover-two. But then I'm thinking, well, they gave up 51 points last week (to Little Rock Catholic), they may think they should go back to zone.
"So I went back today and made a few adjustments," he concluded. "Not a whole lot.
"The guys (on the offensive line), I kept asking to them, 'What do you want to do?' We were running the zone stretch plays, trying to get the defense to stretch then we were cutting it back. And they always seemed to be a man short. They pursue so well and we're so tight-end heavy, they're overloading out tight-end (side). We started stretching it to the tight-end and our backs were cutting it back. And they ran very well."
As well as the Hornets ran it, though, so did Central. Marvell Harris rushed for 198 yards on 30 carries to lead the Tigers to 288 on the ground for the night. As has become tradition at Bryant, the defense, however, bent but didn't break. Despite all the yardage, Central was only able to get into the end zone near the end of each half.
"Throughout the night, they were able to get some yardage between the 20's but we did a good job when we had to of bowing up and making some plays," mentioned Bryant defensive coordinator Steve Griffith. "In some critical situations, some fourth downs where, at times during the year, we weren't able to get off the field, we were able to get off the field. Hopefully, that's some maturity we gained through the year."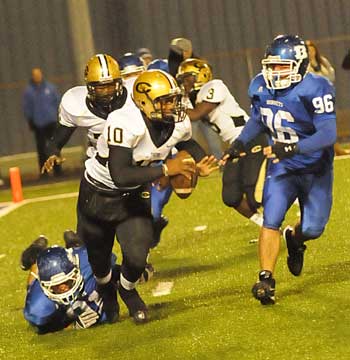 It was a big night for junior linebacker Tyree Reese who moved to Bryant last summer after playing at Central as a sophomore. He finished with a team-high 15 tackles and broke up a pass. Fellow linebacker Marshall Everett was in on 13 stops with Parker Dunn, a third Bryant linebacker, making eight stops.
"Central is an outstanding running football team," Griffith acknowledged. "They've run the ball effectively on everybody they've played. We knew they'd get some yards. I'm just real proud of the fact that, when we had to have it, we were able to make plays."
Harris made much of his yardage from the wingback position, taking reverse-action handoffs and speed sweeps.
"Early, they were hurting us a little bit," Griffith said. "We made some adjustments at halftime. (Against the wingback reverse) we just got where we were playing a little flatter. The guys were getting blockers at them, we were getting a little more aggressive on the blockers trying to flatten the thing out and get some more guys to help. And we made a couple of plays in the open field that we didn't make the first half."
The first possession of the game was typical. The Tigers marched from their own 20 to the Bryant 24 where the Hornets stuffed runs by Harris and Robinson to set up a third-and-8 at the 22. Tigers' quarterback Cammreon Polite tried to find tall receiver A.J. Tucker on a fade route into the end zone only to have senior corner Caleb Thomas go high to knock it down.
Thomas, however, was shaken up on the play so, when the Tigers' head coach Ellis "Scooter" Register decided to go for it on fourth down, he called for the same play, hoping to victimize the Hornets' backup. But that backup was Nichols, the team's top receiver on the season, and he was equal to the task as well, knocking the ball down in the end zone.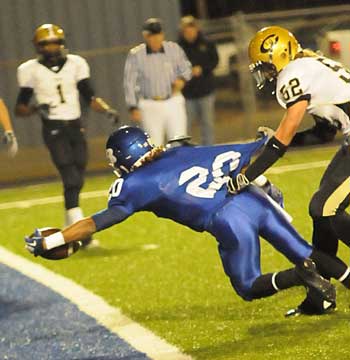 Bryant took over on downs and made their own foray into opposition territory. Dismuke's 17-yard dash got the drive going. On the next play, Bell broke for 21 only to have the football knocked out of his hands at the end of the play. Fortunately, Seth Alkire hustles. Alkire, a senior offensive lineman, was downfield trying to help Bell gain more yardage and, because of that, he was there to cover the loose ball.
But the drive stalled after reaching the Tigers' 29. The Hornets turned it over on downs as well.
Central came back with a drive to the Bryant 19 where, on third-down, Thomas and Austin Dunnahoo dropped Harris for a loss. On fourth down, Polite fumbled the snap, scooped it up and got what he could, falling 5 yards short of a first down.
Another long drive by Bryant ensued. It included some risky business. Facing a fourth-and-one at their own 46, the Hornets went for it and Lessenberry sneaked far enough to convert. They reached the 17 but, on fourth down, Jace Denker was unable to get a field goal attempt from 31 yards out to stay inside the left upright.
It was then that the Hornets' defense bowed up to set up Bryant's first scoring drive. Three consecutive lost-yardage plays including a third-down sack of Polite by Tim Kelly at the 4, set up the game's first punt.
Bobby Emerson's kick got a big bounce in the Tigers' favor. The result was a 61-yard punt. And when the Hornets were cited for a block in the back, they were setting up shop at their own 28.
Dismuke gashed the Tigers' defense for 17 yards and, a play later, Bell wove his way to 16 more. But, on that play, the Hornets' lost senior center Cortez Williams to a shoulder injury. Blain Jackson moved to center from guard, Alkire and Kordell Boykins manned the guards with Ian Shuttleworth and Jordan Jones at the tackles. At times, junior tight end Nate Rutherford started lining up with Alkire on one side of the line with Boykins, Jones and Shuttleworth on the other side.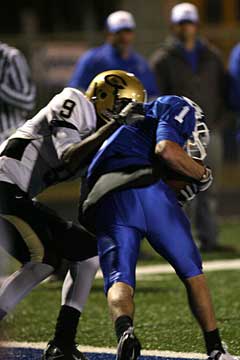 The Hornets kept moving it. Lessenberry even kept for 10 yards, following the blocking of back-up quarterback/wingback Wesley Akers. Finally, on third-and-goal at the 7, Lessenberry rolled out to pass and, after making a route-adjustment to get outside, Nichols came open and caught the touchdown pass with 2:51 left in the half.
Denker booted the PAT to make it 7-0.
To their credit — and using a hurry-up offense that produced no passes — Central put together its own scoring drive. It was keyed by a 33-yard gallop by Harris and, later, a 12-yard run, which ended with Bryant being assessed a personal foul penalty for a tackle out of bounds.
A play later, Robinson dashed into the end zone but, Emerson's extra point sailed right and the Hornets had a 7-6 lead at the half.
They improved their situation with a scoring march to start the second half. Lessenberry's 9-yard pass to Dillon Winfrey was followed by a 41-yard scamper by Dismuke. That set up Jalen Bell's touchdown run. On that play, it looked like Bell had been stopped at about the 2 but he rolled over the defender without touching the ground with a knee or an elbow, regained his feet and reached the end zone.
With 10:06 left in the third quarter, Denker kicked it to 14-6.
In turn, the defense made a stand. Central's answering series was 14-plays long. They drove from their own 20 to the Bryant 11 where, on fourth-and-one, the Tigers went for it only to have Harris stacked up for no gain.
Behind a 26-yard run by Dismuke, the Hornets pushed out of the hole to midfield where they were forced to punt for the only time in the game.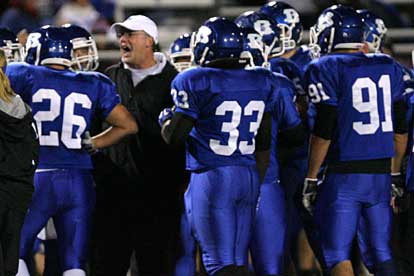 Again, the defense came through forcing Central into a three-and-out. After a punt and a 10-yard return by Nichols, the Hornets drove to the clinching score. There was a key play early in the drive. On third-and-13, Lessenberry passed to Nichols for 15 yards and a first down. Eventually, Dismuke ran it in from 25 yards out — though he gave all the Bryant faithful a scare when he reached the ball out over the goal line just before he fumbled it into and out of the end zone. Despite Central protests, the officials ruled that the Bryant running back had broken the plain of the goal line before losing the ball, making it a touchdown.
With 10:00 still to play, Bryant led 21-6.
The Tigers answered with a scoring march but it took over seven minutes off the clock. All but one of the first 13 plays of the drive were running plays. From the 14, Polite passed to Harris for the TD with just 2:50 left.
Needing two touchdowns and at least one two-point conversion to tie it, the Tigers disdained an extra point attempt and went for the two. But Wynne's pass was knocked down by Aaron Bell and Walter Dunn. That left, the Tigers trailing by two scores, 21-12 and, for all intents, ended their chances.
They still tried an onside kick but Winfrey covered it at midfield. Bryant whittled the clock down to :14.6 before giving the ball up on downs at the Central 33.

BRYANT 21, LITTLE ROCK CENTRAL 12
Score by quarters
LR Central 0 6 0 6 — 12
BRYANT 0 7 7 7 — 21
SCORING SUMMARY

Second quarter

BRYANT — Nichols 7 pass from Lessenberry (Denker kick), 2:51
LR CENTRAL — Robinson 8 run (kick failed), 0:34
Third quarter

BRYANT — J.Bell 7 run (Denker kick), 10:06
Fourth quarter

BRYANT — Dismuke 25 run (Denker kick), 10:00
LR CENTRAL — Harris 14 pass from Polite (pass failed), 2:50
Team stats

Central Bryant

First downs 22 18
Rushes-yds 54-288 47-271
Passing yds 55 41
Passing 4-10-0 5-8-0
Punts-avg. 2-51.0 1-27.0
Fumbles-lost 2-0 1-0
Penalties-yds 8-60 2-25
INDIVIDUAL STATS

Rushing: BRYANT, Dismuke 25-189, J.Bell 15-72, Lessenberry 7-10; LR CENTRAL, Harris 30-198, Robinson 14-53, Anderson 6-29, Wynne 1-15, Polite 3-(-7).
Passing (C-A-I-Y): BRYANT, Lessenberry 5-8-0-41; LR CENTRAL, Polite 4-8-0-55, Wynne 0-2-0-0.
Receiving: BRYANT, Nichols 2-27, Winfrey 1-9, Dismuke 1-5, Daniel 1-5; LR CENTRAL, Harris 2-16, Griham 1-21, Tucker 1-18.