Photos courtesy of Cynthia Austin
HOT SPRINGS — Though the Bryant Hornets cross country team finished sixth overall, they wound up the top member of the 7A-Central Conference at Friday's 7A State championship meet at Oaklawn Park.
Led by junior Henry Terry who ran a 17:25.1 to place 29th overall, the Hornets finished with 196 points, behind 7A-West teams Bentonville, Fayetteville, Rogers, Springdale Har-Ber and Bentonville West.
"Coming into this meet, we were picked ninth based on season-best performances," noted Hornets coach Steve Oury. "After placing fourth at the conference meet, we made it our goal to try and beat at least a couple of the teams in our conference at the State meet. To place sixth and be the first 7A-Central team is a really nice way to finish the season.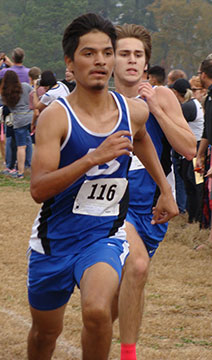 "The boys ran a very good race in tough, humid conditions," he continued. "There were a lot of good runners from different schools who struggled out there because of the conditions, so I thought we really ran well as a team.
"We will look to build on this going into next year, since we have several of our top runners returning," the coach concluded.
Freshman Bresner Austin was Bryant's second finisher. His 17:26.5 was a close 30th. Junior Chris Barrientos, slowed by injury midseason, wound up 46th in 17:85.9. Seniors Edgar Tejada and Alberto Rodarte finished their high school careers in the scoring group for the Hornets. Tejada was 49th in 18:04.1 and Rodarte was 58th in 18:11.3. Senior Decatur Austin was Bryant's sixth finisher (59th, 18:12.3) followed by juniors Blake Shields (66th, 18:24.8) and Nick Fowler (73rd in 18:29.5) then senior Jhoman Cruz (81st, 18:40.3).