Hornets get another shot at Benton after cracking 'Cats
EDITOR'S NOTE: Because the look back at each day in Bryant athletic history has been so favorably received during the time when there was no sports during the COVID-19 shutdown, BryantDaily.com will continueposting past stories of Bryant athletics either posted on BryantDaily.com (from 2009 to the present) or published in the Bryant Times (from 1998 to 2008).
By ROB PATRICK
BRYANT TIMES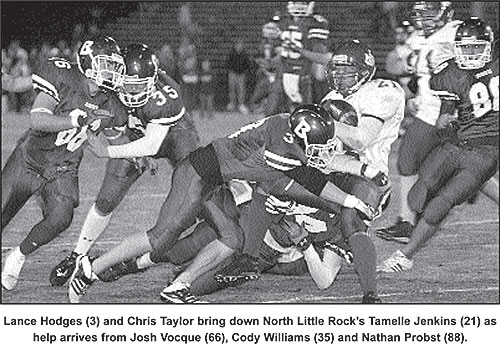 For the first time and most likely the last time, the Bryant Hornets and Benton Panthers will play each other in a State playoff game.
Oh, their intense rivalry will continue with regular-season games but, after this year, Bryant will be part of the new AAAAAAA classification while Benton becomes a part of the new AAAAAA classification. (So you don't have to count the A's, that seven of them in Bryant's level which featured the 16 largest schools in the state, and six at Benton's level which features the second 16 in size.)
Actually, it's only been over the last four years that it's been possible for Bryant and Benton to square off in the playoffs, since Bryant was moved from the AAAAA-South Conference (which included Benton) to the AAAAA-Central. Before that, as long as they were in the same classification, they were in the same league.
The two teams will meet in a first-round game at Benton's C.W. Lewis Stadium on Friday, Nov. 11, at 7:30 p.m. With standing room, there will be 9,000 tickets sold but only 2,000 of those were allotted to Bryant and were on sale at the Bryant athletic director's office on a first-come, first-serve basis. They were not expected to last long.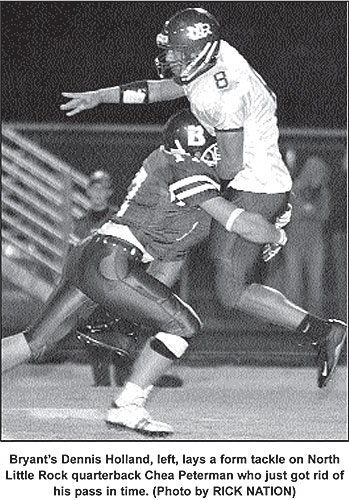 So, how did this happen? While the Benton Panthers were earning a share of the South championship with a 52-20 drubbing of Watson Chapel on Thursday, Nov. 3, the Bryant Hornets were dumping the North Little Rock Charging Wildcats, 28-6. Benton had to win to earn a share of the title and gain the No. 2 seed from its league, Bryant had to win to get into the playoffs at all. The Hornets came into their game in a four-way tie for third place in the Central. Of those four teams — Conway, Little Rock Parkview, Little Rock Central and Bryant — Conway and Bryant had the toughest assignments Thursday. Parkview and Central played also-rans Little Rock McClellan and Little Rock Hall, respectively. As expected, Parkview and Central won. Conway, faced with league champion Little Rock Catholic, lost and Bryant, faced with the league's second-place team North Little Rock, came through with one of its best performances of the season and, thanks to the tie-breaking procedures, earned the third seed from the league, while Parkview, a 21-3 loser to Bryant earlier this season, gained the fourth and final nod and Central, the two-time defending State champion, got left out.
Bryant's win came on the heels of a deeply disappointing loss at Conway, a fact that was not lost on head coach Paul Calley.
"They never cease to amaze me from one week to the next, they're totally different," he said of his team. "They knew coming in that the only chance they had was to win."
"The defense, absent against Conway, they show up and play lights out against North Little Rock, even though seven or eight times, we got lined up wrong," he added. "You can't explain why. It just happens. You're dealing with 17, 18 year old kids."
The Hornets got a big lift from senior safety Hunter Hatcher who blocked a punt, intercepted two passes and had a hand in 17 tackles. It was a classic field-position, bend-but-don't-break performance by the defense which allowed 234 yards rushing. For their only touchdown of the game, the Charging Wildcats had to drive 90 yards.
In the air, North Little Rock completed just 7 of 28 passes for 57 yards and the two interceptions.
"Hatcher and the secondary just had a real good ballgame," said Steve Griffith, the Hornets defensive coordinator. "Up front, (linebackers Jared) Szabad and (Josh) Vocque stood out."
Zach Kitchens, the other Bryant safety, got in on 12 tackles. Vocque's six stops gave him a team-high 100 for the season.
Offensively, the Hornets were faced with one of the best defensive lines in the league and it pretty much shut down the running game. They managed just 48 yards on the ground and almost half of that came late, after the game was decided.
But quarterback Anthony Mask came through with his best game of the season, completing 27 of 46 passes for 299 yards and a touchdown. His throws set up his two quarterback sneaks for TDs too. Of Bryant's 347 yards of offense, Mask accounted for 318.
Ironically, in the long list of injuries and illness that has plagued the Hornets this season, it was Mask's turn during the week. He missed practice all week with strep throat. (Calley recalled that before Mask's best performance as a junior, he sat out practice all week with a sore shoulder then came out Friday night to guide the Hornets to victory over a nationally-ranked Little Rock Central team, which turned out to be the only time in two seasons the Tigers lost.)
Bryant scored its lone touchdown of the first half when Hatcher, who had already foiled a North Little Rock drive with his first interception, blocked Andy Keeling's punt. A low snap helped but Hatcher blocked it cleanly and the ball rolled into the Wildcats' end zone where Bryant's Chris Clement recovered it for a touchdown with :38 left in the first quarter.
"That was huge again," said Calley, whose team has now blocked six punts this season. "It gave us momentum."
North Little Rock's answering drive reached the Bryant 4 before a holding penalty pushed the Wildcats back and, on the next play, Hatcher made his second interception returning it all the way to the NLR 9.
Penalties undermined the Hornets' bid to increase their lead and a 31-yard field goal attempt by Tyler Henderson sailed wide left.
Before the half was over, however, North Little Rock mounted their long touchdown drive aided by a personal foul penalty against Bryant. With :44 left in the half, quarterback Chea Peterman scored on an option keeper to make it 7-6. And it stayed that way when Peterman missed the extra point.
To start the second half, the Wildcats drove from their own 15 to the Bryant 12 where the Hornets defense put an end to the drive. Peterman's 30-yard field goal attempt was wide right and the Wildcats were never as close to scoring again.
Bryant's offense kicked into gear.
"At halftime, we spent a lot more time in the coaches' office discussing things rather than with the kids and the next thing I know we're taking the field," recalled Calley. "I never knew what adjustments, if any, they made on defense, but we did make some on offense. We did some things we'd never really done before but it was the only thing we could do. We couldn't pass protect long enough to straight drop back, we had to sprint out; and we couldn't sprint out and single block anybody on the edge. So, we double-teamed everybody on the edge and ran two receiver routes and Anthony had his best game of the season.
"And that's what he can do when he has time," Calley added. "He hasn't had time all year. He's fighting for his life most of the time. Then, if he does get time, he's so used to having to run and hurry his throws that he makes bad decisions which is not all his fault. People don't understand the kind of pressure he's under. They can sit up in the stands and talk about quarterback this and that but they have no idea what kind of pressure that he's under or how well he's performed."
Calley put a pair of receivers on a wing to double-team North Little Rock's defensive ends, Van Stuman and Jonathan Nixon, both Division I college recruits.
"We thought we could throw, it would just come down to whether we could pass protect because they've got Stuman and Nixon," Calley acknowledged. "Golly, we didn't touch Nixon all night. I put four different people in there to try to block him, couldn't block him. He just ran around us. We had to sprint away from him. But if that's what you've got to do to win, you do whatever you have to do."
And they did it with senior receiver Dustin Holland sidelined with a leg injury, which he suffered on North Little Rock's touchdown play.
Bryant's first possession of the second half began at its 20. On seven of the eight plays in the drive, Mask threw, completing all but one pass. (On the only run, he sprinted out to pass but kept it for 4 yards.) His 17-yard completion to Jon Isbell, who caught nine passes for 103 yards in the game, got the march started. The big play was a 23-yard completion to sophomore Jake Jackson. That duo hooked up again on the next play for the 9-yard touchdown.
Jackson wound up with 11 receptions for 130 yards.
And despite the fact that the Wildcats got a big return to near midfield on the subsequent kickoff, the Bryant forced a three-and-out.
In turn, the Hornets' Cody Williams punted the Cats back to their own 7. Though they picked up a first down, Peterman's pass to Demarcus Ingram resulted in a fumble that Kitchens covered for Bryant.
Two plays later, Mask's 19-yard strike to Isbell set up the quarterback's first TD sneak and a 21-6 lead.
After the teams exchanged punt, North Little Rock made a last-ditch offensive thrust, reaching the Bryant 36 where they turned it over on downs with 8:18 to go.
The Hornets put the finishing touches on the victory with a seven-play drive on which Mask completed 6 of 7 passes including a 25-yarder to Jackson that got the ball to the 1. Mask tucked it in from there to make it 28-6.
So, now it's Bryant vs. Benton for the 33rd time since 1974. It'll be the first time the rivals have played twice in the same season and probably the last.
Oh, and the booby prize for the winner? A trip to Springdale to play a nationally-ranked team that has mercy-ruled nearly every opponent they've faced this season. But, believe it, they both want to go just so the other one won't.