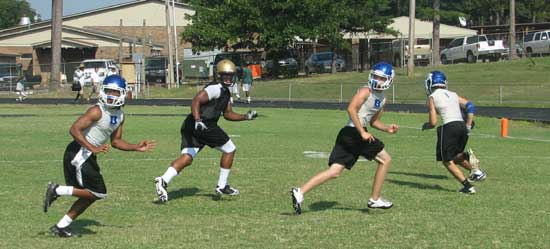 By Rob Patrick
LITTLE ROCK — "Coach (Paul) Calley said it best," recounted Bryant Hornets offensive coordinator Dale[more] Jones. "He said, 'Guys, we didn't get beat, we just needed about five more seconds.'"
In fact, it may have only taken a couple of seconds for the Hornets to capture the championship of the Summer Showdown 7-on-7 competition at Pulaski Robinson Thursday.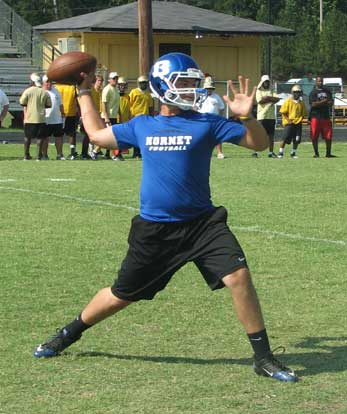 The Pulaski Academy Bruins, whom the Hornets had defeated in pool play, hit a touchdown pass with 1:15 left to play to take a 43-39 lead in the championship game. Bryant rushed down the field in four plays to get to the Bruins' 25 and, with time running out, junior quarterback Hayden Lessenberry found senior Dillon Winfrey in the back of the end zone for an apparent game-winning TD.
"The referee called it a touchdown and we ran on the field to celebrate," Jones recounted. "But the other referee said that as soon as (Lessenberry) let it go, the buzzer went off to end it so they didn't allow the touchdown. And, to be honest, it did."
Though the finish was disappointing, as a whole, the Hornets' performance was stellar.
"We competed so hard," Jones said. "When it was over with Coach Calley brought them all together and said that he's been at Bryant 18 years and we've been playing 7-on-7 since 1997. He said that was the most efficient, well-played 7-on-7 we've every played. Of course, I agree with him since I've been here.
"It was back and forth," the coach said of the finals. "They scored, we scored. They started going for two every time they scored, regardless. The entire game, they went for two and a couple of times, they got it.
"They were ahead at one point, 16-14," Jones said. "So, when we scored, we started going for two and, once or twice, we didn't get it."
An interception by Aaron Bell helped the Hornets.
"At one point in the game, we were 29-29 with seven minutes left," Jones said. "We traded scores and we got the pick to take the lead, 39-36."
That's when the Bruins marched to the go-ahead touchdown with 1:15 left in the game and Bryant nearly answered in time.
"We were gassed," Jones said. "But we got four plays off in the final 1:15 and they don't stop the clock for anything. I don't know how we got four plays off."
For the day, he noted, "Lessenberry threw 24 touchdowns with no interceptions. (Wesley) Akers threw five touchdowns with two interceptions. So we threw 29 touchdowns and just two interceptions. We did not turn the ball over on downs in six games. That's unreal. We scored every time Lessenberry was in there except that last play of the game when time ran out on us. Wes had an interception down near the goal line against Hope then we had one other when we were up big."
In pool play, the Hornets beat Pulaski Academy 42-29 with Lessenberry throwing for six touchdowns including four to Sawyer Nichols. Karon Dismuke and Charles Henson caught the other two.
"Sawyer had a big day," Jones noted. "He had nine touchdowns and Dillon had seven."
Bryant scored every time it had the football against the Bruins.
"The defense held them once on downs and that's all it took," the coach related. "We just played ahead the rest of the game. They were going four two and trying to catch up, they just couldn't do it because we were too far ahead."
Pool play continued with a 33-7 win over Hope and wrapped up with a 28-7 win over Little Rock Central. Against Hope, Lessenberry threw touchdown passes to Henson, Winfrey and Dismuke, who also caught a two-point conversion pass. Akers added a TD strike to Austin Powell. Bryant added a two-point conversion and pick up points when Winfrey made an interception.
Against Central, which hadn't lost until then, Lessenberry threw a touchdown pass to Nichols on the first play of the game. He would hit Winfrey for two scores and Jalen Bell for another.
As a pool play winner, Bryant awaited the winner of a game between Hope and Mills. Hope won it on the last play of the game then fared little better the second time against the Hornets, who prevailed 34-14.
"To start off the game, Jesse Johnson had an interceptions," Jones mentioned. "Lessenberry went down and threw two touchdowns and Travis Royal had an interception."
Nichols and Winfrey each caught one of the TD strikes. After Royal's interception, Akers came on and tossed scoring strikes to Dismuke and Powell.
In the semifinals, the Hornets came up against Hot Springs Lakeside.
"The last couple of years at Robinson, we've had a couple of battles with Lakeside," Jones recalled. "Well, we beat them 38-0. That's about as good as I've seen us play in a 7-on-7 game. From route-running to throwing and catching, defense keeping everything in front of them."
Royal contributed another interception and Akers threw a pair of touchdown passes to Nichols including one on the opening play of the game again. Powell and Ben Clark also hauled in scoring throws. Akers hooked up with Henson for another TD.
The finals ensued.
"Even though we lost to PA and that put a little bad taste in our mouth right there at the end," Jones said. "You know, next week we play in the big one, the Shootout of the South. And I really feel like we're going to play good. I think our kids are really looking forward to it.
"We threw the ball so well and caught the ball so well (Thursday)," he stated. "We threw to a bunch of different kids. We've put in a ton of work since January on catching the football and Coach (Jason) Hay has done a really good job getting our receivers ready.
"We've still got a long ways to go but to go out there and compete against other schools — it was really nice to see us compete and execute like we did," Jones concluded. "We've been installing a brand new offense since January. As far as the passing game goes, it's completely new. Our kids have done a good job of absorbing it and we've still got stuff to put in between now and August. We're looking forward to it. We're excited. And this was a good way to start the summer.