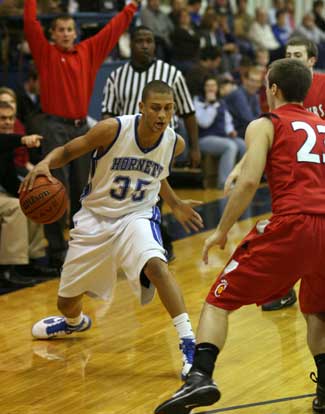 By Rob Patrick
You hear basketball coaches, all the time, talking about their teams being successful on offense when they "make the extra pass." The idea is that you turn down a shot to get a better one; the assumption being that your team is otherwise taking low percentage shots.
But it's a fine line between "making the extra pass" and making one pass too many. That would be when you turn down a good shot in hopes of getting a better one only to get a worse one or none at all. It's unselfishness to a fault.
In Friday's 7A-Central Conference game between the Bryant Hornets and the Cabot Panthers, there were three, maybe a four or five times when a Bryant player got the ball in the paint and, instead of making a sharp cut one way to the hoop, they passed the ball back out the other way without even looking at the basket.
It was unselfish but it invariably — particularly that night — wound up being an empty trip on offense for the Hornets who managed just five field goals in the game (in 31 attempts) and shot an anemic 16 percent from the field in a frustrating 42-29 loss.
The result left Bryant and Cabot in a tie for sixth place in the league at 1-4 with the Hornets, 8-11 overall, traveling to North Little Rock on Tuesday, Jan. 26, and the Panthers, 7-9, hosting Van Buren.[more]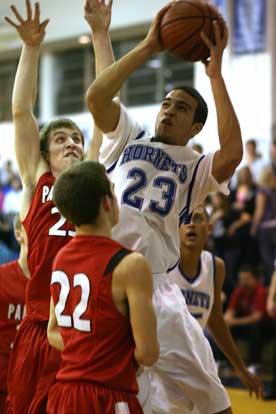 The Hornets, who were 1 of 17 from 3-point range, actually had a chance down the stretch to pull out a win thanks in part to 18 of 22 shooting from the free-throw line and a defensive effort that kept Cabot from building a substantial lead.
In fact, the Hornets whittled an 11-point deficit early in the fourth quarter, down to 32-29 with just over three minutes still to play. And, after Cabot's Seth Bloomberg missed the front end of a one-and-one with 2:48 to play, Bryant head coach Ronnie Marvel called timeout to set up a play that could get the Hornets an open look for a game-tying 3-pointer. Senior Dontay Renuard, who had just hit Bryant's only 3-pointer in the game, got a good look from the right corner but, completing a rugged night for Renuard, the shot rimmed out. K-Ron Lairy dashed in to grab the carom but his follow shot was blocked on a physical play.
Marvel and assistant Jim Pennington protested vehemently but, by then, the Panthers were pushing the ball up the floor and getting it inside to Kai Davis who scored to stem the tide with 2:21 left.
And, to their additional frustration, the Hornets were unable to score in the final 3:26 of the game as Cabot padded the lead at the free-throw line as Bryant scrambled.
"The defense was awesome," Marvel said of his team. "We had the chance to tie the ballgame at 32 and that was with about two minutes left in the game. I mean our defense did an awesome job. To hold a team that low, you should win."
On the other end, Marvel stated, "Our offense was horrible. I mean we couldn't get anything going. We stayed confused all night. We just couldn't get any offense going. (Cabot) was out there trapping and pushing us out and our kids just couldn't get our composure. We very seldom had any poise on offense in that ballgame.
"I didn't see (Cabot) doing anything we haven't seen all year," he added. "But the kids were just really hyper on offense. I mean, we had several shots that I thought should've been 'and-one's' but we didn't make the front end of the 'and-one'.
"Offensively, we were just terrible tonight," the coach reiterated. "If I knew what could cure it, I would've cured it. We've tried so many different things. We just can't seem to generate any offense."
It was, as it turned out, Bryant's lowest point total in a game this season.K.J. Hampton led the offense with 10 points, 8 of which came in the first quarter helping the Hornets to manage an 8-6 lead by the end of the period.
Bryant then went five minutes without scoring. Cabot built a 17-8 lead before Lairy hit two free throws with 3:03 left in the half. Connor Rayburn added a free throw for the Hornets, trimming the margin to 6. And, after Cabot's Darin Jones missed a shot, Brandon Parish pushed the ball up the floor for Bryant and dished to L.J. McLaughlin down the right baseline for a buzzer-beater that had the Hornets within 17-13 at the half.
McLaughlin's field goal was, however, the only one the Hornets managed in the second quarter. And when he hit another one two minutes into the third quarter, it proved to be the only field goal of the third quarter. Cabot took advantage to push the lead to 10 before Lairy hit a free throw with :03.1 showing.
Cabot's Christian Armstrong scored the first hoop of the final period to give his team its largest lead at 29-18.
Free throws by Hampton and Lairy helped the Hornets begin to bridge the gap, trimming the lead to 31-26. Armstrong hit a free throw to make it a 6-point game before Renuard, who had missed his first six shots in the game, buried a 3 from the right corner to whittle it down to 32-29, setting up the frustrating final sequence of events.
PANTHERS 42, HORNETS 29
Score by quarters
Cabot 6 11 10 15 — 42
BRYANT 8 5 5 11 — 29
PANTHERS (7-9, 1-4) 42
Player fg-fga ft-fta reb fls pts
o-d-t
Bloomberg 2-4 0-1 0-4 4 3 5
Baker 2-7 7-8 0-3 3 3 11
Armstrong 4-4 4-8 2-5 7 3 12
Jones 1-3 2-4 0-3 3 2 4
Davis 3-5 2-2 1-3 4 4 8
Martin 0-0 0-0 0-0 0 2 0
Spry 0-2 0-0 0-2 2 2 0
Ellesbee 0-0 0-0 0-0 0 0 0
McMahan 1-1 0-0 0-0 0 0 2
Mantion 0-1 0-0 0-0 0 0 0
Team 0-1 1
Total 13-27 15-23 3-21 24 20 42
HORNETS (8-11, 1-4) 42
Player fg-fga ft-fta reb fls pts
o-d-t
Lairy 0-9 9-10 1-1 2 4 9
Parish 0-5 0-0 0-0 0 3 0
Butzlaff 0-0 0-0 0-2 2 0 0
Hampton 2-3 6-6 3-4 7 4 10
Renuard 1-8 0-0 1-1 2 2 3
Rayburn 0-2 2-4 0-1 1 0 2
McLaughlin 2-4 1-2 1-3 4 5 5
Team 2-2 4
Total 5-31 18-22 8-14 22 18 29
Three-point field goals: Cabot 1-6 (Bloomberg 1-2, Jones 0-2, Baker 0-1, Davis 0-1), Bryant 1-17 (Renuard 1-6, Lairy 0-5, Parish 0-5, Rayburn 0-1). Turnovers: Cabot 7, Bryant 14. Technical fouls: Bryant bench.