Hornets stun Conway again on Denker's game-winning field goal
EDITOR'S NOTE: Because the look back at each day in Bryant athletic history has been so favorably received during the time when there was no sports during the COVID-19 shutdown, BryantDaily.com will continueposting past stories of Bryant athletics either posted on BryantDaily.com (from 2009 to the present) or published in the Bryant Times (from 1998 to 2008).
By Rob Patrick
Photos by Kevin Nagle and Rick Nation
CONWAY — If, as is likely for at least a little while with Bryant being assigned to the South conference next year, this[more] was the end of the Bryant-Conway football rivalry, it wrapped up in epic fashion.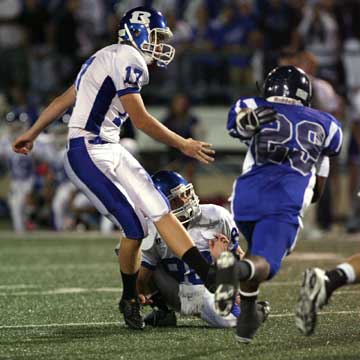 The Wampus Cats erased a 28-7 halftime deficit, tying the game up with 4:42 left to play on a 1-yard run by quarterback Tyler Langley. A kickoff out of bounds gave the Hornets possession at their own 35. But three plays later, with just under four minutes to play, Bryant was punting the ball to Conway which had, with that stunning comeback, garnered all of the momentum despite a valiant effort by the Hornets' defense.
Bryant's 6-3, 282-pound punter Ian Shuttleworth, who also anchors the offensive line at left tackle — the same young man who was battling cancer just a few short months ago — took the snap and noticed there wasn't much of a rush from the Cats. So, he took an extra second or two to allow his teammates to get downfield in coverage. He then boomed a high spiral toward Conway's Desmond Cox at about the 20.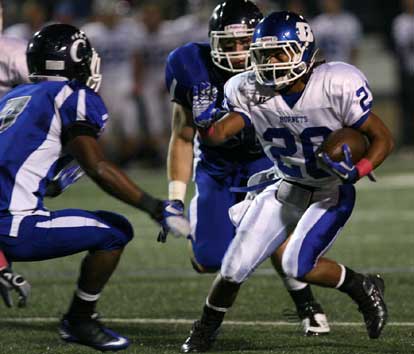 With the Hornets rapidly closing in, Cox tried to make a fair catch on the move only to have the ball ricochet off his chest and hands. It hit the turf and there was a pile-up as players from both teams scrambled for the ball.
When they unpiled, Bryant tight end Nate Rutherford had it and the Hornets had regained possession at the Conway 24 with 3:27 left to play.
Bryant used up all but :25.3 of the clock, getting as close as possible then getting pushed back by a penalty. After a Conway timeout, Hornets' quarterback Hayden Lessenberry took a loss but got the ball near the center of the field.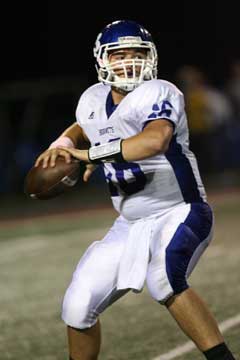 Senior Jace Denker came on and, with Cameron Price making a good snap and Tyler Jamison getting it on the tee, drilled a 39-yard field goal that proved to be the game-winner. Bryant thus took over sole possession of first place in the 7A/6A-Central Conference at 4-0, knocking Conway into a second-place tie with Little Rock Central and North Little Rock at 3-1.
Denker's field goal was the 21st of his career. And he followed it up with his fifth kickoff of the night into the end zone for a touchback. Conway had two plays left and, on both, Bryant defensive end Tim Kelly tracked down Langley, the second time for a loss on the last play of the game, resulting in a Hornets' celebration.
It was the second year in a row that the Hornets stunned the favored Wampus Cats. In 2010, Conway came into the game with Bryant unbeaten but lost in double overtime 34-30.
"We had some guys step up before the game and share their heart," related Hornets head coach Paul Calley when asked how his team pulled it off. "That's not the complete answer but I think — I don't know — I think they just maybe realized everybody cares about one another and everybody was playing for one another. The first half, it showed."
Indeed, after giving up a 78-yard touchdown pass from Langley to Rashan Shepherd on a bubble screen that broke, the Hornets scored on four straight possessions while the defense clamped down on the high-powered Cats offense.
It was the best half of football Bryant has played all season.
"I'm excited about the way we played the first half, disappointed the way our offense played in the second half but I was proud of our defense," Calley asserted.
"The first half, I thought we played the most physical half that we've played up to this point," stated Bryant defensive coordinator Steve Griffith. "We asked them to get physical and to play downhill and we really seemed to be doing that.
"Second half, there was a lot of adversity, a lot of times running out there in difficult situations," he noted. "We didn't get every stop, obviously, that we wanted but we kept playing hard. We continued to fight up front and get pressure."
Safety Jessie Johnson led the defense with eight tackles. Linebacker Parker Dunn had 7 with Marshall Everett, Tyree Reese, Travis Royal and Winfrey getting in on six each.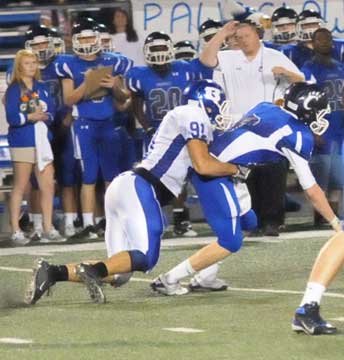 Bryant, which came into the game having turned the ball over only six times in the first six weeks altogether, suffered four turnovers in just the second half against Conway. Lessenberry, who had thrown just two interceptions all season, was picked off three times.
But the Hornets also forced four turnovers. Aaron Bell had two interceptions and Chris Stephens had another in a crucial situation.
"I think we got better," Griffith said of the defense. "Of course, ultimately winning the ballgame, we're excited about that. But, I think, for the remainder of the season, we're excited that we did get better."
"I think they grew up this week," added Calley of the team as a whole. "I told them before the game that I had seen their desire to win. Before, the last two weeks, we kind of played to the level of our competition. I said, 'I'm not going to say I've got you guys figured out but, when you have to play, you're going to play. And you're going to play up to the level of your competition.' And they did that tonight."
The Hornets answered Conway's ice-breaking touchdown with a 67 yard scoring drive in 11 plays capped by the first of Jalen Bell's two TD runs, this time from 3 yards out.
Along the way, Bryant converted a pair of third-down situations. Early in the drive, they faced a third-and-11 but Lessenberry, who finished 21 of 34 for 204 yards and two scores, found Dillon Winfrey for 19 yards. Later, on a third-and-4 at the Conway 43, Lessenberry scrambled for a 10-yard run.
On the next play, however, the quarterback's swing pass to Hayden Daniel lost 7 yards. Lessenberry followed up with an 18-yard strike to Winfrey to get the drive back on track. His quarterback draw picked up 16 yards to the 6 and, a play later, Bell scored.
A short Conway punt gave Bryant its next possession at midfield. The Hornets needed 11 plays but found the end zone again on a 6-yard pass from Lessenberry to Sawyer Nichols who made a splendid catch near the boundary.
Again, the Hornets were golden on third down. Dismuke dashed for 7 to convert the first one then Lessenberry sneaked for 2 yards to convert a third-and-1. A play later, Nichols latched onto a pass at the 15, made a man miss him and broke a tackle to get to the 6, setting up the touchdown toss which, itself, was a third-down play.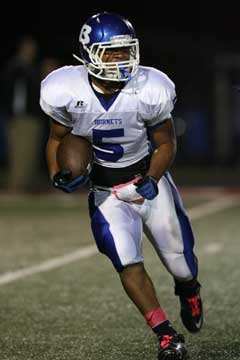 Conway came back with a strong drive from its own 20 to the Bryant 40. Langley, who hadn't run the ball near as much in previous games, contributed a 12-yard run on a third-down play to reach Bryant territory. He would lead all rushers in the game with 87 yards on 19 tries.
Running the 'Wildcat', Cox added 8 yards but, on a second try, was upended by Winfrey's hard charge from the corner, for a 2-yard loss.
On third down, Langley went back to the air only to have Aaron Bell step in front of the receiver to make the interception, returning all the to way to the Conway 34.
In a first for the Hornets, the speedy Winfrey lined up at tailback and laced his way 14 yards to the 20 setting up Jalen Bell's pinball dash to the end zone. Denker kicked it to 21-7 with 2:57 left in the half.
But the Hornets weren't done yet. Thanks to a sparkling defensive play by linebacker Collin Battaglia to foil a third-down play on another bubble screen, Conway had to punt. Another short kick gave the Hornets possession at their own 49 with :55.3 showing.
Lessenberry completed four straight passes including a 12-yard strike to Nichols. The fourth of those throws found Winfrey who had burned the Conway corner on an out-and-up for a 31-yard touchdown. Lessenberry's toss was perfect, hitting Winfrey in stride after he'd beaten the corner and before the safety could get there.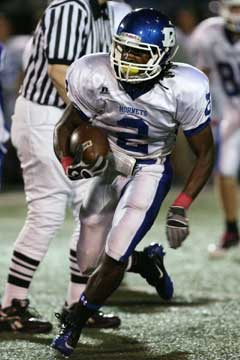 Conway found itself trailing 28-7 at the half. And the Hornets were set to get the ball to start the second half.
After nice kickoff return by Caleb Thomas, Lessenberry and Jalen Bell converted a third-down play with an 18-yard gain on a screen pass.
On the next play, however, Conway's Hayden Strickland intercepted and returned to the 40.
Fired up, the Cats drove for a score, overcoming a holding penalty. The seven-play drive including a 13-yard completion from Langley to Cox. Running the 'Wildcat' again, Cox streaked for 16 yards then tailback Corven Alexander slashed for 18 to the 2. Cordarius Irby took it in from there.
Another nice return by Thomas had the Hornets at the 42 and, thanks to a pass interference penalty and a 13-yard pass from Lessenberry to Winfey, the Hornets reached the Conway 8.
But a busted play cost them 7 yards and, on fourth down, Denker came in to try a 32-yard field goal that just barely missed off to the right.
"I knew we needed to get at least one more score on the board and that initial drive I thought we had it," Calley commented.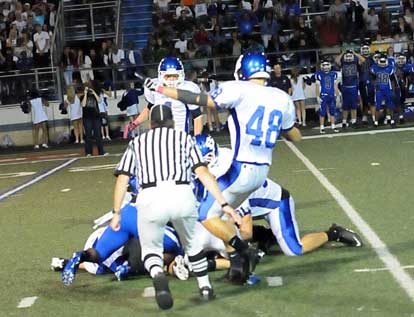 Aaron Bell gave them another chance when he out-leapt a Conway defender for his second interception at the Bryant 39. But, moments later, Lessenberry, under duress, tried to fling a pass towards Jalen Bell as he was going down. Conway's A.J. Burton made a shoestring catch for an interception at the Bryant 16.
Four plays later, Langley kept, ducking in behind the right side of his offensive line and fullback Quincy Wardlow to score from the 4. Ivan Pelayo's extra point had Conway within a touchdown, 28-21, with 3:44 left in the half.
The Hornets drove to their 42 on the subsequent series. Facing a fourth-and-1, they went for it as Lessenberry ran the sneak. He was piled up and driven back, turning his ankle in the process, thus joining the handful of hobbling Hornets. On the spot of the ball, the Hornets were short of a first down and Conway celebrated, further stoking the comeback fire.
"I thought we got a bad spot," Calley commented. "Had I known we were going to turn it over two more times after that, I probably would've punted but I was just trying to give us some momentum. The defense had been on the field a lot."
First, though, Conway drove to the Bryant 5, aided by a pass interference penalty. On second and goal, Langley rolled out and tried to find Shepherd in the right-hand corner of the end zone. But Bryant's Chris Stephens came up with a huge interception in the end zone to frustrate the Cats and undercut their momentum.
The Hornets converted what looked like a key third down with a pass from Lessenberry down the seam to Charles Henson who made a leaping catch at the 45. Two plays later, Lessenberry was back to throw and appeared to have a couple of receivers open deep in the secondary. But his elbow was hit just as he released and the re-directed throw was picked by linebacker Hayden Strickland and returned to the 24.
An illegal block in the back pushed the Cats back to the 34 and the Bryant defense held. When a fourth-down pass fell incomplete, the Hornets took over on downs.
Facing a third-and-8, Lessenberry passed to Winfrey near the sideline. He made a leaping catch with a defender draped on him but, when he came down, the Wampus Cats jarred the ball loose and recovered with 7:18 left to play.
"I thought he was interfered with before he ever caught the ball," Calley said. "He was bent in half. That's what made the ball pop out when he came down with it. He was already bent in half when he caught it.
"We knew they were going to fight back," he related. "We didn't want to give them the opportunities that we gave them but we had to keep throwing the football to be able to beat them. We just couldn't get it going on the ground in the second half. We knew that'd be tough going in. We couldn't make a living running the ball. We had to throw it."
Given the opportunity, Conway drove for the tying score, mostly on the legs of Langley. His 8-yard pass to Shepherd reached the 1 and he scored from there on a keeper, setting up the dramatic finish.
The Hornets improved to 6-1 overall. They host Cabot next Friday.

BRYANT 31, CONWAY 28

Score by quarters

BRYANT 7 21 0 3 — 31
Conway 7 0 14 7 — 28
Scoring summary

First quarter

CONWAY — Shepherd 78 pass from Langley (Pelayo kick), 7:29
BRYANT — J.Bell 3 run (Denker kick), 2:09
Second quarter

BRYANT — Nichols 6 pass from Lessenberry (Denker kick), 7:21
BRYANT — J.Bell 20 run (Denker kick), 2:57
BRYANT — Winfrey 31 pass from Lessenberry (Denker kick), 0:31
Third quarter

CONWAY — Irby 2 run (Pelayo kick), 8:56
CONWAY — Langley 4 run (Pelayo kick), 3:44
Fourth quarter

CONWAY — Langley 1 run (Pelayo kick), 4:42
BRYANT — Denker 39 field goal, 0:25.3
Team stats

BRYANT Conway

First downs 17 16
Rushes-yds 34-105 33-161
Passing yds 204 177
Passing 21-34-3 15-26-3
Punts-avg. 2-41.5 3-29.0
Fumbles-lost 1-1 1-1
Penalties-yds 5-49 6-48
INDIVIDUAL STATS

Rushing: BRYANT, J.Bell 9-43, Dismuke 12-25, Winfrey 3-19, Lessenberry 8-16, Nichols 1-(-3); CONWAY, Langley 19-87, Cox 6-29, Alexander 3-27, Irby 5-18.
Passing (C-A-I-Y): BRYANT, Lessenberry 21-34-3-204; CONWAY, Langley 15-26-3-177.
Receiving: BRYANT, Winfrey 6-95, Nichols 5-42, Daniel 4-9, Henson 2-27, J.Bell 2-22, Dismuke 1-10, A.Bell 1-9; CONWAY, Shepherd 6-96, Cox 5-48, Williamson 2-16, Alexander 1-13, Cook 1-4.