Hornets topple Cabot, forge four-way tie for league lead
EDITOR'S NOTE: Because the look back at each day in Bryant athletic history has been so favorably received during the time when there was no sports during the COVID-19 shutdown, BryantDaily.com will continueposting past stories of Bryant athletics either posted on BryantDaily.com (from 2009 to the present) or published in the Bryant Times (from 1998 to 2008).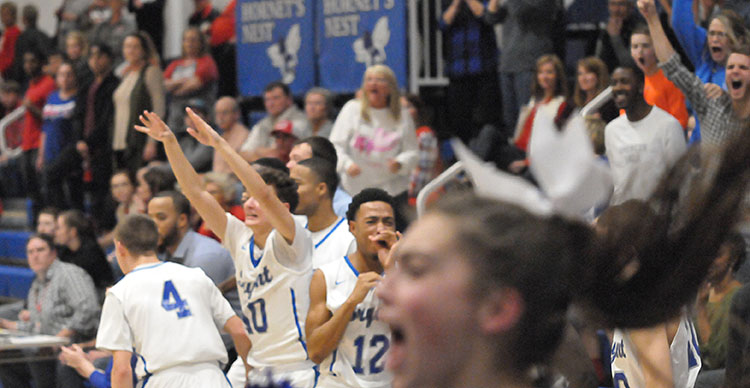 For more photos from this event by Kevin Nagle, go here
When Romen Martin's 3-pointer from the right corner got nothing but net to put the Bryant Hornets ahead 35-33, it seemed like the roof of the ancient Bryant High School gym known as the Hornets Nest might blow clean off. And when Lowell Washington punctuated a thrilling 50-40 victory over the defending Class 7A State champion Cabot Panthers — why, it seemed the very walls of the 50-year-old structure might topple at the roar.
After trailing by as much as 8 in the second half, the Hornets put together a 17-2 blitz to gain the upper hand. By hitting their free throws late and executing their spread offense, Bryant produced their largest lead in the final score.
There were plenty of reasons that it was a huge win. First, it was a conference victory that came at home; second, it helped to offset a bitter 80-78 loss at home in overtime the week before against Little Rock Central; third, on their way to the 2016 championship, the Panthers reached the finals at the Hornets' expense, with an overtime win in the semifinals. At 13-1, the Panthers came into the game ranked the top team in Class 7A and fourth overall in the state. At 13-3, the Hornets were fourth in 7A and ninth overall.
As it turned out, the Bryant win coupled with North Little Rock's 69-66 victory over Fort Smith Northside resulted in a four-way tie for first in the Central involving the Hornets, the Panthers, Northside and North Little Rock in what is certainly the stronger of the two 7A conferences.
Celebration of Friday's win can't last too long either. The Hornets travel to take on North Little Rock on Tuesday.
"I told our guys before the game, whether we win or lose, we're going to take this game and we're going to get better because we're playing a great team," said Bryant head coach Mike Abrahamson. "We're going to try to use it to propel us forward. And that's what we're going to do. I mean we're excited to win but we've got North Little Rock on Tuesday. It's just in our routine and it's the process and we're going to have faith in our process and stick to what we do.
"The loss (to Central) hurt," he acknowledged. "It stung really bad especially considering we missed 17 layups and gave up 19 offensive rebounds but, at the same time, it's the kind of game that makes you better. It exposes you and you go to practice and you work on it. We didn't make every layup and didn't get every rebound but we made improvement in that area this week. We need to keep it up."
The Hornets didn't shoot particularly well in the game (13 of 39 from the field) including 2 of 12 from 3-point range. So they attacked the basket. Though that resulted in the Hornets being hit with charging fouls a whopping six times, it also got them to the line where they ended up converting 22 of 28 in the game including 11 of 13 in the fourth quarter.
"That's huge," Abrahamson stated. "We haven't always done that outside of a couple of guys."
Incidentally, the Hornets' Kaleb Turner and Braylen Steen both set up and absorbed charging fouls on Cabot as well. Eight in one game between the teams may be more than have been called in Bryant games all season so far. It was a testament to the defense both teams were playing.
Meanwhile, Cabot was just 3 of 7 from the charity stripe all game. That was partly because the Panthers took a lot of jump shots and didn't drive to the rack as much.
"I hope it's our defensive effort and our discipline defensively," Abrahamson responded when asked about the disparity. "And doing enough to catch them out of defensive position and taking advantage of those opportunities. Sometimes you get them out of defensive position and you can't take advantage of it. We were able to enough, tonight but we also committed a lot of charges and made several mistakes."
The game was tied 18-18 late in the first half despite the fact that a vital part of the team, senior point guard Calvin Allen had to sit after picking up two fouls by the end of the first half. Along with Turner, Deron Canada, Sam Chumley and Garrett Cowart came off the bench to play well. Martin took over the game early in the second quarter. He wound up with 10 of his game-high 17 points in the half including 8 from the free-throw line.
With a free throw in the final seconds the second quarter, which gave them a 19-18 edge at the break, the Panthers went on a 12-4 push to produce a 30-22 lead with 3:34 left in the third. Cabot, which rained down seven 3-pointers in 23 attempts in the game, got two from Jalen Brown during that stretch.
Abrahamson called a timeout and his team responded with the game-turning surge.
After a few empty trips up the floor by both teams, Steen finally got things going, canning a baseline jumper over 6-8 Matt Stanley off a nice dish from Allen.
Steen combined with Chumley to force a turnover but Stanley stole it back and raced to the other end. But he blew the dunk. It appeared Steen, in turn, had another basket but he was cited for a charge. After another Cabot miss, Martin appeared to have scored only to have it wiped out by another charge.
Moments later, however, Allen drove into the lane and, though he missed initially, he hustled after the rebound and was fouled. He converted twice and the Hornets were only down 30-26 going into the fourth quarter.
Cabot's Bobby Joe Duncan started the fourth quarter with a 3-pointer the bumped the lead back to 7. But the Panthers then went over four minutes without scoring.
Allen sank two more free throws and, moments later, Steen absorbed a charge on a drive by Panthers' two-sport star Jarrod Barnes (a signee with the University of Arkansas in football).
Martin drove, drew the defense and dished to Washington for a layup and, after a 3-pointer failed to fall for Brown, another Martin drive and dish resulted in a trip to the free-throw line for Steen, who converted twice. Suddenly, the Hornets, building a frenzy of momentum, were within a point, 33-32, with 5:17 left.
Allen and Steen combined to force a Cabot turnover, which led to Martin's triple, which sent the home crowd into bananas land. It was the first Bryant lead since the first minute of the second half.
Stanley tried to drive between a pair of Hornets at the other end but lost his balance along the way and, out of control, threw up a wild shot as the Cabot coaches and fans raged in protest of no foul call.
At the other end, the Panthers left a lane to the hoop for Marvin Moody who got to the rack for a layup and a 37-33 lead.
Stanley, left alone at the top of the key, tried an ill-advised 3 but missed. Steen came away with one of his 11 rebounds in the game and Washington, following his own miss, added to the lead.
Down 39-33, the Panthers called a timeout with 3:47 left.
Stanley, back in the paint, scored to end Cabot's drought but Allen sliced through the defense for a layup in response. Stanley scored off the offensive glass but Martin knocked down both ends of a one-and-one.
In turn, Logan Gilbertson, who had already hit a pair of 3's, launched one that caught in the crotch between the rim and the backboard. On the alternate possession, the ball was awarded to Bryant.
By then the Hornets were spreading the floor and running clock. But Martin saw an avenue down the right side of the lane and went for it. A Cabot defender went down and one official called a charge on Martin. Another called it a blocking foul and, after discussing it, the call went Bryant's way much to the outrage of Cabot head coach Jerry Bridges.
Martin, in the meantime, stepped to the line and converted twice to make it an 8-point lead for the Hornets with 1:09 left to play.
Barnes, however, drained a 3 and Cabot took a timeout with 1:01 showing down just 5.
And when play resumed, the Hornets turned it over only to have Barnes' 3 rim out. Martin grabbed the carom and, with :46.3 left, the Panthers fouled Moody. And though he came up empty, so did Stanley when he was fouled with :41.5 showing. Moody snatched the rebound in traffic and, in the final :29.2 both Allen and Steen added a pair of free throws to extend the lead to 8 again, 48-40.
Off a Cabot miss, Washington got the run-out and the convincing slam to punctuate the victory.
"I'm just always trying to keep these guys sticking to what we do, with what we practice," Abrahamson said of the Hornets turnaround after Cabot's third-quarter surge. "When they do what they practice, we have a chance to be successful. And when they abandon that, everything's just kind of up in the air.
"And that happens," he acknowledged. "That's called game slippage. But the best teams do it the least, have the least game slippage. Every team does it every game but, with nine seniors, when they get off track, we just try to get them right back on track. They've heard it so many times, a lot of times they can get back on track.
"So all the credit to our guys because we played a really tough team tonight, we were down and we weren't scoring," the coach summarized. "We were struggling. I think we were getting good shots but we weren't scoring. And they're so hard to guard. So just for them to stick with it and pull away at the end, I'm really proud of that."
The dunk gave Washington 12 points on the night. Steen had 9. Barnes and Gilbertson each had 11 for Cabot.
"Great atmosphere," Abrahamson noted. "Our band has a competition tomorrow so they weren't here but, other than that, it was awesome. Cabot had a lot of people here. This gym's been rocking here lately."
No doubt it will continue to as, next Friday, the rival Conway Wampus Cats come to visit.
HORNETS 50, PANTHERS 40
Score by quarters
Cabot                        14            5            11            10 — 40
BRYANT             6            13            8            24 — 50
PANTHERS (13-2, 3-1) 40
Duncan 1-7 2-4 4, Barnes 4-9 0-0 11, Gilbertson 4-9 1-2 11, Brown 2-8 0-0 6, Stanley 3-8 0-1 6, Vance 0-2 0-0 0, Allgood 1-1 0-0 2, Weir 0-1 0-0 0, Dickinson 0-0 0-0 0. Totals 15-46 3-7 40.
HORNETS (14-3, 3-1) 50
Martin 2-10 12-13 17, Allen 1-7 5-6 7, Moody 1-2 1-3 3, Steen 2-8 4-6 9, Washington 6-8 0-0 12, Canada 0-0 0-0 0, Turner 0-1 0-0 0, Chumley 1-3 0-0 2, Cowart 0-0 0-0 0. Totals 13-39 22-28 50.
Three-point field goals: Bryant 2-12 (Martin 1-6, Steen 1-2, Chumley 0-2, Allen 0-1, Turner 0-1), Cabot 7-23 (Barnes 3-6, Brown 2-8, Gilbertson 2-5, Duncan 0-2, Stanley 0-1, Vance 0-1). Turnovers: Bryant 13, Cabot 14. Rebounds: Bryant 9-24 33 (Steen 2-9 11, Washington 3-3 6, Martin 0-5 5, Moody 0-3 3, Allen 1-0 1, Canada 1-0 1, Turner 0-1 1, Chumley 0-1 1, Cowart 1-0 1, team 1-2 3), Cabot 9-20 29 (Stanley 3-6 9, Gilbertson 2-4 6, Barnes 1-2 3, Allgood 1-2 3, Duncan 1-0 1, team 1-6 7). Team fouls: Bryant 15, Cabot 16.