By Rob Patrick
Photos by Kevin Nagle
Needing just about everything to go their way to knock off one of the best teams in the state, the Bryant Hornets found themselves with both of their best ball-handlers, play-makers and scorers with[more] two fouls. Their game against the eight-ranked Conway Wampus Cats (fourth among Class 7A teams) wasn't even through the first quarter.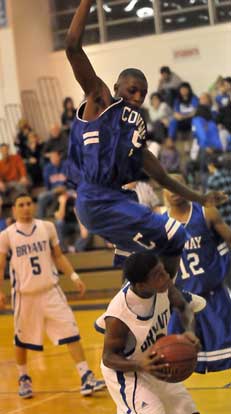 And before the first half was over not only did Brantley Cozart and Jordan Griffin have two fouls apiece, so did starters Eric Moore and Marcus Wilson. Cozart would finish the half with three.
And the thing was, it was Conway that was playing a full-, three-quarters or half-court trapping defense. It was kind of amazing that Bryant had committed just seven turnovers in the half.
The Cats opened up a 14-2 lead by the end of the third quarter but Bryant came back and got within 14-11. Conway, however, pushed the lead to 24-15 at intermission on the way to a 56-46 win in which it had ledby as many as 22 at one point.
"Conway is very good at what they do," commented Hornets coach Mike Abrahamson who, in his first year is getting his initial first-hand look at his team's league rivals. "I think Catholic is very good at what they do. Two very different things.
"We try to simulate what (Conway) does in practice but you really can't, to that extent," he added. "The pressure in the running and jumping and the traps is just hard for us to simulate completely because we don't have the players they have. And it's not what we do. But I thought we tried as best we could to simulate it in practice and I thought at times we handled it well and at times we didn't handle it well."
The Hornets finished with 16 turnovers, which was only one more than Conway committed. But, as Abrahamson explained, the traps provided the Hornets with other problems.
"A couple of turnovers we had were just silly like 'it's right in your hands, catch it,' he mentioned. "But I tell you how it also affected us when we got it across half court and they still came to trap. We'd have somebody open under the basket and we couldn't see them. Or we'd run a play and get a pick-and-roll. They'd trap us and we couldn't see the guy under the basket.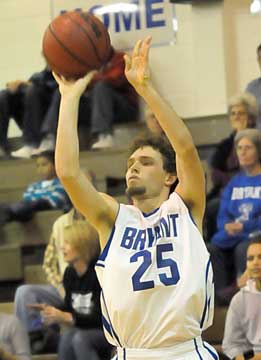 "Our players have tunnel-vision and we're trying to get them to see more of the game," the coach continued. "That comes with experience and I know that I talk about that every game but some players just have it and some players don't have. Some players will never have it but, you know, we need to continue to work on that, to see things. Because I thought we had situations where we had people in the right place and we just didn't make the play. Or we'd have people right under the basket and we couldn't get it to them. And there's no way we could've gotten every one of those but we had a couple where I wish we could've seen it because it would've led to something easy."
The Hornets kept after it and closed out the game with a 15-3 run as Conway worked in reserves.
"Again, we played hard," Abrahamson stated. "I was proud of our effort. We hung in there."
The Hornets actually drew first blood on a basket inside by Cozart off a nice feed from 6-7 forward Quinton Motto.
Cozart would lead the Hornets with 16 points. Motto finished with 6 points but collected 12 rebounds.
Conway was led by Micah Delph's 19 points. Glenn Norris added 12 and Colt Fason 10.
Bryant had a chance to increase the 2-0 lead when Jordan Griffin, who would finish with 10 points, made a steal and fed Cozart. But this time, the Bryant guard had to try to shoot around or over Conway's 6-4 Xavier Clardy. And when he missed, he picked up his second foul trying to get the ball back. (Earlier, he had tried to take a charge but didn't get the call.)
Norris tied the game then turned in a three-point play to get the Conway surge started. Bryant went the last seven minutes of the quarter without scoring. Delph scored 7 of his points during that first-quarter burst.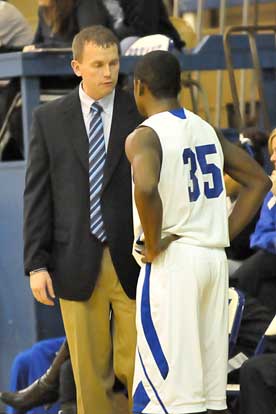 "Getting in foul trouble early really hurt us," Abrahamson acknowledged. "Having to take Brantley out of the game early in the first quarter really hurt us because then we're trying to run offensive sets and where Brantley would normally be to have the ball in his hands and make a play, we had other people that can do it but aren't used to being in that position. They're used to being in another position on the floor. He played a pretty good overall game. As well as Jordan picking up two early and Eric picking up two early, foul trouble really hurt us."
To start the second period, Wilson got inside and used a pump-fake to get Tim Boyd off his feet, drawing a foul. He knocked down both shots to get the Hornets back on track. And, after Everett Reed missed twice at the line, Wilson drained a 3. Cozart followed with a drive for a bucket then a layup off a steal to cut the lead to 3.
But Conway closed out the quarter with a 10-4 run that became a 21-6 blitz once the third quarter commenced. Only a baseline jumper by Zach Cambron and a free throws by Griffin interrupted the second-quarter streak. Delph's 3 just before the halftime buzzer made it a 9-point game.
Delph, T-Shawn Smins and Norris scored the first three baskets of the second half and the lead was 30-15. Griffin's jumper in the lane fell to interrupt but Fason drained a trey and Sims drove for a bucket to increase the lead further.
It was 43-26 going into the final minute of the quarter when Motto sank a triple to keep the Hornets within 14.
Conway's 10-2 run to start the final stanza produced its largest lead at 53-31 with 5:26 to play.
Cozart started Bryant's closing run with a stickback and a pair of free throws. Delph answered those free tosses with two of his own to make it a 20-point game with 3:49 left to play.
The Hornets kept working. After a Conway turnover, Motto hit the offensive glass for a basket. Another Cat turnover led to a trip to the line for Griffin who hit his first shot but missed his second. Travis Royal chased down the carom and got it back to Griffin for a 3-point try but the shot refused to fall.
Still, after a miss by Boyd, Griffin found the range from beyond the arc, trimming the margin to 55-41. Boyd connected on a free-throw with 1:10 left. Wilson hit his second troika off a steal by Logan Trudell then Cambron scored off a feed from Cozart at the buzzer to make it a 10-point game.
The Hornets travel to Cabot on Friday.
CONWAY 56, BRYANT 46
Score by quarters
Conway 14 10 19 13 — 56
BRYANT 2 13 14 17 — 46
WAMPUS CATS (12-3, 3-0) 56
Player fg-fga ft-fta reb fls pts
o-d-t
Norris 5-7 1-2 1-2 3 3 12
Sims 2-3 2-4 0-4 4 3 6
Delph 6-8 5-5 0-3 3 4 19
Clardy 1-6 3-5 3-1 4 1 5
Fason 4-10 1-2 2-5 7 1 10
Boyd 1-6 1-2 0-0 0 4 3
Reed 0-0 1-4 1-1 2 3 1
Cox 0-1 0-0 0-1 1 2 0
Collins 0-0 0-0 0-1 1 0 0
Davis 0-0 0-0 0-0 0 0 0
Team 1-1 2
Totals 19-41 14-24 8-19 27 21 56
HORNETS (4-12, 0-3) 46
Player fg-fga ft-fta reb fls pts
o-d-t
Griffin 2-11 5-8 0-2 2 3 10
Cozart 6-11 4-7 2-3 5 3 16
Wilson 2-2 2-2 1-1 2 3 8
Moore 0-1 0-0 1-2 3 3 0
Motto 2-7 1-2 3-9 12 3 6
Garner 0-1 0-0 0-0 0 0 0
Nossaman 0-2 0-0 0-0 0 0 0
Cambron 3-4 0-0 1-0 1 3 6
Trudell 0-1 0-0 1-0 1 0 0
Royal 0-0 0-0 1-1 2 0 0
Team 1-2 3
Totals 15-40 12-19 11-20 31 20 46
Three-point field goals: Bryant 4-10 (Wilson 2-2, Griffin 1-4, Motto 1-1, Cozart 0-2, Garner 0-1), Conway 4-10 (Delph 2-3, Norris 1-2, Fason 1-1, Boyd 0-3, Cox 0-1). Turnovers: Bryant 16, Conway 15.